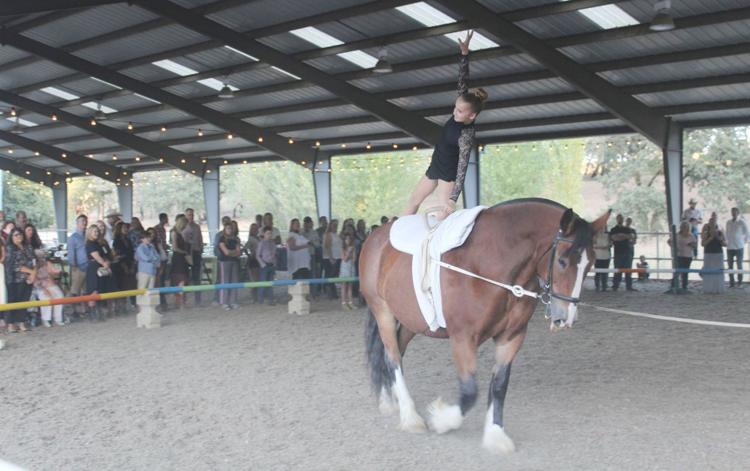 Hank was surrounded by humans, and his best friend Ged was getting worried.
Ged trotted nervously back and forth at the edge of his corral, whinnying in agitation. Hank, 20 feet away, kept responding with whinnies of his own.
Hank was fine. He was just assisting with an equine veterinary demonstration at Sunrise Horse Rescue's annual Harvest of Hope fundraiser, which raised $160,620 on Saturday.
Not wishing to cause either of the horses distress, vets Claudia Sonder and Vanessa GB Rood brought Hank next to Ged's corral, where the two horses touched noses affectionately and spent the rest of the demonstration helping themselves to leaves from the tree overhead.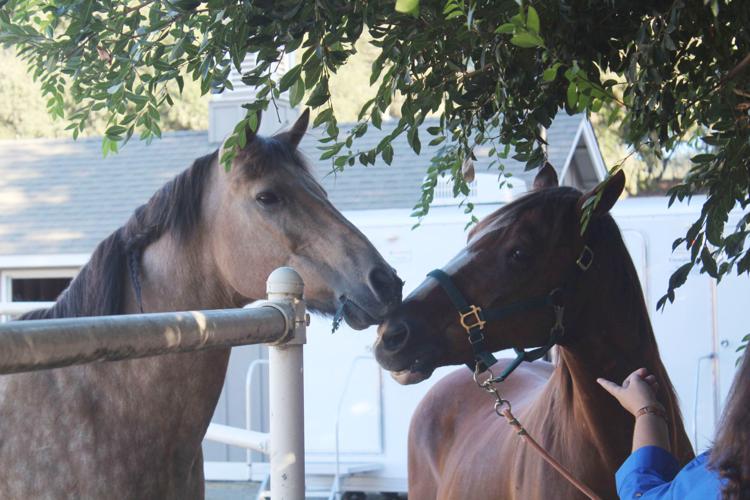 Ged and Hank clearly share a deep horse-to-horse bond, but scientists are just starting to appreciate the therapeutic effects horses can have on children and adults dealing with post-traumatic stress disorder, dementia, and life-threatening illnesses. Promoting those horse-human bonds is at the center of Sunrise Horse Rescue's mission.
"Instead of just taking in horses, Sunrise is actually looking for a solution to the problem of the unwanted horse," said Sonder, a Sunrise boardmember. "The goal is that someday we won't need to rescue so many horses. We want the public to understand everything that horses can bring to the community and make them relevant again to society."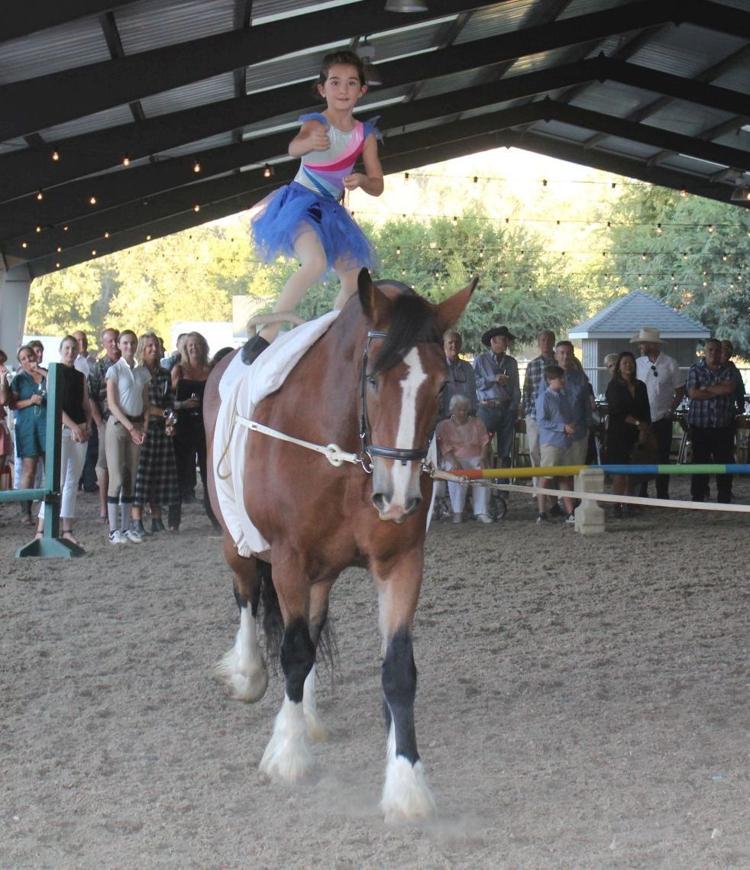 Harvest of Hope
This year's Harvest of Hope, the nonprofit's 10th, was the highest-grossing yet. It was held at Bob and Valerie Fish's Blossom Creek Farm north of Calistoga.
Bidding was hot at the nine-lot live auction, as guests shelled out $7,500 for brunch at Zazie in San Francisco followed by a tour of the De Young Museum, $5,000 for a yoga-themed Greek vacation, and $5,000 for a barbecue and concert by Calistoga musician Philip Claypool. All three of those lots were doubled on the spot and purchased by separate bidders, collectively generating $35,000 for Sunrise.
Before the dinner and auction, the Petaluma-based Tambourine Vaulters presented an equestrian vaulting demonstration. Once sold at auction and headed for slaughter, the rescued Remi walked, trotted and cantered in a circle as girls leapt onto his back to perform acrobatic feats.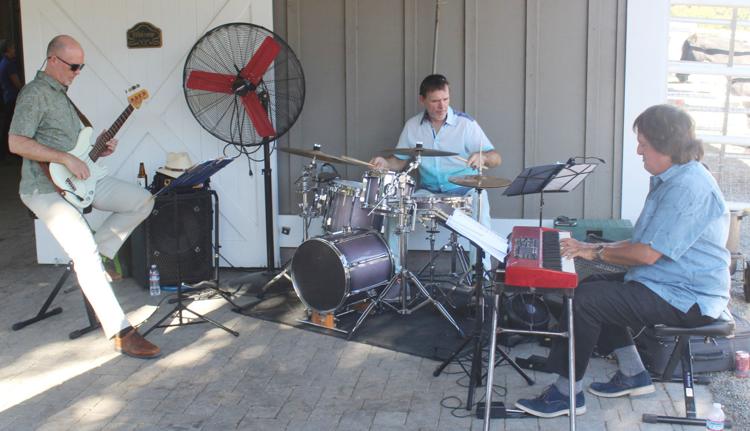 The proceeds from Harvest of Hope will help with operational expenses and put Sunrise in a better position to buy a piece of property somewhere in Napa County. The nonprofit rents space at Tamber Bey Vineyards outside Calistoga, but a permanent home would allow it to broaden public access, expand its equine therapy programs, and give the horses more room to roam.
Horse-human bonds
You have free articles remaining.
Hank arrived at Sunrise as the friend of a blind Appaloosa named Thunder. After Thunder died, Hank became close friends with Ged. Sunrise boardmember Jan Flynn described the gentle, human-friendly Ged as "a big golden retriever."
"In a herd he'd probably be the low man on the totem pole because he's not really aggressive," Flynn said. "But he's just a sweetheart."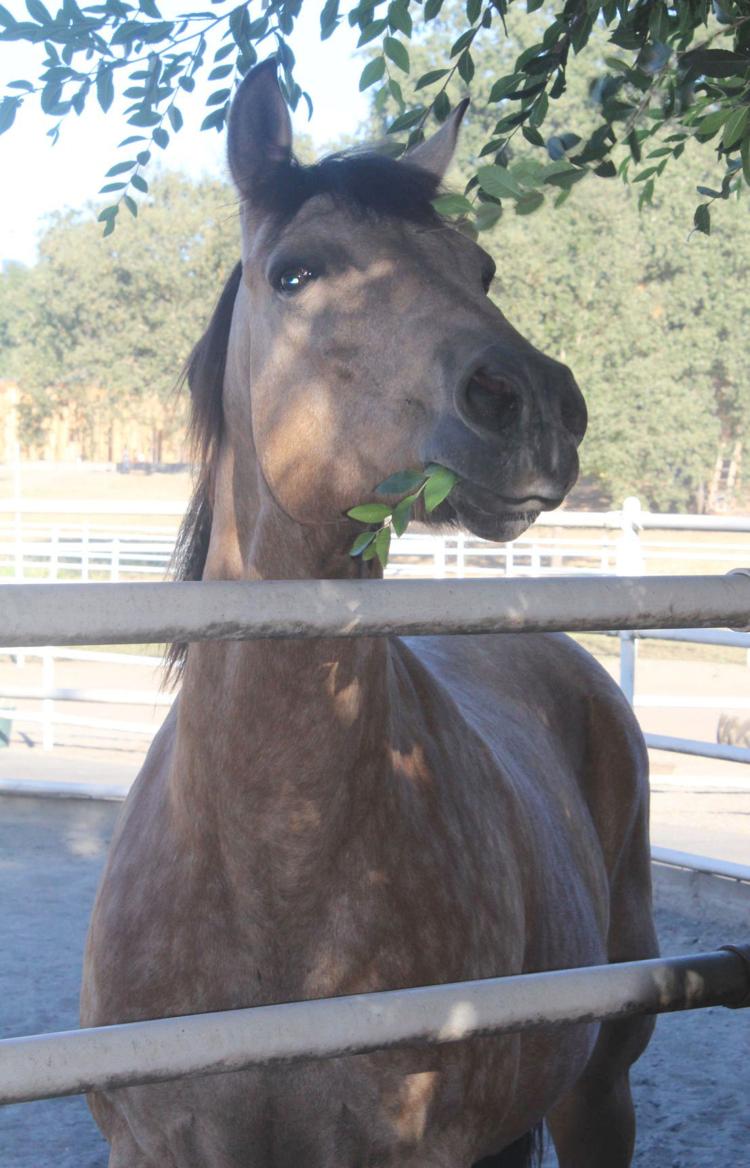 Like many of Sunrise's 23 horses, Ged and Hank are no longer sound to ride, but their temperament makes them ideal for Sunrise's therapeutic programs.
Shari Bluband, executive director of Adventist Health St. Helena's Martin-O'Neil Cancer Center and a Sunrise boardmember, told of a breast cancer patient and her family who worked with Sunrise horses.
The husband, who'd been drained after devoting all of his attention to his wife and 10-year-old daughter, was able to focus completely on his interaction with Pace, a former Grand Canyon packhorse.
The daughter, who wanted to support her parents but was having trouble communicating verbally, came away from the first session reciting the facts she'd learned about horses. During the following sessions, she built confidence walking with Ged.
When Bluband next saw the daughter in the lobby of the cancer center, she was sitting quietly with her eyes closed. She told Bluband, "I'm pretending I'm breathing with Ged because he helps me feel calm."
Looking for a home
Equine therapy has also proven successful for dementia patients.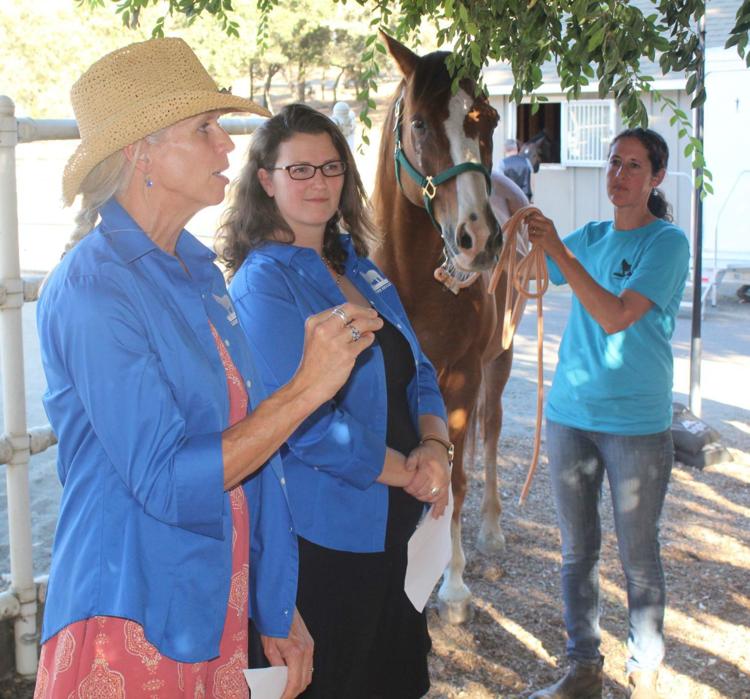 "Horses evoke a sort of self-awareness that smaller predator species don't invite," Sonder said. "When a dementia patient and a caregiver work together around a horse using non-verbal communication, it gives them tools they can take home and use when they hit a wall. It's amazing to watch."
Sonder hopes that as research accumulates proving the value of equine therapy, health insurance companies will start covering those programs "as opposed to picking a pill off the shelf."
Acquiring a property would enable Sunrise to expand its therapeutic programs and create a public stable where people can interact with horses as they cope with personal challenges and health problems. Boardmembers say Sunrise would be an ideal buyer for a landowner who values conservation and responsible stewardship.
"We're hoping this will be the year we find our forever home," Flynn said.