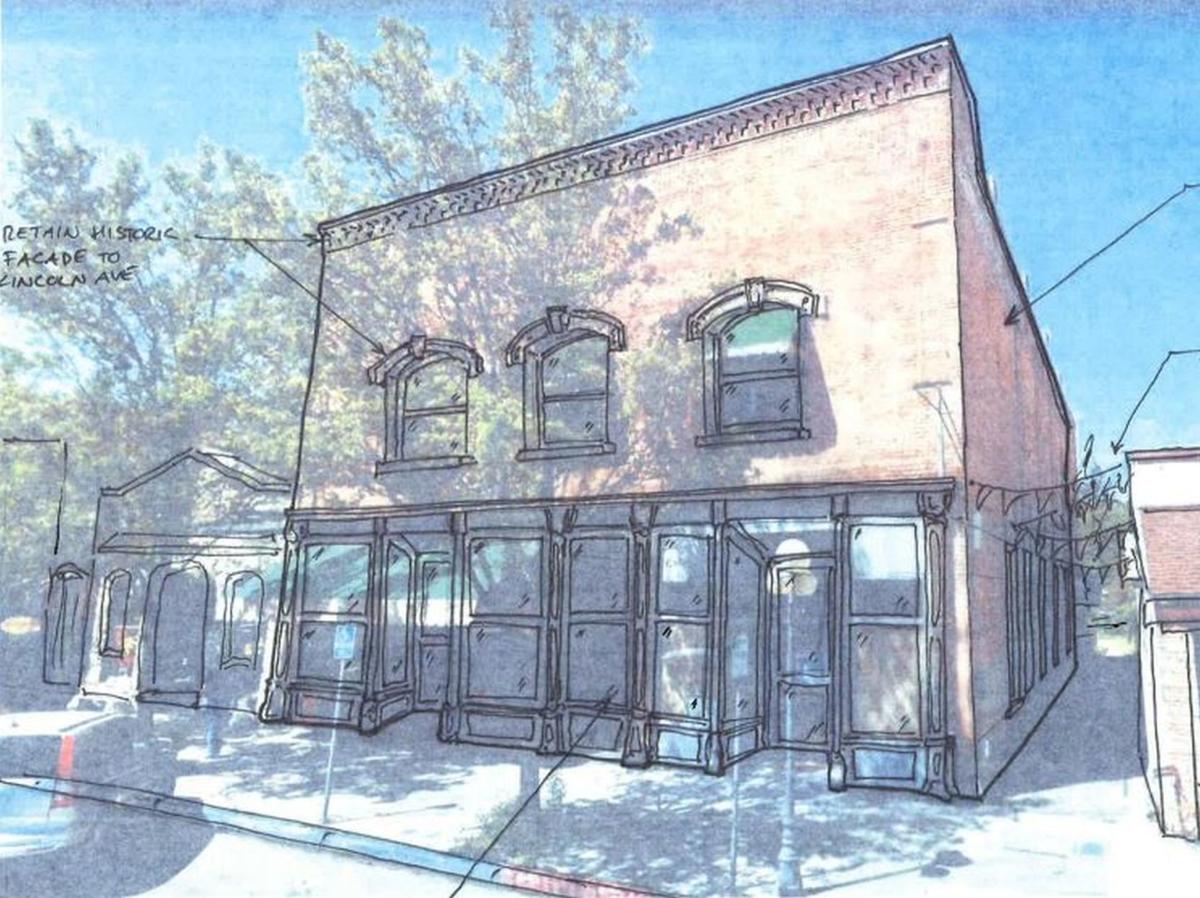 An ambitious project to bring a whisky bar and distillery to downtown Calistoga was met with enthusiasm from the planning commission and members of the audience on March 13.
The project still has to go through the permitting process and is not a done deal, although it received support from commissioners and members of the audience.
Hundred Acre Wine Group in St. Helena is purchasing the property at 1345 Lincoln Ave., including a 2-story building and a vacant parcel behind it. It is currently occupied by Blackbird of Calistoga, which plans to leave at the end of the month.
The building dates back to 1887 and is eligible for listing in the California Register of Historical Resources. It also needs to be seismically retrofitted.
The distillery project was described as a game-changer for the town by John Hardesty, CEO of Hundred Acre, which was founded by winemaker Jayson Woodbridge in 1998.
Hardesty said he lived in Calistoga for 15 years.
"That building is such a great center point of Calistoga. ... We think a distillery ties into the history of Calistoga. I'm a freak for history and the origin of Calistoga, it's very close to me," he said. "Our idea is to bring the building back to its glory. Our thing is authenticity."
There are many components to the distillery project that could also include a brewery. The storefront would include 48 feet of retail space related to the distillery, and a bar for whisky tasting. The second floor would be removed to accommodate the height of distillery equipment.
"It will be a showpiece for Calistoga, its giant copper columns and beautiful pot stills and glass," Hardesty said.
Outdoor seating would also be provided in the rear.
Of concern, according to the staff report, is the current right-of-way that extends from Washington Avenue along the police department building to the edge of the rear of the parcel. The exact nature of the access is still to be determined, but customer parking, fire access, and about four truck deliveries a week need to be factored into the project. Also at issue is the potential impact to public utilities.
Hardesty said the project would also complement any future plans for the Sharpsteen Plaza area, adjacent to the rear of the property.
Speaking in favor of the project was Mark Young, co-owner of Brannan's Grill, which closed last year.
"I haven't seen anything this exciting since, well, Brannan's. It's an exciting project for this town. It's such a positive addition to this town which needs something like this. It would add diversity and create something interesting for our visitors, I urge you strongly to support it," he told the commissioners.
Jeff Feeney, a commercial real estate broker representing Hundred Acre, called the project "exciting," and said it would bring visitors here for "an experience. You have to create an experience in a retail setting to attract people to come in. This project does that while preserving an amazing building."
Commissioner Scott Cooper told Hardesty parking and noise will be issues raised by neighbors, but "I love your passion and intensity on the project. It's fantastic. I think we can all agree it's going to be fantastic and a benefit for the town."
The sole resident speaking against the project was Penelope Worsham.
"I'm concerned what is happening to our downtown, with all the empty storefronts, and how many tasting rooms do we need? We're losing our quaintness and uniqueness and it's breaking my heart. Do we want a lot of drunken people walking the streets?" she said, and questioned the commissioners' vision for the town over the coming years.
Planning Commissioner Tim Wilkes said that the concern about too many tasting rooms in Calistoga is an ongoing issue, and the challenge is to find a balance of businesses that locals support, and that in turn support the community.
"There will come a time when we'll say in the downtown corridor, 'no more tasting rooms'. I know that time will come. We're not ignoring this issue, there are ongoing conversations, and there will be solutions there," he said.
Hardesty was encouraged by the commission to file a formal application, but Senior Planner Zach Tusinger said the project is a pretty significant reuse and there will be a lot of questions going forward.
Hardesty said the makeover of the building would be "a considerable investment. If we get this and do it, it will be a centerpiece in Calistoga forever. As you can tell this is emotional for me. Think carefully before you approve it," he said. "We want to make this work and are not going away."
Be the first to know
Get local news delivered to your inbox!