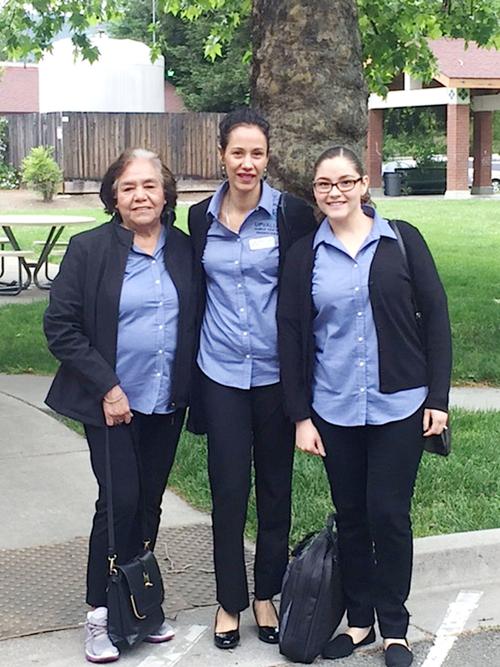 Jesus Arroyo is a resident of St. Helena who became a citizen in December and is looking forward to participating in his first election.
"If we unite forces and all vote, we can choose the representatives we want, so that we can see the changes in policy that we want. For example, I have close family members who are struggling because of the immigration climate we're in right now. I feel that my vote is important, and helps make a difference. There are so many people who don't vote, because they leave everything to the last minute, or because they don't have the right information. That's why I went to the Family Center to get the information to register, and now I'm registered to vote!" he said.
An Upvalley high school student, who will be 18 before November 2020 and who has pre-registered to vote, said, "It will be the first time that I'll feel like part of the community, and my vote will count. I want to vote for someone who can improve the country, and can make change from what we currently have. That's why I'm excited about voting this November."
Approximately 87,000 Napa County residents are eligible to vote. Yet nearly 30,000 of them – more than a third – did not participate in the November 2018 elections.
This matters: in recent years, more than one race here Upvalley has been decided by a margin as small as 50 or 60 votes. Imagine what might have happened in those contests, had a few more people turned out to cast a ballot. Perhaps it may have tipped the scales in the other direction; perhaps it may simply have widened the margin between winner and runner-up, adding a little more solidity to the outcome.
What matters, too, is that turnout rates are shaped by race, ethnicity, and socio-economic status. White, affluent people are more likely to vote than people of color and those who are less financially secure, which ultimately means that election outcomes don't represent the voices and preferences of all citizens or population groups in proportional measure.
In Napa, county government and local nonprofit organizations have been trying to change that by making sure more people – and in particular more traditionally underrepresented people – make their voices heard at the ballot box. They're doing that in two ways: by making it easier for people to vote, and by conducting widespread outreach, in multiple languages, to make sure people know their voices matter.
In 2016, California passed a new voting law in hopes of making it more convenient for people to participate in elections. Called the Voter's Choice Act, it seems to be having its intended effect so far: five counties, including Napa, participated in a pilot implementation of the new system during the 2018 midterm elections, and all five saw record voter turnout. Napa's rate of participation was over 73%: nearly 10 percentage points higher than its 30-year average until then.
Before 2018, more than half of Californians (and as many as 90% of Napans!) were already registered to vote by mail, citing the convenience of having more time to fill out their ballot, and of not having to go to their designated polling place on a given Tuesday in order to cast their vote. The Voter's Choice Act essentially extends those conveniences to all voters: under the new system, everyone automatically receives a ballot in the mail about a month in advance of election day. They then have three options for casting their vote: they can mail the ballot back, just like voters-by-mail have always been able to do. They can also drop it into one of several secure dropboxes that will be placed in strategic locations across the county: in Calistoga, for example, you can find one at CalMart (though you can drop your ballot in any of the boxes you can find across the county). And finally, voters can bring their ballot to any of Napa's Vote Centers, where same-day voter registration helps remove another potential barrier to election participation. A Vote Center will open at the Calistoga Community Center on Feb. 29, four days ahead of the March 3 Primary Election.
To make sure that all eligible citizens make use of these expanded voting options, community organizations across the county are conducting widespread voter outreach and education. This work is being led by the Voters Choice Napa Coalition and the Community Leaders Coalition, a collaborative of nonprofits – including the UpValley Family Centers, Cope Family Center, On the Move, ParentsCAN, and others – who work together to increase civic engagement among underrepresented communities in the Valley. Leading up to the 2018 election, UpValley Family Centers and its team of Promotora outreach volunteers partnered with other institutions, including the League of Women Voters and the Calistoga and St. Helena school districts, to provide voter registration trainings and voter education sessions – including two public forums where residents had an opportunity to hear directly from candidates for local elected offices.
The Family Centers also incorporated information about the election into its other programs and services: we provided information at community events and at our offices, and discussed the upcoming election during parenting workshops, senior activities, early learning playgroups, and more. Our team of Promotoras also led workshops and made calls to Spanish speaking voters: they explained the new options under the Voter's Choice Act, helped people navigate their ballots, and (if needed) clarified the propositions up for a vote.
But a crucial piece of the Promotoras' outreach focused simply on informing people that their vote mattered. They did this, for example, by discussing the history of voting. Promotora Coordinator Marycruz Garcia says, "Lots of community members talked [to us] about how grateful they were to learn about the history of voting. They realized that it's very important to vote because, for example, women have had the right to vote for only 98 years. And that helped convince people to vote in this upcoming election."
Napa will implement the Voter's Choice Act again this year, both for the March Primary and the November General Election. UpValley Family Centers, its Promotoras, and the entire Voter's Choice and Community Leaders Coalition will once again be doing lots of outreach and education in efforts to "get-out-the-vote," coordinating closely with the County Registrar of Voters and partners like the League of Women Voters.
California's Primary Election takes place just under a month from now – on Tuesday, March 3. If you'd like to learn more about what will be on your local ballot, the Voter's Edge guide or the League of Women Voters' Vote411 service are a useful resource. If you are interested in learning more about or getting involved with voter outreach and education here Upvalley, please reach out to the UpValley Family Centers at (707) 965-5010.
Be the first to know
Get local news delivered to your inbox!