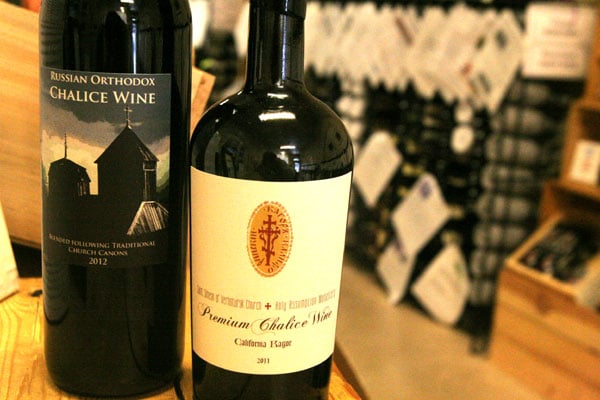 If there were a connection between making good wine and winning the lottery, some may call it luck. Others may deem it divine intervention. And for the priest of Calistoga's Russian Orthodox Church, landing a notable winemaker to make the church's chalice wine was practically a gift from above.
"For me, it's better than winning the lottery," said Father Akim Provatakis.
Noted winemaker Mark Herold agreed to make two chalice wines for Provatakis, taking the wines to another level, earning the praise of Provatakis' peers, who said it's the best chalice wine they've ever had, and delighting the taste buds of dessert wine drinkers.
Recognizing the opportunity to capitalize on his wine country location, Provatakis decided to get into the winemaking business, in part to find a small revenue source for the St. Simeon of Verhotursk Russian Orthodox Church and Holy Assumption Monastery, and in part to fill a gap in affordable chalice wine that occurred when an upstate New York producer discontinued its production of Alicante chalice wine.
Calling it a "traditional blend," Provatakis said the Alicante chalice wine has a little bit of syrah in it. And its price point is less than half the gold-standard version, which Provatakis said many parishes can't afford.
Where Alicante is "the workhorse wine," malbec is "the premium chalice wine," Provatakis said.
Called Kagor, or Cahor, the premium chalice wine made by Herold uses late-harvest 100 percent Napa Valley malbec and is sold by the glass at Calistoga's JoLe restaurant, where diners enjoy it paired with desserts; afterward some ask JoLe staff where the sweet treat can be found for purchase.
Conveniently enough for them, it's available down the street at Margaux Singleton's Enoteca Wine Shop where both chalice wines are for sale — the 2012 Alicante, bottled at the end of June, sells for about $20 for a 750ml bottle, and the 2011 Kagor sells for about $40 for 500ml.
They are also for sale at Herold's tasting room in downtown Napa, where he has sold more than four cases of the Kagor.
"It's the first-ever Russian Orthodox chalice wine from Napa Valley," Provatakis said.
To keep the price down for budget-strapped parishes, the Alicante is sourced from Madera in the Central Valley.
And for those who probably taste their fair share of chalice wine, Provatakis' Kagor is winning accolades. At a recent gathering of priests, word was that the California Kagor was deemed superior to the traditional Russian Kagor.
On another occasion Provatakis poured it for an archbishop from Montreal, who Provatakis said has quite a developed palate. The archbishop called it "the best chalice wine" he's had in his life, he told Provatakis.
Provatakis' vision to create a delicious chalice wine, which is used in religious ceremonies and typically mixed with hot water, came from a look around at his surroundings. It made sense to take advantage of the region's bounty.
"Since I've been in Calistoga, I've learned to appreciate good wine. I've had access to really good wine here," said Provatakis.
But Provatakis didn't know the winemaking process and needed to find someone who did. A chance meeting, perhaps luck or divine intervention, took place at Dirk Fulton's vineyard on Diamond Mountain Road when Provatakis was there to bless the vines.
Provatakis talked with Herold, who manages the vineyard for Fulton's the Vineyardist, and shared a sample of the chalice wine he had with him, and asked if Herold could replicate it.
Herold took it to the lab and told Provatakis he could make it, and they agreed to meet again to discuss details.
"It's providential somehow that we got in touch with each other," Provatakis said.
The day Provatakis and Fulton arrived at Herold's office, Herold said he had been struggling to get his printer to work. Provatakis and Fulton drove up just as Herold stood poised with his printer over his head and launched it to the concrete below.
"Their mouths were slightly ajar," Herold said laughing. "I'm surprised Akim wanted to work with me after that."
Not only did Provatakis want to work with him, he said he's grateful for the opportunity.
"I'm humbled. I did not know what kind of winemaker he was when I met him. As I've gotten more and more involved in the wine community my eyes have started to open and I can't believe the blessing I have that Mark makes this wine for me. I feel like I can't thank him enough."
In the three or so years Herold has been working with Provatakis, he has donated his and his staff's services and production facilities to the church, asking nothing in return.
"It's karma," Herold said, adding that he loves working with Provatakis.
"You should see him drive my 4-by-4," Herold said.
Herold has his own labels — Flux, Acha and Collide — that are sold at his downtown Napa tasting room, plus he consults for wineries such as Hestan, Kamen, Harris, Buccella, Kobalt, Celani Family Vineyards, Maze and the Vineyardist.
He gained attention when his first label, Merus, launched in 1998, got him named "one of California's most exciting new wineries" by the Wine Spectator.
The malbec grapes he used under the Merus label were sourced from the same vineyard as what goes into the 2012 Kagor, he said.
Because the religious practice for chalice wine calls for it to be cut with water, "the wine must withstand that factor," Herold said. He wanted the wine to be good on its own, too, he said.
"I want it to be a very good experience."
Malbec goes by about 30 different names, and "Kagor is one of them. This is just one expression of (the grape)," Herold said.
"I'm trying to make the best chalice wine ever. That's always my intention."
Both wines are intentionally sweet; the Alicante is a little lighter in mouthfeel than the Kagor, with a bit more fruit, such as black cherry, on the palate. The Kagor has flavors of blueberry pie, caramel and nut with a mouthfeel like a port.
Kagor is an intriguing draw for shoppers based on the label alone, Singleton said. A Ukrainian visitor who understood the Russian on the bottle was interested in buying five bottles as gifts, but he wanted a taste first. Singleton explained she couldn't open a bottle in her store, but called down to JoLe, which wasn't open yet that day, and asked if the man and his wife could come down for "a splash." JoLe agreed and the couple returned for their purchase, Singleton said.
St. Simeon of Verhotursk Russian Orthodox Church is located at 1421 Cedar St.; Enoteca is located at 1348 Lincoln Ave.; and Mark Herold Wines is located at 710 First St. in Napa.
Be the first to know
Get local news delivered to your inbox!