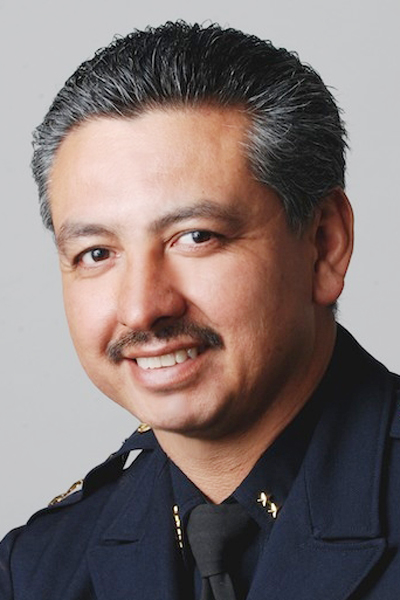 Retiring UC Berkeley Police Chief Mitch Celaya will take over as Calistoga's new police chief at the start of the new year.
City Manager Richard Spitler hired Celaya after reviewing more than a dozen applications and interviewing finalists last month.
"I liked his enthusiasm and his energy," Spitler said Tuesday. "When you talk to him, you can tell he's just very sharp and alive and engaged in doing police work, and also service to the community."
Celaya, 51, is a 30-year veteran of the university police department, serving as chief for the past three years. He announced his retirement last week, effective at the end of December. He manages a department of 64 officers, 45 staff and 60 student volunteers.
Celaya did not return several calls for comment.
Spitler said he is confident that the experience of managing a university-based police department leaves Celaya with "transferable skills" appropriate for a small, relatively quiet tourist town.
Particularly important to his decision, Spitler said, was Celaya's experience in dealing with a broad, diverse and ever-shifting community of students, staff and locals at the university.
Spitler said he expects the new chief to focus on community engagement, getting officers out of their patrol cars and into closer contact with residents, an approach known as "community-oriented policing."
Celaya's tenure as chief has been relatively peaceful, with one significant exception: the handling of Occupy protesters on the Berkeley campus last year.
On Nov. 9, 2011, after several weeks of mounting tension between protesters, administration and police, officers cleared out an encampment of protesters on Sproul Plaza, confiscating tents and using batons on those who refused to disperse. At least 40 protesters were arrested.
The use of batons sparked complaints from activists and some university staff, saying the response had been disproportionate.
Celaya "basically allowed his officers to brutalize students. … We really can't trust the campus police," campus activist Navid Shaghaghi told The Daily Californian, the university's student-run newspaper.
A later university review of the incident found that the police did not use inappropriate force, but it did say that administrators and department leadership should have allowed officers to use pepper spray instead.
Spitler said he is satisfied that Celaya and his department acted appropriately given the circumstances.
"Those situations are always in how you look at it," Spitler said. "There is no perfect answer as events unfold."
Calistoga's acting chief, Susan Jones, will remain on her job through the end of the month, Spitler said. Former Chief Jonathan Mills, now serving as lieutenant, will fill in as acting chief in December, until Celaya takes office.
The chief job in Calistoga became open earlier this year when Spitler shook up the leadership, saying the department needed a new direction. Mills, who had been chief for six years, agreed to step down into the vacant lieutenant position.
The department had come under criticism by the public and councilmembers last year after the officers' labor association declared an economic boycott against Calistoga businesses to protest cuts in benefits in the latest labor contract. They backed off that boycott a month later in the face of fierce anger from business owners, but the incident led to a wider discussion about the future of the department.
After demoting Mills in May, Spitler brought in Jones, the retired chief from Healdsburg, to help him find a permanent replacement.
Jones said she has known Celaya for nearly two decades, since his wife worked for her at the Concord Police Department, and she considers him both a friend and a solid professional.
"I know Calistogans will enjoy his tenure here," she said in an email Tuesday. "He's an expert in neighborhood policing and he has a lot of experience working with diverse populations. He will be a great addition to the Calistoga Police Department and I'm thrilled that he will be here."