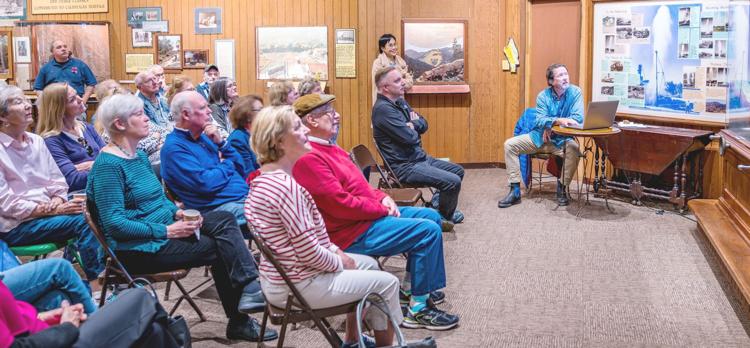 The new owners of Calistoga's Francis House, Dina and Richard Dwyer, started renovating the historic structure in early 2016. Two years later, as they near completion of their project, they met with the community at the Sharpsteen Museum last week to provide an update, share photos and tell a few stories.
The five-room luxury bed-and-breakfast is now scheduled to open sometime in August.
"Things have gone a little more slowly than we initially thought, but we want to get the details right," Dina said to the group of more than 20 Calistogans who attended the event. "We did not cut corners here."
She explained that they salvaged stone blocks from the building, and their stone masons are using them to build columns and a fire pit from scratch.
"We found beautiful limestone columns and fire pits that would cost us less and could be done faster," she said. But instead they chose to use native material.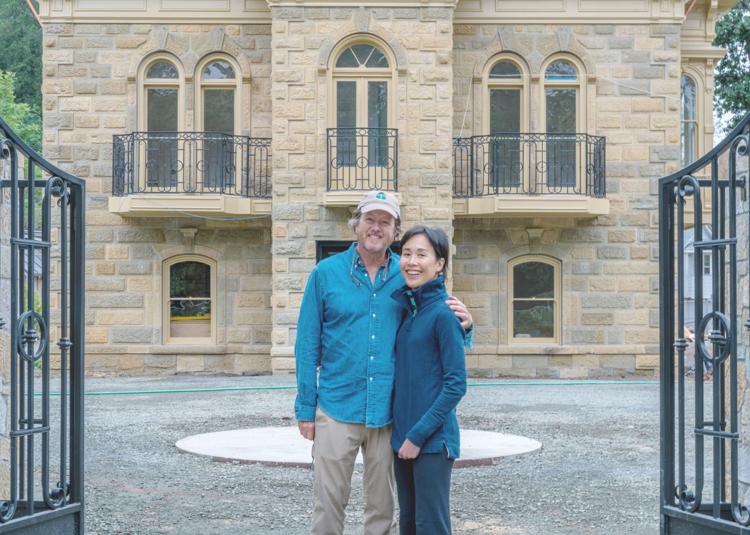 Other time-consuming elements of the project stem from the building "being off the (electrical) grid for many years. Because we are operating as a commercial property, (we) needed to be up to code," she said.
Originally built as a three-story stone home for a prosperous local merchant and rancher, James H. Francis, the building has gone through many changes over the years. In about 1918 the house was converted to a hospital that was closed in 1965 for failing to meet health standards.
In 1979 the building had deteriorated due to neglect, but because of its uniqueness, grandeur and age it was listed on the National Register of Historic Places. Decades passed and the building's future was uncertain, with some in the community questioning if the building would ever find an owner who might have the vision and stamina to bring the grand old home back to life.
Questions from the Sharpsteen audience focused on the history of the Francis family (James' brother George was the original co-founder of the Napa Register), the building's history and what type of artifacts were unearthed during construction.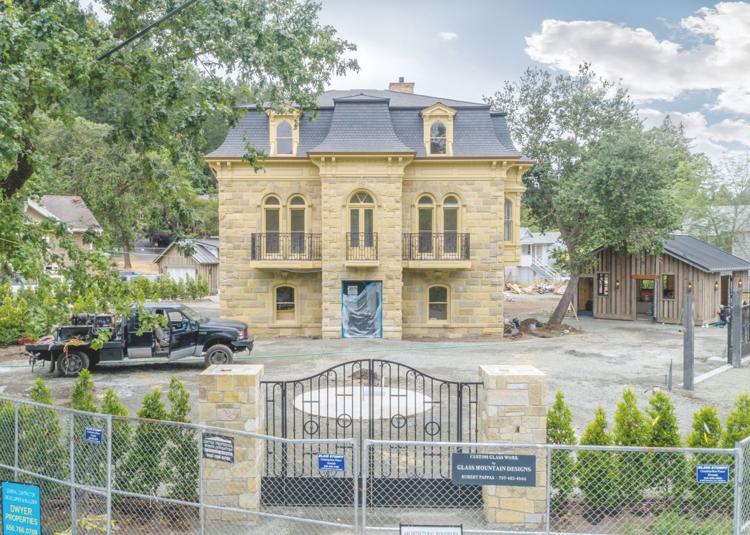 "We hoped to find more than just beer bottles, but the only artifacts we unearthed were a couple of old medicine bottles and some rusty hardware materials," Dina said. "Oh, we also found an old hand-forged horseshoe."
You have free articles remaining.
Richard seemed most surprised by how much had been removed from the house.
"I mean, they even took the door handles," he said. "It was very surprising that despite the abundance of graffiti on the interior walls, the stone walls were left unmarked, which is a blessing because they would be very difficult to clean."
On a mission
"When I first saw the building online for that price (around $650,000), I thought, 'No way,'" Dina said. "The picture we saw made it look like it was bigger than it actually is, but it looked like an old French chateau and we thought, wow, this is a perfect match for us, something that we really could do."
The Dwyers are certainly well-suited for what has become a multi-year renovation project. Dina is an interior designer who does both residential and commercial projects in San Francisco and New York, while Richard is a San Francisco-based builder who has constructed and remodeled luxury homes in Hillsborough and Palo Alto. He is also a licensed real estate broker and general contractor.
When the project is complete, the couple plans to live in a portion of the house with Richard splitting his time between here and the Bay Area while Dina operates the bed-and-breakfast.
"Richard will be in Calistoga half the time but will transition here full time in the next couple of years," Dina said. "We've hired a local marketing and hospitality director (Eden Umble) but are still looking for a chef and cleaning personnel."
As a history buff and 25-year resident of Calistoga, Umble has always been fascinated by the Francis House.
"It's right in my neighborhood — if those walls could talk!" Umble said. "To see how Richard and Dina have brought it back so lovingly is a miracle. Places like this deserve saving and celebrating, and they've preserved its historic beauty while also taking it forward as a unique way to experience the Napa Valley."
The rooms will start at $495 a night and will include breakfast, access to the pool and a "halotherapy" salt room, which is part of their infrared sauna. There will be evening wine service Thursday through Sunday. Pets are not allowed.
Given the couple's and team's expertise and commitment to this project, many in the Napa Valley (and beyond) are looking forward to seeing the completed building and grounds.
"This has basically become our child," Dina said. "We spent a lot of time and resources on bringing it back to its original grandeur, and even beyond. This grand dame was just too precious a building. It was built in 1886, and we want to give her 150, 200 years more. We've come to love this community and want to honor the history and people by creating something that we can all be proud of — there's more work to do, but we are getting close!"