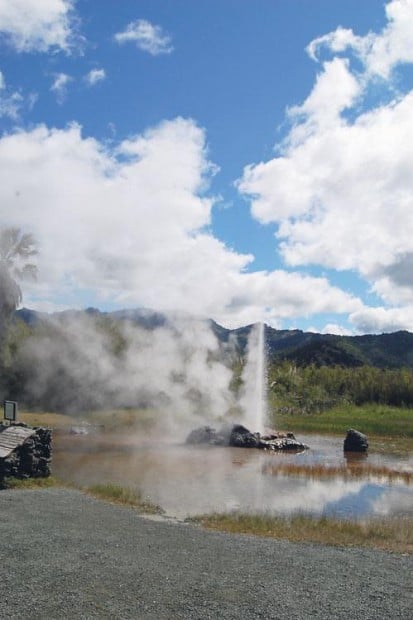 Like the Ancient Mariner said, "Water, water everywhere, but nary a drop to drink." … Not at 350 degrees, which is the temperature at which columns of superheated underground water spout from Calistoga's Old Faithful Geyser of California.
Since the '70s, the subterranean phenomenon has been an attraction for people of all ages and among the reasons why Calistoga has been a destination for tourists. Like clockwork, this curiosity on Tubbs Lane shoots about a thousand gallons skyward every half hour and as frequently as every 5 to 10 minutes during the rainy season. Eruptions in wet weather may last a minute; with warmer weather they last longer.
The tourist season now beginning will bring greater crowds to Old Faithful, says general manager Tim Widoff.
"We'll get 800 to 1,000 people on the Fourth of July," he said. "Students from lower grades to high school seniors. During the school year, we invite a lot of groups to come in. We get a couple of field trips a month from school all around northern California, the farthest from Sacramento. One field trip was from a Southern California school." Additionally, the California Veterans Home in Yountville brings in a couple of buses each year, he said.
Widoff, who has managed Old Faithful since 2003, said that it continues to be a site for USGS studies.
"They've done a couple of experiments out there," he said. "They set out pressure plates all around the area and found that during an eruption the ground would rise a little bit. They were here this spring to measure how frequently this happens and invited a UC-Berkeley professor and his students.
"There have been a lot of geology studies done here," Widoff added. "The Carnegie Institute in New York came and put up a scanner to see the heat coming off the geyser and record the eruption."
Because of all the underground activity, the area occasionally experiences earthquakes that register from 2.0 to 3.0 on the Richter Scale. "But when the USGS was here they said it's better to have a lot of little earthquakes than one big one," said Widoff.
The Old Faithful Geyser of California was discovered in 1906 by rancher Fran Rache and his wife Grace. Retired school teacher Olga Cream made it a tourist attraction after she and her husband Howard purchased the site in 1974. A prior attempt at attracting tourists was made by a man named E.T. Plummer, as old postcards from the period attest.
The geyser is a single well with a cavern beneath that fills up with fresh water, said Widoff. Heat from the ground builds up steam and the pressure that makes the water erupt.
Calistoga's is one of three "Old Faithfuls." Another of approximately the same size is in New Zealand. The most famous is located in Yellowstone Park.
"The water and steam from its eruptions go on for 60 to 90 minutes and it erupts to 100 to 150 feet," Widoff said. "Ours goes from 50 to 60 feet."
Between eruptions, visitors can picnic and check out the herd of goats, four-horned sheep and llamas the facility maintains. Of particular interest are the Tennessee fainting goats, which when frightened actually appear to faint.
"Actually, their muscles seize up and they can't move," said Widoff. "It causes them to run real funny or just fall over."
But visitors to Old Faithful Geyser who want to witness this strange behavior for themselves probably will be disappointed.
"They don't faint much anymore," said Widoff. "They got used to people."
Be the first to know
Get local news delivered to your inbox!