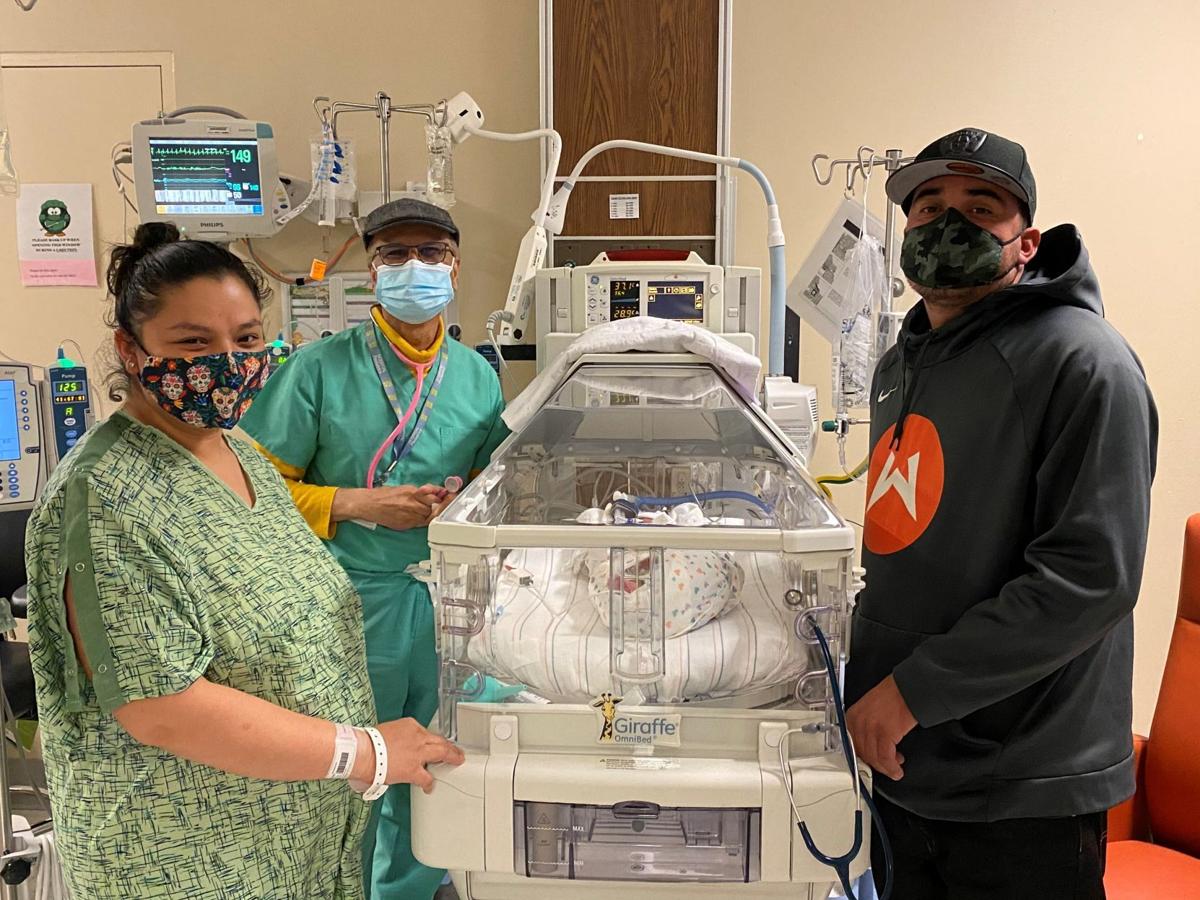 Perhaps Noemi Cervantes Ceja knows something about 2021 the rest of us don't quite yet.
Noemi, the first baby to be born in Napa County in 2021, arrived at Queen of the Valley Medical Center on Jan. 1 at 4:53 a.m., almost seven weeks early, according to her mother, Napa resident Rebeca Ceja. She must have been too excited about the year ahead to wait, Ceja agreed.
"She just wanted to come out," Ceja said.
Noemi, who was born at 33 weeks, came out "crying and with mature lungs," according to Dr. Dushyant Oza, director of newborn services at Queen of the Valley Medical Center. She is breathing comfortably with the help of a small CPAP machine, Dr. Oza said, and is expected to be out of the NICU in two to three weeks.
Queen of the Valley is able to care for infants as young as 32 weeks, according to Dr. Daniel Hersh, Noemi's delivering physician. (Dr. Hersh has also delivered two of Ceja's three other children, he noted.)
"We had a very good outcome," he said of the birth. "And (Noemi) didn't have to get transported to San Francisco for care."
Ceja, who has three other children — including a soon-to-be 1-year-old, Noemi's Irish twin, who was born at 34 weeks — said Noemi's siblings are excited to meet her. Ceja and her husband, Noemi's father Julio Cervantes, are taking shifts visiting Noemi in the NICU and taking care of their other children, Ceja said.
Ceja was admitted to the hospital on New Year's Eve, she said. It was a little stressful, she said. Precautions put in place to prevent the spread of COVID-19 meant she couldn't have a "support person," her husband, by her side until the actual delivery, but ultimately things went smoothly.
"I was shocked — I honestly didn't think Noemi was going to come (that morning)," Ceja said. Nurses told her there was another patient going into labor, too, and joked it would be something of a race between the two women to see whose child would be the first born in Napa County in the new year.
They brought her a cup of sparkling apple cider just before midnight on New Year's Eve, Ceja added.
After Noemi was born, the hospital gave Ceja and Cervantes a "humongous" gift basket, according to Ceja — something the hospital's Obstetrics Unit gives to the parents of the first child born each year.
"Each of the nurses contributed a little something to it, and that was so appreciated," Ceja said. "They said to me: After everything you've been through, it's well deserved. Little things like that make such a difference."
Watch Now: How to have a cozy quarantine home this winter
Sarah Klearman's most memorable Napa Valley Register stories of 2020
Catch up on Napa County's top news stories