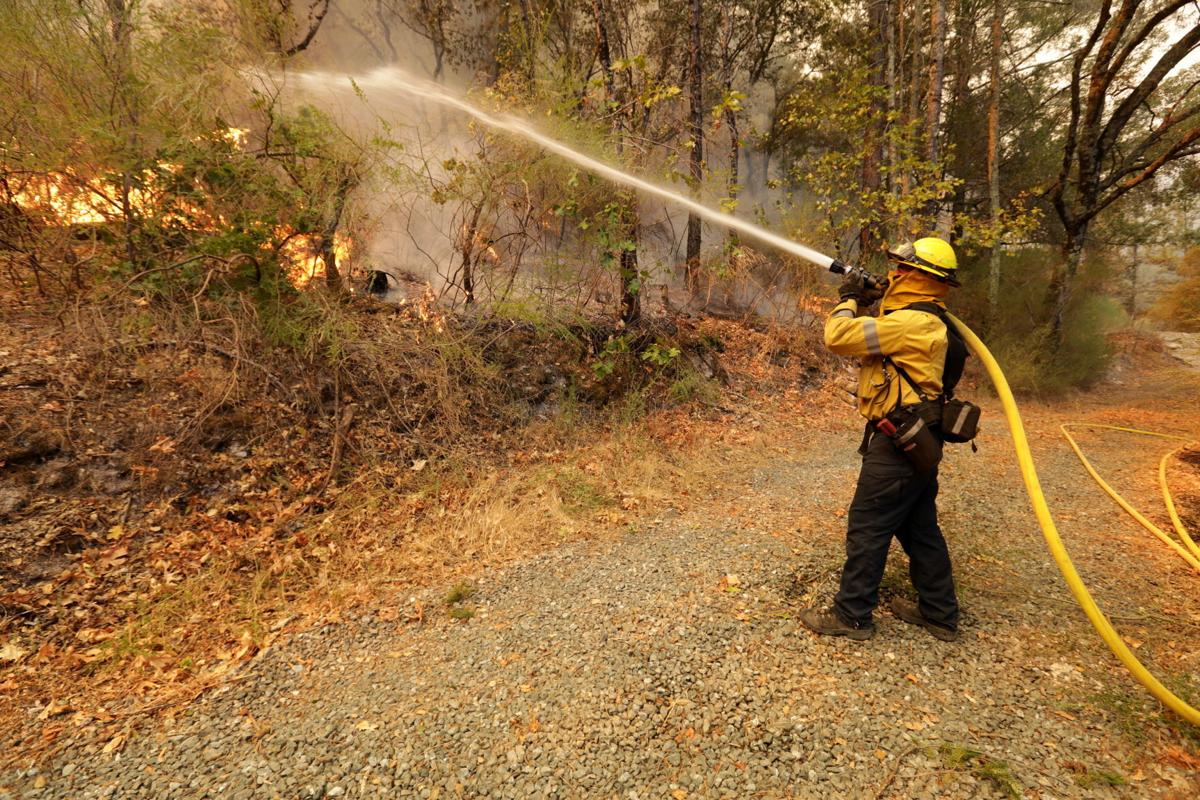 Harvest became a secondary concern this week as a new wave of fires tore through upper Napa Valley.
Given the ongoing emergency, many correspondents, especially those Upvalley, couldn't submit reports this week. Those who did struck a somber tone, with Jennifer Rue of Oakville Ranch Vineyards calling the 2020 season "an exercise in uncertainty and crisis management."
Lorenzo Dalla Brea said Hess Collection decided not to harvest grapes at Mount Veeder this year.
"Unfortunately it looks like the fire situation is not over and I understand we are not the only one to have made this very difficult decision," he said.
Here's this week's harvest report, organized by American Viticultural Area (AVA):
Rutherford — Kristin Belair, Honig Vineyard & Winery — "It seems nearly impossible to find words for what is before us. My heart breaks for Napa Valley. I know as a community we will eventually work our way through this and come back bright and resilient and that there will we some lovely wines from the 2020 vintage. For now though, we are done with bringing in grapes for this year and will be helping our friends, colleagues and neighbors in any way that we are able."
Oakville — Jennifer Rue, Oakville Ranch Vineyards — "In the first week of Autumn, lights dotted the valley for nighttime and early morning picks. For a brief moment, it felt like harvest. 28 days. That is the number of days the 2020 harvest lasted for us at Oakville Ranch with our last pick scheduled before the first full week of October. The word "scheduled" implies certainty, but even before the eruption of the Glass Fire, 2020 has been an exercise in uncertainty and crisis management. Grapes grown in Oakville don't always stay in Oakville and some picks are being funneled to alternate crushing locations made available by friends and neighbors for wineries inaccessible due to road closures and evacuations. Our strength lies in our resourcefulness and cohesion as a community and Napa Strong means more and more with each challenge."
Stags Leap District — Elizabeth Vianna, Chimney Rock Winery — "The recent warm temperatures had started to move harvest along in our little Stags Leap District neighborhood. Michael Beaulac, winemaker at Pine Ridge Vineyards, finished harvesting all his Stags Leap District fruit. Chris Tynan, winemaker at Cliff Lede Vineyards, has wrapped things up there for harvest. The new Glass Fire started on Sunday early morning and harvest has officially moved to hyper-speed to get the fruit in. We are all too busy to even send updates. At Chimney Rock we are on a fast sprint towards the finish line. Our hearts are with our friends in north Napa and in Sonoma as they go through another critical moment and we are grateful for all the first responders on the front lines saving homes, lives and wineries."
Oak Knoll District — Jon Ruel, Trefethen Vineyards & Winery — "New week and new fires as the challenges of 2020 continue. Our hearts go out to those Upvalley who have been directly impacted by the latest blaze and we hope it is brought under control soon. At Trefethen, we brought in some more Cabernet Sauvignon on Monday morning, under blue skies, but our plans for the rest of the week are obviously TBD. Stay safe out there!"
Coombsville — Tom Farella, Farella Vineyard — "The 2020 vintage keeps dishing challenges and our thoughts go to those Upvalley with the Glass Fire. Meantime, Coombsville continues with small harvests of red grapes. Most of us have concerns with smoke exposure and many questions remain. In effect, each lot harvested is an experiment and we are mixing up our protocols to learn what we can while we take out best shot for something delicious. Much of the red grape harvest is still pending as ripeness levels slowly reach the finish line."
Carneros — Christopher Hyde, Hyde Vineyards — "This week in Carneros, harvest is approaching the finish line. At Truchard Vineyards, final red varieties including Syrah, Merlot Cabernet Franc & Cabernet Sauvignon being harvested. Just to the South at Hyde Vineyards, the final grapes have been harvested, with cover crop already mostly seeded in anticipation of the much needed rains. The grape harvest here ends just as new concerns of the effects of smoke arise for growers, with the devastating and tragic fires that have erupted Upvalley early this week."
For real-time harvest photos and updates, visit the Napa Valley Vintners' Harvest 2020 website at harvestnapa.com.
Watch now: Vines on Las Amigas Road before harvest