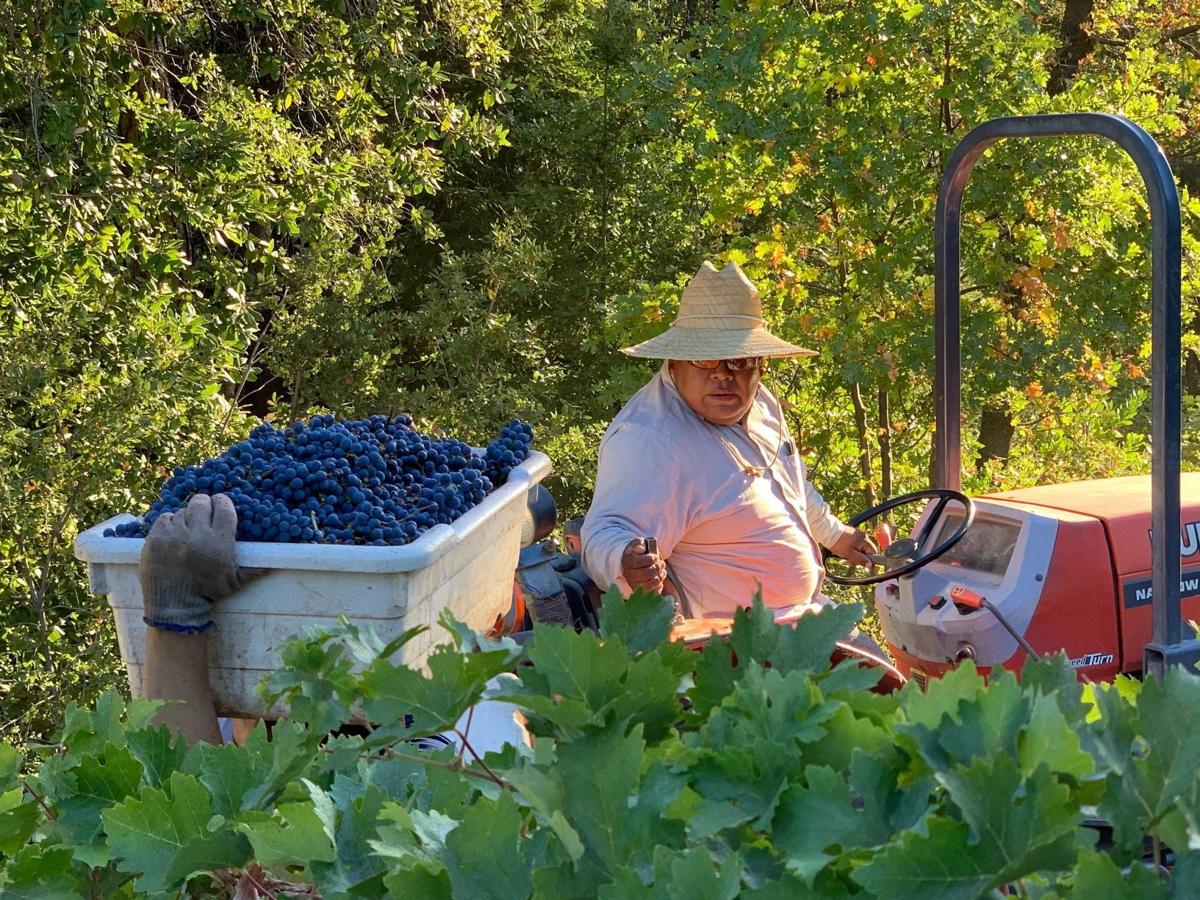 Grapegrowers' attention is turning from whites to reds like Cabernet Sauvignon, the valley's dominant crop.
"The light rains early in the week were enough to knock down the dust and the cooler temperatures really were optimal for hang time," said Alexander Eisele of Volker Eisele Family Estate in Chiles Valley. "Flavor and seed development have been fantastic though very slow."
After an "easy does it" pace last year, 2019 "is beginning to look more and more like an 'everything all at once' vintage," said Jennifer Rue of Oakville Ranch Winery. "Buckle up."
Here's this week's harvest report, organized by American Viticultural Area (AVA):
Calistoga — Matt Crafton, Chateau Montelena — "A busy start to the week as crews hustled up the craggy hillsides for our first Cabernet of the year. Weather conditions have been ideal and yields have been slightly above average, a great start to the red grape harvest. It's typical late-September weather for Calistoga, when nighttime temperatures dip into the 40s and your fingers go numb when sampling at first light. Ripening seems to be quite uniform and there doesn't seem to be as much block-to-block separation in flavor. There's quite a bit of fruit that almost ready so we're all poised for the heat on deck this week."
Howell Mountain — Laura Barrett, Clif Family Winery — "Most producers on Howell Mountain have wrapped up their white winemaking for the season and are slowly transitioning into reds. Danielle Cyrot, winemaker at Cade, just finished up her Estate Sauvignon Blanc last Friday and plans to pick Cabernet Sauvignon and Merlot from Ink Grade Road this week. Mike Lamborn of Lamborn Family Vineyards plans to harvest his Zinfandel later this week, with a young block of Cabernet not far behind. Then general consensus across the AVA is that this week's heat wave is pushing things along, with the earlier sites into harvest mode. But, the majority of our classic Cabernet is sitting at 23-24 Brix. Close, but not ready yet."
Diamond Mountain District — Dawnine Dyer, Dyer Vineyards — "Just beautiful conditions on Diamond Mountain … we had a little scare when a Red Flag Warning, indicating extreme danger of fire was posted for the region on Monday, but that seems to have been downgraded to just good old-fashioned hot September weather. Most of our winemakers are holding firm looking for the end of the heat to make their next move. Canopies are still green and fruit is clean and flavorful. I can't wait to see them in the fermenter … but only when the time is right!"
Chiles Valley District — Alexander Eisele, Volker Eisele Family Estate — "The light rains early in the week were enough to knock down the dust and the cooler temperatures really were optimal for hang time. Flavor and seed development have been fantastic though very slow. The last Chardonnay and Zinfandel from the higher elevations are being picked. Merlot is getting close. Some vineyards report being over two weeks behind their average harvest dates. Cabernet is testing anywhere between 21 and 24 Brix."
Spring Mountain District -- Stuart Smith, Smith-Madrone -- "The Spring Mountain AVA is inching forward with harvest. We're all seeing the beginning of the leaves yellowing which is a good indication that the vines are recognizing that fall is here and their need to seriously get on with their jobs of ripening their fruit. Sarah McCrea reports the Stony Hill has finished with their whites and brought in a small block of Syrah. Chris Howell of Cain Cellars has done some lots of Merlot and Malbec. Sally Johnson at Pride has finished with the whites and harvested first crops off of Syrah and Grenach. Andy Schweigher at Schweiger Vineyards has started some Merlot and expects to harvest Chardonnay and along with some Cabernet Franc, Malbec and Cabernet Sauvignon in the next few days."
St. Helena — Cathy Corison, Corison Winery — "At Corison Winery we started harvesting reds in earnest last week with our Cabernet Franc and our earliest blocks of Cabernet Sauvignon. We will finish picking all our Cabernet Sauvignon this week, except the venerable Kronos Vineyard. I expect it to come in next week. Our gravelly loam soils support balanced vines and promote early seed lignification, resulting in velvety tannins. The long, mostly cool season yielded delicious flavors with delightful natural acidity. Stephan Cruzan, the winemaker at Titus, reports that they finished picking their whites and is very happy with the freshness of aromas and flavors. He anticipates picking some Malbec and possibly Merlot by the end of this week. Pam Starr of Crocker & Starr tells of finishing their estate Sauvignon Blanc at the end of August and will start picking Cabernet Franc this week. She noted that the trace of rain last week kept the vines and fruit fresh."
Rutherford — Kristin Belair, Honig Vineyard & Winery — "Fall has arrived and is behaving in its typical hot and cold fashion. After a warm (OK, hot) dry start to this week, the forecast is predicting a week of cool weather to follow. Keeping in touch with neighbors and friends during the busy harvest season can prove challenging. Marisa Taylor, Head Winemaker and General Manager of Rutherford Hill Winery had this to share: 'We have had a great start to harvest – our Sauvignon Blanc is in along with our first Merlot. With the steady temperatures, the fruit flavors and intensity have been wonderful. The grape gates are sure to open for us with the increased heat – we will be busier with more Merlot this week. So far, our harvest dates have been close to last year's.' At Honig, we have our first Cabernets scheduled to arrive midweek. However, we are anticipating a start-stop pattern to the Cabernet harvest, due to the anticipated cool down at week's end. White fermentations are finishing up and the Sauvignon Blanc continues to reveal a plethora of lovely grapefruit, peach and tropical notes."
Oakville — Jennifer Rue, Oakville Ranch Winery — "As we roll into the first week of autumn, there is very little picking action happening in Oakville. We're enjoying a pause between whites and reds and Mother Nature is serving a veritable smorgasbord of weather. Days grow perceptibly shorter and all eyes are on overnight low temperatures and the 4 letter R-word. Hints of yellowing are starting to appear in basal leaves and creeping into the canopy in leaner sites. Overall canopies look good, signaling there is enough gas in the tank to cross the finish line. That said after last year's 'easy does it' vintage, 2019 is beginning to look more and more like an 'everything all at once' vintage. Buckle-up."
Yountville — Louis Kapcsandy, Jr., Kapcsandy Family Winery — "Just when we all thought the summer heat was behind us, Tuesday's blast sent many of us out to the irrigation valves to give our precious vines a drink. Those lucky enough to have backup generators made ready in case of a Public Safety Power Shutoff. Hundreds of pounds of grapes still on the vine were sampled for sugars and acidity. Impassioned calls were placed to Rutherford Rental to secure the last available portable tanks. Yet once again, as is so often the case, a great portion of the valley is in 'hurry up and wait' mode. Waiting for pyrazines (green flavors) to degrade in the Cabernets, waiting for tannins to develop slightly more, waiting for the precise moment to announce 'call the crew, we're ready to pick.' Wishing everyone cool, dry days for the next few weeks."
Stags Leap District — Elizabeth Vianna, Chimney Rock Winery — "The recent warm temperatures have started to move harvest along in our little Stags Leap District neighborhood. Remi Cohen, at Cliff Lede Vineyards, reports the first SLD Cabernet Sauvignon is in, 'looking good,' she comments. Michael Beaulac, winemaker at Pine Ridge Vineyard had scheduled his first SLD Cabernet to the crush pad as well and excitedly reported, 'very small berries.' Marcus Notaro, winemaker at Stag's Leap Wine Cellars, had only brought in a small amount of Cabernet from the Fay vineyard for Rosé but says that grapes are 'getting there.' Our friends at Shafer Vineyards were planning on harvesting their first SLD fruit, Merlot. Elias Fernandez says, 'This last heat before the cool down should move things along.' At Chimney Rock, we have just scheduled our first fruit on our SLD estate – some hillside Merlot and we couldn't be more excited. The pace of harvest should start to pick up as we enter October."
Mount Veeder – Lorenzo Dalla Brea, Hess Collection — "As this week begins, we welcome the beginning of fall. Typically at this time of the year seasonal cold nights allow grapevines to recover from the daily heat that is normal in late September and early October. The light rains we experienced last week did not result in any damage to the hanging crop. This week we will be actively sampling our white varieties to assess sugar and flavor development, as we are planning for the beginning of harvest, that could potentially occur in the late part of this week."
Oak Knoll District — Jon Ruel, Trefethen Vineyards — "The official arrival of fall included a brief heat spell which seemed to have accelerated some picking plans. Our own winery was already about half way done, with all the whites in the barn and the hearty reds still hanging out in the vineyard. We are picking small amounts of Merlot and Malbec this week. Tres Goetting, winemaker at Robert Biale Vineyards, has been thrilled with the flavors in their estate vineyards this year and says they are expecting a big week of Zinfandel and Sangiovese. Stan Boyd is picking some young Merlot and Steve Moulds is starting on his Cabernet Franc."
Coombsville — Tom Farella, Farella Vineyard — "A serious heat spike in the forecast – and then a huge drop in temps later in the week – has us jumping to get our Merlot and some of our Malbec in as it coasts to perfection. There is still some Chardonnay out there and almost no signs of Cabernet coming off so we are expecting a surge of harvesting starting next week. Thankfully, they pulled any precipitation from the forecast towards the end of the week but it will probably bring another round of offshore flow after the dry front passes. It's always interesting at this stage and we hope the Cabernet doesn't flatline as it often does later in the season. The quality across the board is exceptional, an embarrassment of riches in light of last year's heavy crop."
For real-time harvest photos and updates, visit the Napa Valley Vintners' Harvest 2019 website at harvestnapa.com.