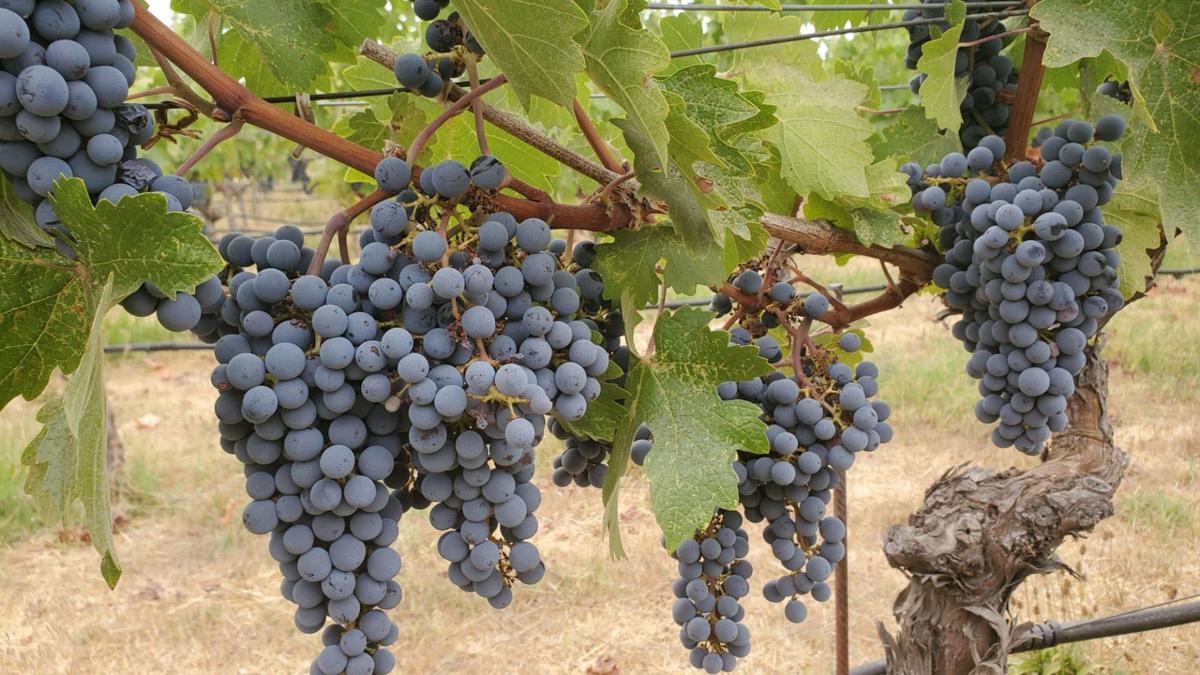 A hot weekend accelerated the Napa Valley grape harvest, which returned to a relaxed but steady pace as temperatures cooled down this week.
As correspondents noted last week, quality is high but yields are down, with some Oakville vineyards down as much as 50%, according to Jennifer Rue of Oakville Ranch Vineyards.
"In general across all varietals we are seeing much lower than average yields due predominantly to the smaller cluster sizes," reported Alexander Eisele of Volker Eisele Family Estate. "Flavors have been developing nicely and the quality of the fruit looks to be outstanding so far."
Support local news coverage and the people who report it by subscribing to the Napa Valley Register. Special offer: $1 for your first 6 months!
Here's this week's harvest report, organized by American Viticultural Area (AVA):
Calistoga — Matt Crafton, Chateau Montelena — "A very warm weekend has given way to absolutely beautiful weather this week. It's this regular back and forth, sashaying between warm and cool, that builds complexity and nuance in our fruit. Flavors in our hillside Cabernet have developed considerably with some of the lower-yielding blocks on deck for next week. It's not uncommon to see the first reds of the season around Labor Day in Calistoga, especially with a light crop. Berries are tiny overall but with plenty of texture and acid (due to downright cold nights and quick maturation). I don't anticipate this to be a 'long hangtime' sort of year. But lots to look forward to."
Diamond Mountain District — Dawnine Dyer, Dyer Vineyard — "On Diamond Mountain we're getting our first look at the 2021 vintage with Chardonnay at Constant kicking off this week. All agree that cluster size is small and growers are expecting a light crop. After last year, when many of us were unable to pick, small sounds wonderful! The main issues have been water and heat in this drought year. There are several established dry farmed blocks in the Diamond Mountain District at Diamond Creek and at Dyer and they continue to look very good. Shade cloth is in use at Constant, Haas and the old Revere Vineyards. Water is tight but being managed and growers are extremely optimistic about quality. The red grape harvest is expected to start in the second half of September — a little early but not a record."
Howell Mountain — Laura Barrett, Clif Family Winery — "While the south side of Howell Mountain remains quiet on the harvest front, the north side has seen some action this week. The mini heat wave has pushed some producers into harvest mode for their early red varietals. Mike Dunn of Retro Cellars harvested his Syrah from Summit Lake Drive, two weeks earlier than normal. The Clif Family Estate Zinfandel, also located on the north side of the mountain, will be picked this week. And, there are reports of Cabernet in the same neighborhood accumulating sugar ahead of schedule. So, early seems to be the buzz word in the warmer parts of Howell Mountain and vintners are surprised, yet excited to get these grapes through the winery doors."
Chiles Valley District — Alexander Eisele, Volker Eisele Family Estate — "The Sauvignon Blanc harvest is behind us but there is no time for a break, the warm temperatures have kept things moving along. This week the first Chardonnay as well as the first Zinfandel will be harvested. One vineyard is reporting to be harvesting several weeks ahead of their historical average while another is very similar to last year. In general across all varietals we are seeing much lower than average yields due predominantly to the smaller cluster sizes. Flavors have been developing nicely and the quality of the fruit looks to be outstanding so far. We are looking forward to some milder temperatures this week."
Spring Mountain District — Stuart Smith, Smith-Madrone Winery — "Stony Hill has finished their Chardonnay and will finish their Riesling this week. Smith-Madrone will also finish their Chardonnay and then gets a short break before getting after their Riesling. Andy Schweiger is super pleased with their Pinot Noir harvest. Matt Gardner at Keenan is also going after their Chardonnay this week, but his Cabernet and Zinfandel aren't that far back. At Spring Mountain Vineyard Ron Rosenbrand has finished his Sauvignon Blanc and will take a good look at starting Chardonnay this week. Early indications are that juice yields across the board are below average, which bodes well for a very good vintage."
St. Helena — Jean Hoefliger, AXR Napa Valley — "The harvest is moving along nicely for 2021 and AXR will be finishing up our white harvest at the conclusion of next week. Overall, we are seeing slightly smaller yields than anticipated but the fruit that has been coming in and sampled in the vineyard is extremely aromatic and balanced. In addition berry sizes are ideal and we've been lucky to be experiencing pretty mild and stable weather which will work to maintain and protect the integrity and acidity of the fruit. We are seeing this harvest as a whole, about 10 days earlier than previous years!"
Rutherford — Kristin Belair, Honig Vineyard & Winery — "Last week, we predicted that we would be reaching our daily crush capacity soon. That has certainly happened. Our schedule is bursting at the seams every day until after Labor Day and we are already starting to schedule the earlier Cabernet vineyards! Chris Phelps, associate winemaker at Inglenook, reports the following: 'Marsanne and Roussane look ready for this week, and with the warm weather this past weekend, we will be into our first blocks of Merlot, Syrah, and young Cabernet Sauvignon just after Labor Day. Yields are a bit on the low side, but quality for the entire estate looks very, very good so far!'"
Oakville — Jennifer Rue, Oakville Ranch Vineyards — "The early weeks of each vintage allow white grapes, which account for less than 12% of plantings in Oakville, to take the spotlight. Last week, Sauvignon Blanc dominated picks in Oakville, including Mondavi and Turnbull bringing in their blocks. Reports of a lean crop persist, with some sites down as much as 50%. Estimates for red grapes show expected yields to be less impacted. Hot days over the weekend helped push the last Sauvignon Blanc blocks across the finish line, with Chardonnay and Semillon following close behind. Cooler weather in the forecast helped calm nerves, keeping an 'easy does it' pace to this first phase of harvest 2021."
Yountville — Louis Kapcsandy Jr., Kapcsandy Family Winery — "As the winds shift to our favor, a welcome cooling trend will settle in over the next several days. Sugars are loading (increasing) near 1 degree Brix per week, with most whites hovering in the 20-22 range. Grape berries are healthy and plump with some relatively thick skins in the reds noted; seeds are turning green-to-brown as this year's marathon enters its final stage. Thankfully, a warming trend predicted for the upcoming holiday weekend will fall short of past Labor Day scorchers, a la 2017 and 2015. As in every vintage, there are several sage predictions about September but none of us has a crystal ball, so we simply go about our business with the same honor and courage as in years past. As final preparations are made for the crème-de-la-crème of Napa Valley fruit, this year's anticipation is especially profound."
Stags Leap District — Elizabeth Vianna, Chimney Rock Winery — "Winemakers in the Stags Leap District are still playing the waiting game on red grapes. Josh Widaman, winemaker at Pine Ridge, checked in this week and reports that, 'Currently, we are looking like the last week of September for our SLD fruit. Interns are coming in next week and getting trained up, and we are all hoping that these high 70s that we've seen lately return to the typical high 80s. Yields are down about 15%. So, a quick and frenetic harvest is probably in the cards for us.' Michael Baldacci, director of operations at Baldacci Vineyards, says they are also three to four weeks out and expects things to move quickly as well — due to the lighter crop. At Chimney Rock, we continue to get things ready for harvest, and we'll have seen some harvest activity from our Sauvignon Blanc and Sauvignon Gris grapes from Rutherford early this week."
Mount Veeder – Lorenzo Dalla Brea, Hess Collection — "Last Friday in the cool morning hours we picked three tons of our Estate Chardonnay out of the Veeder Summit Ranch. These grapes have been farmed on steep mountain terraces and their sun exposure has allowed for ideal ripening of the fruit. Yields are below historical averages, confirming the impact of the drought on production. However, quality is superb, and we look forward to seeing this fruit progress in the cellar over the next several months."
Oak Knoll District — Jon Ruel, Trefethen Vineyards & Winery — "The weekend weather was hot and hazy but the vines and grapes came through in fine fashion. We have been picking individual blocks of Chardonnay as they reach optimal ripeness, as well as our first block of Riesling for the year. The flavors have been great, at moderate sugar levels, and the pace of the picking remains calm."
Coombsville — Tom Farella, Farella Vineyard — "A short heat spike moved things along nicely with a cool-weather forecast dialed in for later this week. Some Sauvignon Blanc and Chardonnay are harvested but just getting started with veraison still in very late stages for the reds. We anticipate a bit of a break until a few weeks from now when things really get going. The Sauvignon Blanc we harvested was in excellent condition, drought aside, but quantities were on the low side due to lower cluster counts and weights."
Carneros — Christopher Hyde, Hyde Vineyards — "With weather reaching 100 degrees over the weekend here in Carneros, harvest is entering full swing at Hyde Vineyards, with more grapes for sparkling wine being picked and still wine harvest for Chardonnay and Pinot Noir beginning this week. The warm weather has accelerated sugar accumulation, with cool temperatures and morning fog creating ideal conditions for ripening in these last days before harvest."
For real-time harvest photos and updates, visit the Napa Valley Vintners' Harvest 2021 website at harvestnapa.com.