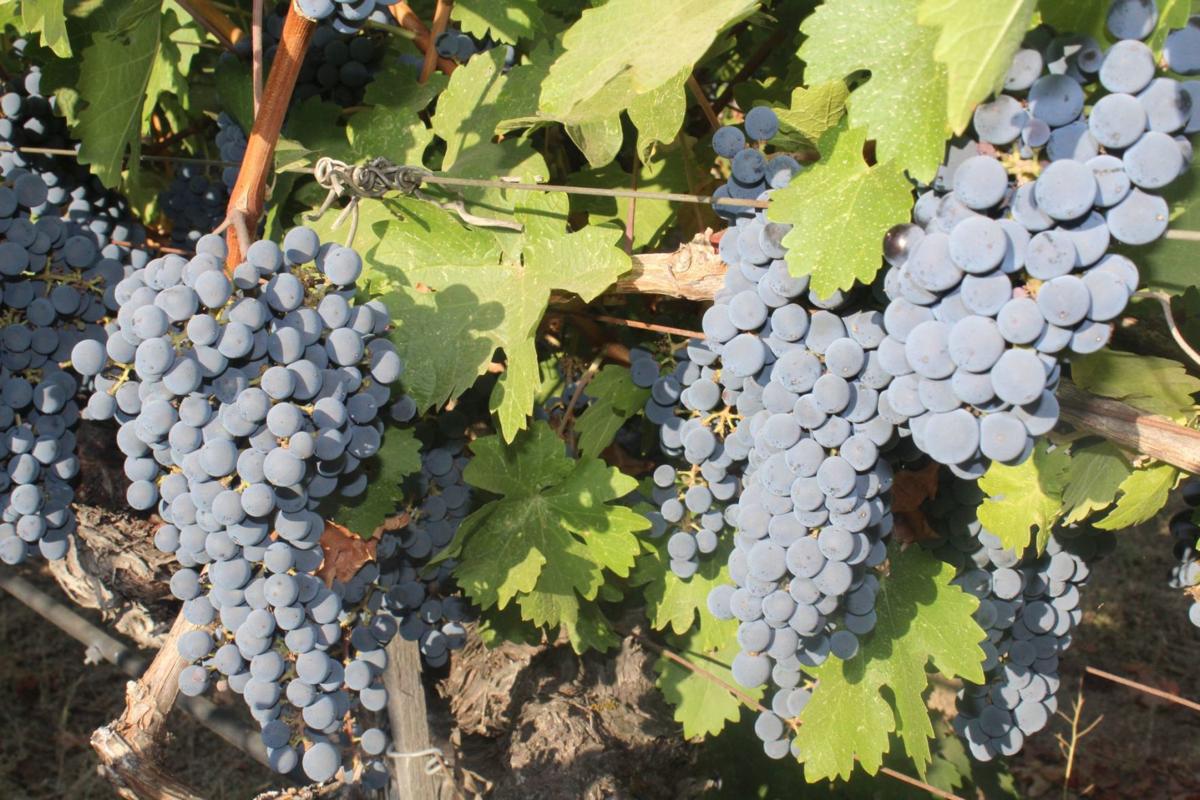 The harvest of white grapes is in full swing throughout much of the Napa Valley, as red varieties ripen steadily amid cool nights and warm days.
"The lack of extreme heat has kept the fruit plump and allowed for slower ripening than in years past without much irrigation being needed," said Alexander Eisele of Volker Eisele Family Estate in Chiles Valley.
Matt Crafton of Chateau Montelena reports that "grapevines are loving the conditions" and he wouldn't be surprised to see red grapes harvested next week. In Yountville, Louis Kapcsandy Jr. of Kapcsandy Family Winery expects a mid-October harvest for Merlot and Cabernet.
"The yields look to be within 5% of a normal five-year average and the vintage if we don't have any major rains looks to be very exciting," said Jean Hoefliger of AXR Napa Valley in St. Helena.
Here's this week's harvest report, organized by American Viticultural Area (AVA):
Calistoga — Matt Crafton, Chateau Montelena — "The temperate weather over the last week, with nighttime lows in the mid-40s, has kept ripening on a slow and steady pace. As the wind from the coast kicked up on Saturday with a deep, dense marine layer, it felt like an early taste of October in Calistoga. With the wipers shedding the mist, it's the kind of morning you're happy to have a long-sleeve shirt in the truck. Thankfully, we've been seeing blue skies by midday and the afternoons have warmed up, reminding me that we're not quite ready to let go of summer. The grapevines are loving the conditions and it wouldn't surprise me to see red grapes being harvested in the next 7-10 days."
Howell Mountain — Laura Barrett, Clif Family Winery — "The grape harvest is creeping closer in the Howell Mountain AVA. Winemakers are walking vineyards, tasting the fruit, and testing grape chemistry. According to Jason Price of Robert Craig, 'Recent vineyard walkthroughs have shown that the Candlestick Ridge Malbec and a portion of the Merlot are set to bring in next week.' With the mild weather pattern in place, we are able to plan ahead and set our pick dates with precision. The little bit of heat forecasted for the end of this week will push these earlier blocks into picking mode. In the meantime, the Cabernet Sauvignon is steadily ripening in this ideal, late summer weather."
Diamond Mountain District — Dawnine Dyer, Dyer Vineyards — "While we've had plenty of heat on Diamond Mountain, it's been nice and steady since veraison with no extremes or heat spikes. The canopies are still green and photosynthesis is bringing sugars up at a nice pace. While we were a week or so behind recent vintages at bloom, all indications of ripeness seem to show that we are catching up some. Dirk Fulton (The Vineyardist) is reporting very uniform and healthy fruit, with growing conditions reminding him of 2016 or 2007. The whites in the district are coming in. Gruner Veltliner at von Strasser and Sauvignon Blanc at The Vineyardist will both be off the vine by the end of the week. Next up? Sean Thompson at J. Davies is watching their Malbec closely and thinks it may come in next week."
Chiles Valley District — Alexander Eisele, Volker Eisele Family Estate — "Harvest of Sauvignon Blanc and Semillon is almost complete and the first Zinfandel from the highest elevations will be harvested late this week. Cool overnight lows have been stretching into the morning allowing for great acid retention. Daytime highs have been nearly ideal for slow, steady ripening. The lack of extreme heat has kept the fruit plump and allowed for slower ripening than in years past without much irrigation being needed. Flavors are developing nicely. Vineyards are reporting to be between one and two weeks behind their average years."
Spring Mountain District – Stuart Smith, Smith-Madrone — "The cooler weather over the past weekend and the early part of this week has definitively given our mountain the 'slows.' Spring Mountain Vineyard has finished their small amounts of Sauvignon Blanc and Semillon and both Stony Hill and Smith-Madrone have harvested small lots of Chardonnay. We're all pleased with the fruit and it portends an excellent vintage. Now everyone is waiting. With the exception of 2011 this is the latest start for Smith-Madrone for the last 15 years."
St. Helena — Jean Hoefliger, AXR Napa Valley — "So far this year, 2019 is resembling 2018 with the difference that we are catching up with more heat during the months of August and September this year. We are seeing smaller berries than expected, and therefore, a great concentration with an acidity similar or a little bit lower than 2018. We have harvested our Sauvignon Blanc and Rosé, but we are still looking about three weeks out in the earlier-ripening sites in St. Helena. The yields look to be within 5% of a normal five-year average and the vintage if we don't have any major rains looks to be very exciting. Good luck to all with harvest!"
Rutherford — Kristin Belair, Honig Vineyard & Winery — "It was a big week last week, with press capacity maxed out every day. The amazing Honig Cellar crew worked as a seamlessly coordinated team to get it all done. It was beautiful to see. Fermentations are going very well, and we expect to see several tanks finish later this week. We have another big week this week and should be wrapping up bringing white grapes toward the middle of next week. Cabernet is close on the heels of the whites with St. Helena fruit sampling at 23ish Brix. It is always good to hear from neighbors. Sara Fowler from Peju reported earlier that they had been bringing in Sauvignon Blanc at a steady pace, but had no Rutherford fruit on the schedule yet. Probably a month out. Julie Johnson of Tres Sabores reported that they were very happy with their heritage Zinfandel that they harvested for rosé."
Oakville — Jennifer Rue, Oakville Ranch Vineyards — "Press space is in high demand this week as most folks are rounding the corner to finish Sauvignon Blanc harvest and start on earlier ripening Chardonnay blocks. Talk of the weather is more than an ice-breaker this time of year and was, as usual, the buzz at last Friday's Oakville Growers Summer Social. Conversations revolved around diurnal shift, with overnight lows returning to the mid-40s, yields and vintage timing. Word has it that white grapes are picking out a bit lighter than expected, at, or just above average and a consensus is building that timing is a lot like last year with many sites picking within one to two days of 2018. This week, a forecasted warming trend will likely bring a couple of days in the 90s and keep the momentum going, easily calling an end to white grape harvest in Oakville before the end of summer. The jury is still out on how long it will be before Oakville red grapes start hitting the scales. However, if the parallels to last vintage hold, it could be a solid four weeks. For now, there is plenty to keep us busy. At Oakville Ranch, our harvest will begin early next week with Chardonnay, then more watching and waiting."
Yountville – Louis Kapcsandy, Jr., Kapcsandy Family Winery — "By this second glorious week of September, 90% of the appellation's Sauvignon Blanc is picked, the remaining whites are hovering around 20-22 Brix and will likely all be in by the 27th. Also, many reds designated for rosé programs are coming in and wineries are primed to continue filling fermentation tanks. Later-season reds are developing at a steady pace, with the Cabernets and Merlots targeted for mid-October. Overall, canopies are still lush and green, providing ample shade in the fruit-zone. Phenolics are starting to kick into high gear and cluster weights are very near those realized in 2018. At present, there is little threat of rain, but growers will remain vigilant to the finish and early October will hold the final cards for the overall success of the late-ripening reds."
Atlas Peak – Mark Castaldi, Acumen Wines — "Our first Sauvignon Blanc harvest will be later this week. We are seeing tremendous flavors at low sugar levels, which is a great sign for quality at this point in the season. We expect an average yield from our upcoming Sauvignon Blanc harvest, as we avoided problems with berry shatter earlier this year. Reds continue to ripen at a moderate pace, with flavors increasing rapidly without excessive Brix."
Stags Leap District — Elizabeth Vianna, Chimney Rock Winery — "In the Stags Leap District AVA, winemakers continue the waiting game for the Bordeaux varieties. Let's just say we are all exercising our virtue of patience this season! Remi Cohen, at Cliff Lede Vineyards, seems the closest with Merlot maybe late this week or early next week. Marcus Notaro, winemaker at Stag's Leap Wine Cellars, was busy with Sauvignon Blanc and Chardonnay and reports 'No SLD reds on the radar yet.' Elias Fernandez, winemaker at Shafer Vineyards, has nothing this coming week, but says his grapes are 'getting lots of hang time which is always great.' Merlot is still a couple of weeks out for Shafer. Michael Beaulac, winemaker at Pine Ridge Vineyards also has Malbec from SLD getting close. At Chimney Rock, we are busy with our Sauvignon Gris from our vineyard in Rutherford, but our Merlot from our SLD Estate is still a couple of weeks away. We are all enjoying this perfect ripening weather."
Oak Knoll District — Jon Ruel, Trefethen Vineyards — "Growers and wineries report continued progress on white varieties and the first picks of the reds. Stan Boyd brought in the Syrah for his rosé program last week and is picking Sauvignon Blanc this week, a couple weeks later than last year. Steve Matthiasson is wrapping up his Chardonnay and Sauvignon Blanc and about to get into OKD Merlot and Cabernet Franc. He said he saw 'fast movement over Labor Day but now things are hanging nicely; sugars slowed down; skins are softening and seeds are browning with great flavors coming on.' Tres Goetting, winemaker at Robert Biale Vineyards, reports that they are picking their first OKD fruit this week, an estate block of Zinfandel with 'vibrant flavors' and 'very juicy berries.' Here at Trefethen, we are continuing to pick Chardonnay and Riesling, which have both been tasting fantastic."
For real-time harvest photos and updates, visit the Napa Valley Vintners' Harvest 2019 website at harvestnapa.com.
Be the first to know
Get local news delivered to your inbox!