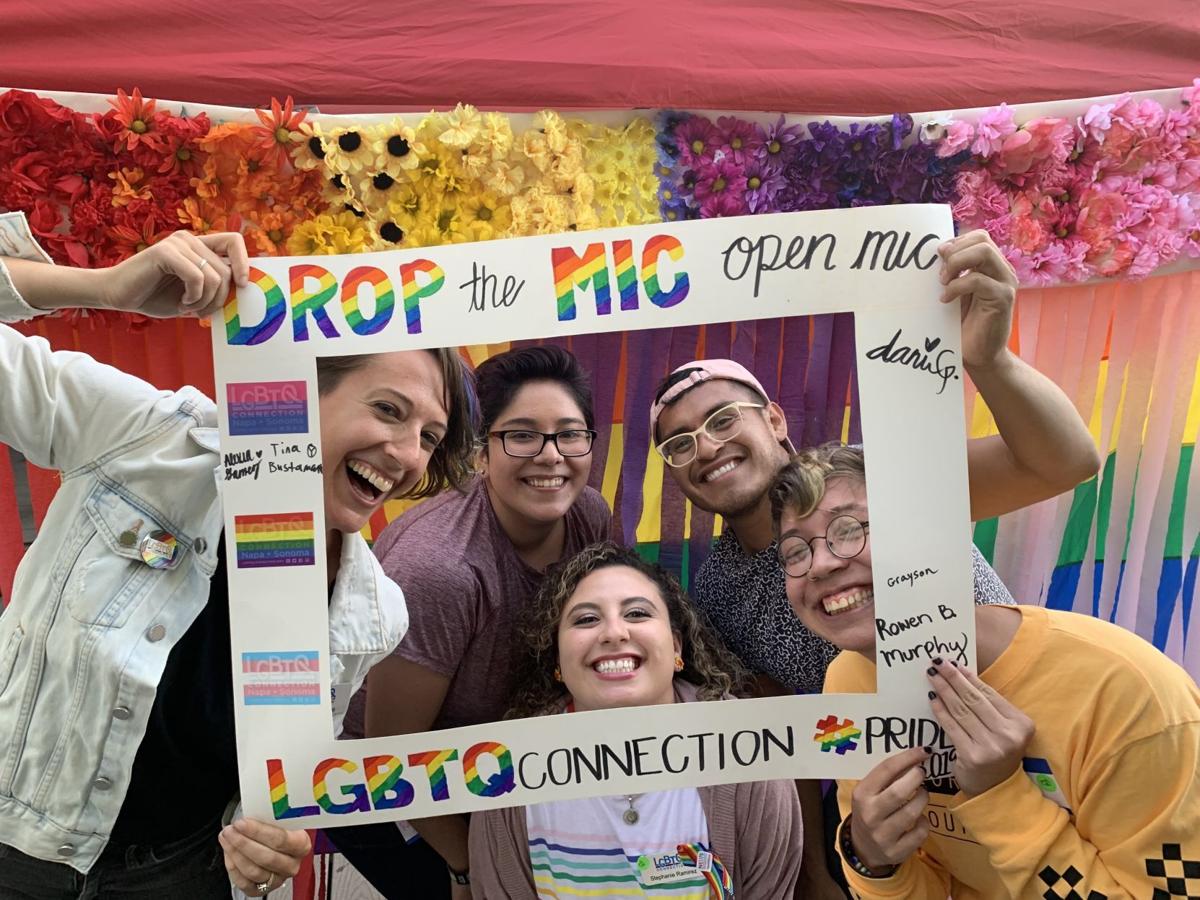 AMERICAN CANYON — Jade Diwa of American Canyon says she wishes there'd been something like LGBTQ Connection when she was growing up here. It would have made life easier.
With a branch recently opened in American Canyon, LGBTQ Connection Program Director Ian Stanley Posadas said he knows the feeling and hopes the day is coming when no such organization is needed for LGBTQ-community members to feel included.
"Growing up in American Canyon, from my elementary school days to being in the first graduating class at the high school, I know this organization would have been an asset to so many people," Diwa said. "I don't believe anyone's identity or orientation is everyone else's business, but I did witness the stigma and ignorance surrounding anything LGBTQ-related. It was like a big, energetic part of the community was muted."
Posadas said organization officials "want to make sure the LGBTQ people feel a part of American Canyon's 'We (heart) Everyone' campaign. I think there's questions for folks."
While city officials "took a big step putting up the rainbow flag at City Hall for the past couple of years in a row," there is still work to do, he said. "(Flying the flag) shows solidarity, acceptance and visibility. It's hard to feel connected if you feel invisible, so this kind of thing is really important."
This is not a new problem or one unique to American Canyon. What's relatively new are organizations like LGBTQ Connection, meant to create understanding and inclusivity, Diwa and Posadas said.
"To me, it's more about opening that space up for people to be out and proud if they want, and still have a positive impact in the community," said Diwa, who began as a staff member of the organization's newly minted American Canyon branch April 1.
"Now being back in my hometown, I'm grateful for the opportunity to help guide the next generation of LGBTQ youth in ways I would've benefited from while growing up here."
Posadas said there are believed to be some 1,600 LGBTQ-identifying individuals of all ages in American Canyon, and that they make up about 8% of the North Bay population, based on a decade of studies and research from national data and experiences with local community members.
LGBTQ Connection is affiliated with On The Move, which runs seven major initiatives of which the Napa-based LGBTQ Connection is one. Founded in 2011 by Posadas and a colleague Terra Riley, it has satellite locations across Napa and Solano counties, he said.
"I was running another organization, called Voices, under the same umbrella organization, for people aging out of foster care – a youth community center run by peers," he said. "Voices was successful in its mission to support youth in housing, wellness, education, employment, etc."
Riley came to Voices after some personal struggles, and began volunteering her time, Posadas said.
"We helped get her (a place to stay) in Napa, and she was volunteering with us, and asked why there was no LGBTQ programs – where was the community in Napa County?" he said. "And she kept pushing because the youth needed it. We supported her to lead it, and we started the first group of its kind for LGBTQ youth in Napa County history."
They didn't know how it would be received at first, Posadas said.
"We didn't know if anyone would actually come. But we had 50 youth in our first year come and create community with us," he said. "So we started thinking beyond youth. We gathered community together and started dreaming bigger and the program we started for youth has become a model for California."
LGBTQ Connection is expanding into American Canyon with help from the Upswing Fund whose officials have recognized "the extra stress and need caused by (the pandemic) and the harm being caused especially for youth, so it seeks to support youths of LGBTQ and of color." 
What LGBTQ Connection provides awareness training and connects people to affirming resources, "in addition to creating community and fostering a strong sense of connection and care," Posadas said. "It's meant specifically for youth and what this grant funds, is the formation of youth leadership teams so youth from American Canyon can help create the change they want to see in their home town – that's key.
"And another thing is we co-host youth socials to bring youth together for support, connection and fun. And third, providing training for organizations that support youth and families in American Canyon; to help mobilize them as allies of the LGBTQ community."
"Organizations like LGBTQ Connection are about fostering inclusivity and support for marginalized and underserved members within diverse communities," Diwa said. "Creating that space for our youth would only serve to bring out American Canyon's full potential as a growing, vibrant community."
Until now, "I think mostly folks have either hunkered down or left the communities," Posadas said. "There have been some groups who have done amazing things through the years, but mostly people have been on their own or left the community."
Both organizers said they're basically working toward the day when they won't be needed anymore.
"I hope we can help LGBTQ-identifying youth find the network and resources they need, empower them to take on leadership roles, and ultimately feel more connected to each other and the community — especially in times like this," Diwa said. "Even for those who may not be members of the LGBTQ community but still want to show support, we have educational programs where they can learn effective ways to practice ally-ship and inclusivity."
While there has been some pushback in the form of some "dark sentiments" and "hateful things" left as messages, it's been few and Posadas said he chalks it up to ignorance, which they're working to eliminate.
"And an increasing number of individuals, families and organizations are joining the effort, he said.
"We're seeing more and more partners – individuals, families and organizations -- and we look forward to a day when such an organization like this is no longer needed," Posadas said. "That's the goal of most nonprofits, to work themselves out of business. The hard part is changing what's thought of as possible. That's what's powerful about our youth work, is that they're changing the perception of what's possible."
Editor's Note: This item has been modified to remove some personal information of a person helped by the program.