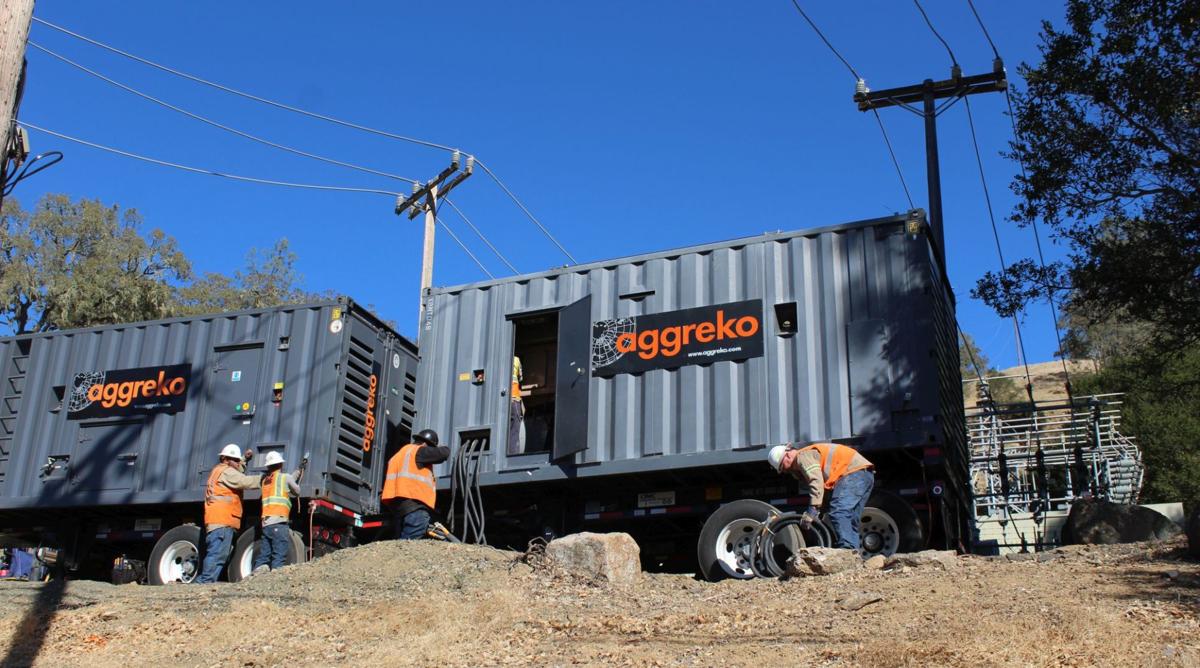 After listening to a presentation on how a microgrid system could supply power to sites throughout Calistoga during a power outage, the City Council on Tuesday decided to regroup and assess its options.
In April, the city spent $26,000 for an assessment of a microgrid, which would allow the city to disconnect from PG&E if necessary and still have power.
A microgrid is a network of sustainable power with a local source — solar, fuel storage or geothermal — that is usually attached to a centralized national grid but is also able to function independently.
Clean Coalition, based in Menlo Park, identified six available spaces in Calistoga for more than 25 megawatts of solar panels on rooftops, parking lots and other areas. Suggested sites include Calistoga Elementary and Junior-Senior High Schools, Cal Mart, Napa Valley Fairgrounds, the fire station, and Dunaweal Wastewater Treatment Plant.
The project would be designed within the context of a Public Safety Power Shutoff (PSPS) event, with backup power lasting for multiple days.
Initially, just those sites would have power. In the longer term, it would be possible to coordinate power with other sites, representatives from Clean Coalition said.
While it certainly would be beneficial to have those locations powered during an outage, the city is really looking to power the entire town, said City Manager Mike Kirn. That includes the west side of the river that is on a different PG&E grid tier system from the rest of the town, and is not powered by the PG&E generators at the substation.
Those temporary generators are supplied to Calistoga by PG&E at no cost to the city. The city is also in negotiations with the utility for a more permanent solution that would power the west side of town as well.
Kirn also said the city is evaluating the load demands of Rancho De Calistoga, the senior mobile home park on the west side, and what it would take to bring in a temporary generator to power that area.
Another issue with the microgrid is its estimated price tag of $10 million. Ninety percent of that cost could be offset by Purchase Power Agreements and state and federal tax incentives, said Malini Kannan, programs engineer for Clean Coalition. The system also saves on monthly utility bills and pays for itself over many years.
Moving forward, the cost for the next two phases of the microgrid would be about $44,000, to work out design and implementation details. Kirn said that while this is valuable information, from an engineering perspective, the real challenge for the city is to find power for the west side of the city.
Vice-Mayor Michael Dunsford suggested the city debrief the information on the microgrid, and the city's PSPS response strengths and weaknesses, and find "Where the hiccups are before we embark on something wildly expensive. We need to compare options, find out what went wrong and what we can do."
Mayor Chris Canning said benefits of the microgrid system include keeping with the city's desire to lessen its carbon footprint and "We cannot be lulled into a false sense of security with the generators. What if we have an earthquake and the gas needs to be shut off?"
With regard to the PSPS events, "We're in for a good decade of it," and while considering the next step, "We are going to continue to be aggressive and progressive," Canning said.
Be the first to know
Get local news delivered to your inbox!