Even if you've never met Juan Sanchez, you've probably seen him running shirtless on the side of the road or read about his exploits in one of the world's most extreme footraces.
But never before has he gone public with the secret that drove his almost fanatical devotion to endurance running. Until a few years ago, he was an illegal immigrant.
Behind his laid-back demeanor, the fear that he could be deported at any time gnawed at him constantly.
"The only time I felt free was when I was running," he said.
Sanchez finally got his green card in 2015 and, after years of paperwork and background checks in the U.S. and Mexico, became a U.S. citizen on Aug. 24.
"Now I can look people in the eye and say I'm free. I don't have anything to hide," Sanchez said.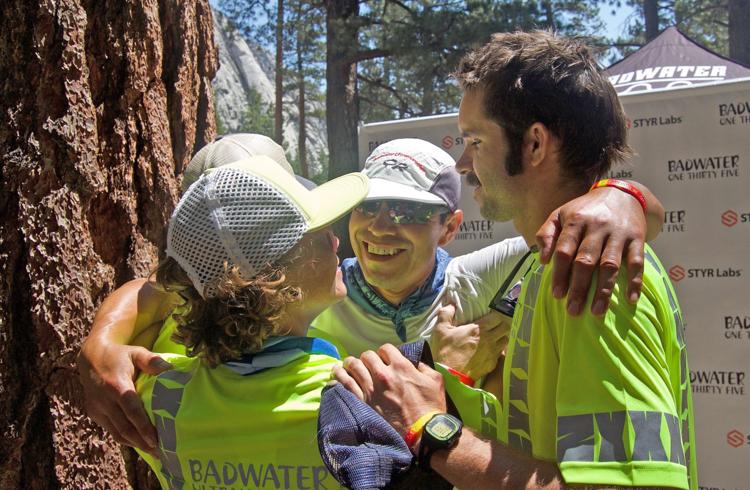 Born in Mexico City, Sanchez came to the Napa Valley in the early 1990s to pick grapes and pursue a better life free of the poverty and crime of his homeland. Yet his newfound opportunities came at a price.
"Once you cross the border you don't feel free anymore," Sanchez said. "You always live with that fear (of being deported)."
He made St. Helena his home and worked 16-hour days – gardening in the mornings for $7 an hour and washing dishes at night for $4.50 an hour. (California's minimum wage didn't reach $5 until 1997.)
At first he lived in a crowded basement with people who drank, smoked and did drugs. The clean-living Sanchez hated being exposed to that lifestyle, "but I had no choice because the rent was affordable for me."
He resolved to work hard, pay taxes, respect the law and learn English, all while helping his family in Mexico as much as he could. He took ESL classes at the Napa Valley College Upper Valley Campus, became fluent in English, made friends around town, married his wife Katie in 2013, and had two daughters, Isabella and Arieli.
Meanwhile, Sanchez had become St. Helena-famous for what he calls his "crazy running." For him, regular marathons were just appetizers for the 135-mile Badwater ultramarathon, named the toughest race in the world by National Geographic Traveler.
It starts at 280 feet below sea level in Death Valley and climbs to 8,300 feet at the trailhead to Mount Whitney, with mid-July temperatures reaching 130 degrees. Sanchez has run it three times, finishing 18th, 19th and 30th in fields of between 90 and 100 runners.
Sanchez once told the Star that to prepare for Badwater's conditions he would run along the road and then jump into a sauna or crank up the heater in his car. Acquaintances might have questioned his sanity, but never his commitment or endurance.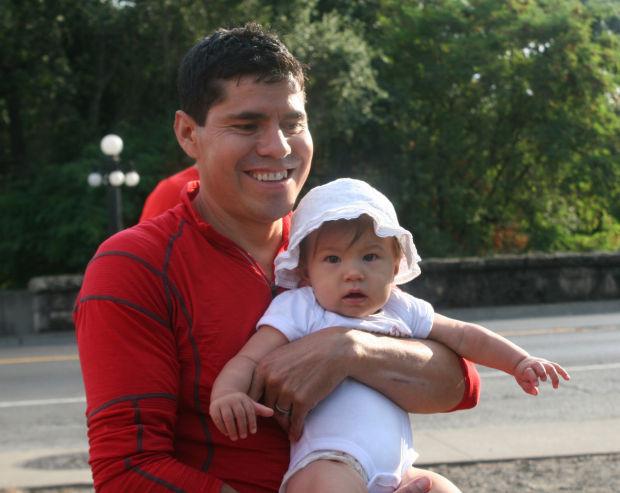 That's why it was such a surprise when Sanchez almost died from a congenital heart arrhythmia in 2014. Lacking a valid Social Security number, Sanchez had been denied health insurance, and the medical bill was $216,000. Sanchez' friends organized an event at Health Spa Napa Valley that raised more than $10,000, and a state emergency health care program covered his expenses for 30 days.
The lack of insurance was just one disadvantage of being in the U.S. illegally. He wasn't able to board a plane to Virginia when Katie's uncle died. He hadn't visited his family in Mexico since he came to the U.S., for fear that he wouldn't be able to re-enter the country. He wasn't eligible to vote in the city and country that had become his home. He cycled through driver's licenses from California, Oregon and Washington, depending on which state was awarding them to immigrants without legal status.
"I had dreams of how it would be when I had my papers and I could move around freely and not hide and not run just so I could feel free," Sanchez said. "Sometimes it felt like it was never going to happen."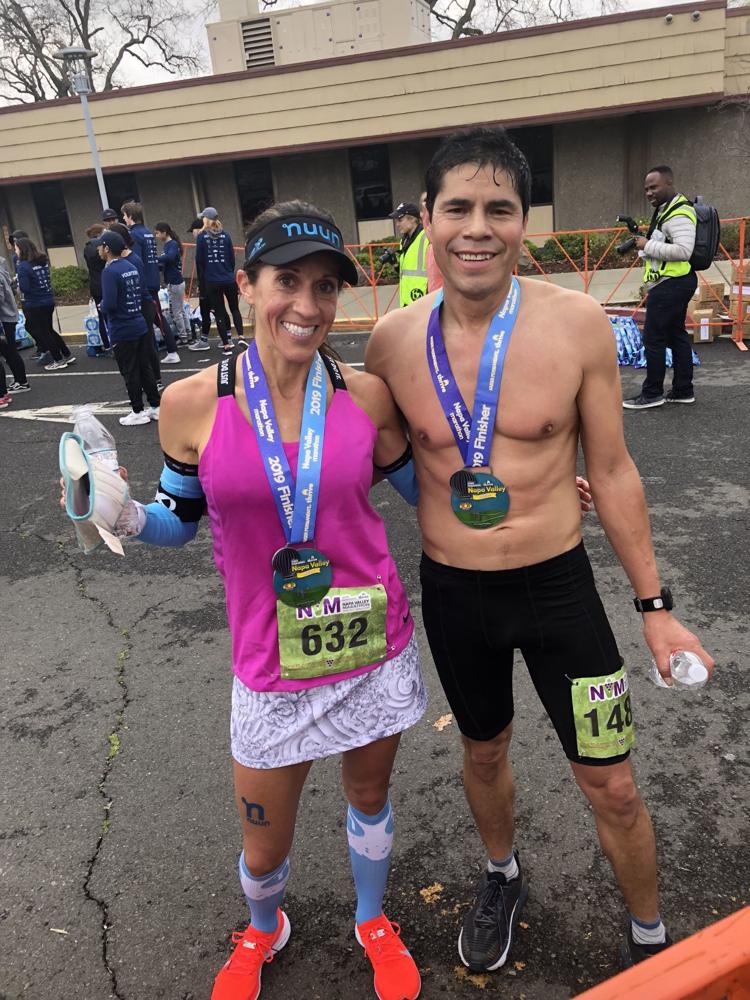 Tired of living in legal limbo, Sanchez applied for a green card. He likened the ensuing process to emerging from the darkness into the light.
"The Lord brought a lot of light to our lives … and eventually we were able to get out of the dark completely," he said.
The road to legal residency required Sanchez to visit the Mexican border city of Ciudad Juarez for a criminal background check. His only run-in with U.S. law enforcement had been when a local cop told him not to run along the Napa Valley Wine Train tracks, but there are a lot of Juan Sanchezes in Mexico, and some of them are criminals. Sanchez had to prove he wasn't one of them.
The trip, his first return to Mexico since he immigrated, was tense. If he couldn't prove his record was clean, he could be denied re-entry into the U.S. Fortunately for him and his family, he checked out.
Sanchez got his green card in 2015 and, concerned about where immigration policy was heading under the Trump administration, filed for citizenship on the very day he became eligible in 2018.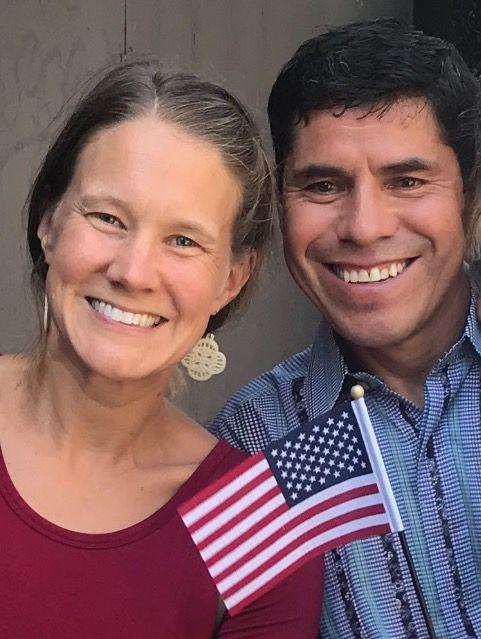 He aced his written civics exam in July – 100 percent – and became a citizen during an Aug. 24 ceremony at the Paramount Theatre in Oakland.
"It was a long process, but the Lord has a timing for everything," Sanchez said. "His will is going to happen, so we just have to be patient and do what we have to do."
Sanchez doesn't have to run to feel free anymore, but his commitment to physical fitness hasn't faded, so you'll still see him running. But now he does it out of sheer joy and gratitude for his health, his family, and his country.
Expect to see him in a new pair of running shorts. It has an American flag on it.
Be the first to know
Get local news delivered to your inbox!