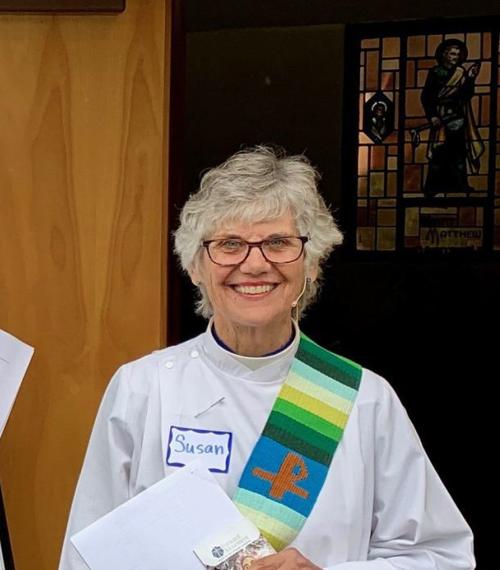 For a small church — the congregation stands at about 30 regular members — St. Luke's Episcopal Church's reach into the community is extensive.
From partnering with UpValley Family Centers and Duffy's Napa Valley Rehab to holding PFLAG meetings and operating Hearts and Hands Preschool, the church tries to walk its faith outside the physical walls of the church, meeting needs where they are the greatest.
Deacon Susan Napoliello, a retired teacher and school administrator, joined the church about four years ago in a move from San Francisco. She said that during the last year and a half, the church has worked hard to define its mission in the community.
"From time to time churches go through a process of sort of reclaiming 'who are we' and 'what are we supposed to be doing?'"
That means listening and tapping into what's going on the community.
"In a small community like this, and a small congregation, there are often a lot of interests and compelling needs. But you need to look and discern where you can make the biggest impact," Napoliello said. "It often comes from matching the gifts of the congregation with the needs of the community. What do you pick and nourish?"
A good example is Hearts and Hands Preschool, which is run at the church. In 2004, the church realized a significant need in the community for preschool education, Napoliello said. For about eight years it was church-run. Then, to garner more scholarships it was turned into a secular nonprofit.
St. Luke's also has many partners within the community. It assists UpValley Family Centers in fundraising, provides backpacks filled with school supplies for 30 students each year, and in December provides gift cards to single mothers and children.
The relationship with UVFC is an important one, Napoliello said, to have a foothold in the community.
"What sometimes happens in churches is the community doesn't know what we're doing, and the church doesn't know what the community is doing. So it's really important, especially in small communities, not to duplicate efforts. To find out how you can be partners," she said.
One of Napoliello's first outreach efforts when she arrived was to find support for the LGBT community and their families in Calistoga. She contacted PFLAG in Napa about having a satellite program, and for two and a half years Napoliello and Elaine Nepsha facilitated monthly PFLAG meetings. Napoliello also organized a "Faith Forum" for the greater Napa County which included speakers and table conversations focused on ways to promote within faith communities the full inclusion of the LGBTQ community. The Upvalley PFLAG group also participated in the annual Fourth of July and Lighted Tractor parades.
The church is now looking toward education by bringing a National Geographic documentary, "Gender Revolution," to the community. The film explores the rapidly evolving complexities of gender identity.
"That's really helping people to see gender in a more expansive way," Napoliello said. "Coming up, we're looking at having it accessible to Hispanic families here."
St. Luke's also partners with Duffy's Rehab. Between two and 12 rehab residents join in services each week. Graduates are offered prayers for their journey ahead and a small journal as support and remembrance.
"It's been a very rich experience for us. When they graduate we bring them up and do a special blessing for them. It's just been such a wonderful way of, actually each of us being lifted up by their seeking," Napoliello said.
After arriving Upvalley, Napoliello said she also felt compelled to do something at the Veterans Home of California, in Yountville. St. Luke's has provided support by offering weekly worship services, and Napoliello coordinated a chaplaincy program at the Veterans Home based on Loving Presence Visitors for people who get attached to person they care for.
"It's almost like the LGBT community in a way. Talking about addiction, or mental health. Once you bring it out, and make it part of the wholeness of who we are, then people start telling their stories," she said.
St. Luke's has also been involved in fire disaster relief, starting with a presence and support during the 2015 Lake County fire, in which evacuees were sheltered at the Napa County Fairgrounds.
After that, St. Luke's has helped organize support for fire victims from Napa to Woodland through financial support and food donations.
The Episcopal churches in Napa County have also joined in sponsoring the Martin Luther King Day events.
In the past, the Upvalley hasn't been tied to the various Napa organizations that pay tribute to Dr. King.
"In my adult life I'm more and more aware of the commitment King had to social justice, and I wanted something here in the Upvalley that would be both a testament to his vision and also demonstrating that we are committed to service in the community, that we all have a role in that and the planning of that day," said Napoliello, who is also a member of the Napa Interfaith Council, an organization made up of faith leaders and community leaders.
A proclamation was also issued by the City of Calistoga in January, recognizing MLK Day, and next year Calistoga will coordinate activities and participation with the Boys & Girls Club.
"(Club Program Coordinator) Nick Haley and I had a vision of, 'what do kids want to do for their community?'" Napoliello said.
Related to MLK Day, Napoliello also collaborated with a member of Grace Episcopal Church in St. Helena to offer a workshop on healing racism through "truth-telling" about personal biases.
"MLK is about looking at injustice and making every voice count. And that's hard work," Napoliello said.
"In a community like Calistoga there are a lot of tribes; economic, cultural, language, etc. I think in general people talk a good talk, but when it comes to sharing power, or recognizing we all have little barriers."
Be the first to know
Get local news delivered to your inbox!