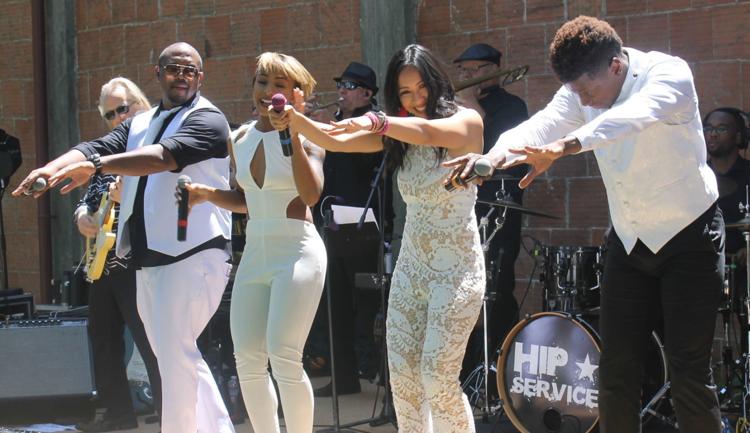 Several thousand people attended Friday's Barrel Auction as part of Auction Napa Valley at St. Helena's restored historic Louis M. Martini Winery.
The event included 114 Napa Valley wineries pouring barrel samples, mostly of Cabernet Sauvignon wines, and guests bidding on those cases; personnel from 80 wineries pouring everything from Sauvignon Blanc and Rosés to red blends and Cabernet Sauvignons; 24 restaurants serving delicious bites to pair with those wines; and three food purveyors pouring coffee and serving desserts.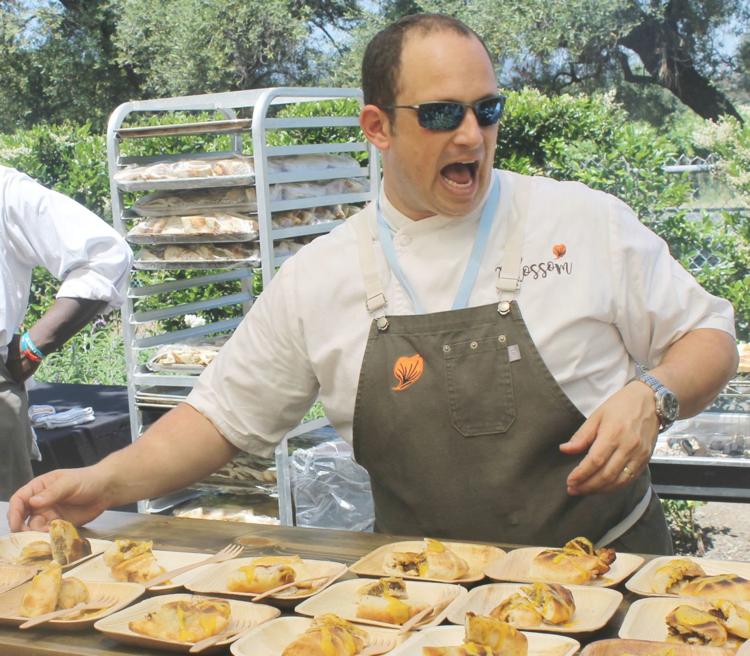 Auction Napa Valley continued with private dinner parties on Friday night and the live auction celebration on Saturday at Meadowood Napa Valley Resort in St. Helena.
On Friday afternoon, a half-hour before the barrel auction ended, individual bids for cases of 2017 Cain Five, an estate-grown and bottled wine from Spring Mountain's Cain Vineyard & Winery, ranged from $900 to $2,050. (Ten bidders each bought a case.) Two hours earlier, bids were from $850 to $2,000. The wine will be released in November 2021.
Bids at 2:30 p.m. for a case of 2017 15th Anniversary Cuvee from Blackbird Vineyards ranged from $1,850 to $2,300, which weren't much higher than bids were two hours earlier.
A 2017 red blend from Oakville's Far Niente Winery was made with 90 percent Cabernet Sauvignon and 10 percent Petite Verdot, from grapes grown on the winery's estate vineyard. Bids ranged from $2,000 to $2,450 per case, a half-hour before the bidding closed.
2017s vintage discussed
Chris Phelps, a Napa Valley winemaker since 1984, now makes wine for Inglenook. On Friday, Inglenook didn't have a barrel auction lot, so he was able to enjoy the wines and what he called was "the most beautiful day of the year, so far," with a "perfect temperature."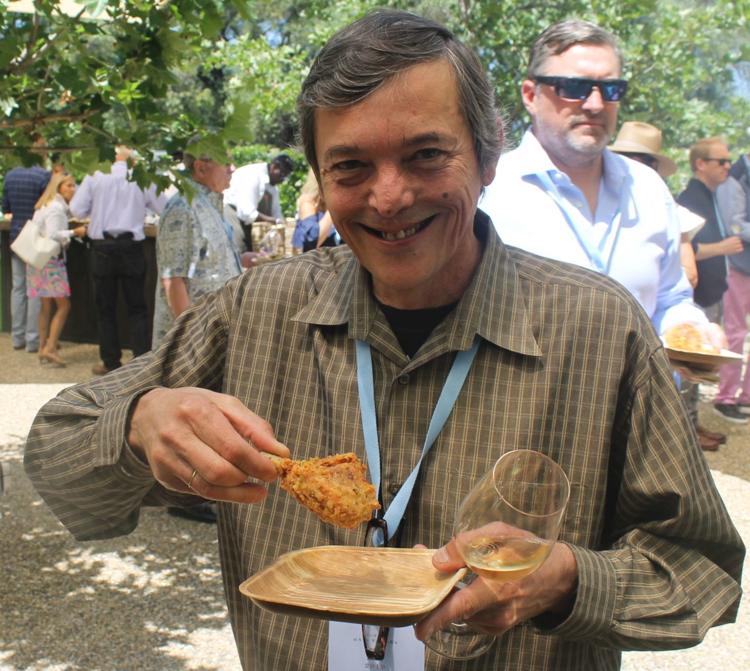 "There's a surprising number of 2018s here," he said, standing outside one of two cellars where the barrel auctions were taking place. "Some people have chosen not to feature the 2017s, which may or may not have been impacted by smoke, but the '17s that are represented are really good." The Napa Valley Vintners have estimated that 90 percent of the grapes were harvested by the time the fires hit on Oct. 8, 2017.
"I hope people are paying close attention to the '17s," Phelps said. "You cannot write off a vintage because the wines are affected by the smoke. It is so easy in the media, even just in conversation, to whitewash a vintage; it was too hot, it was smoky, it rained. I think every vintage needs to be picked apart and carefully looked at."
He added it was ironic that the barrel auction was held at the Martini Winery, because he spent his first crush, in 1980, at Martini. "I saw Carolyn Martini here earlier and I said it's nice to see a Martini standing on this property, because she was here in 1980," he said.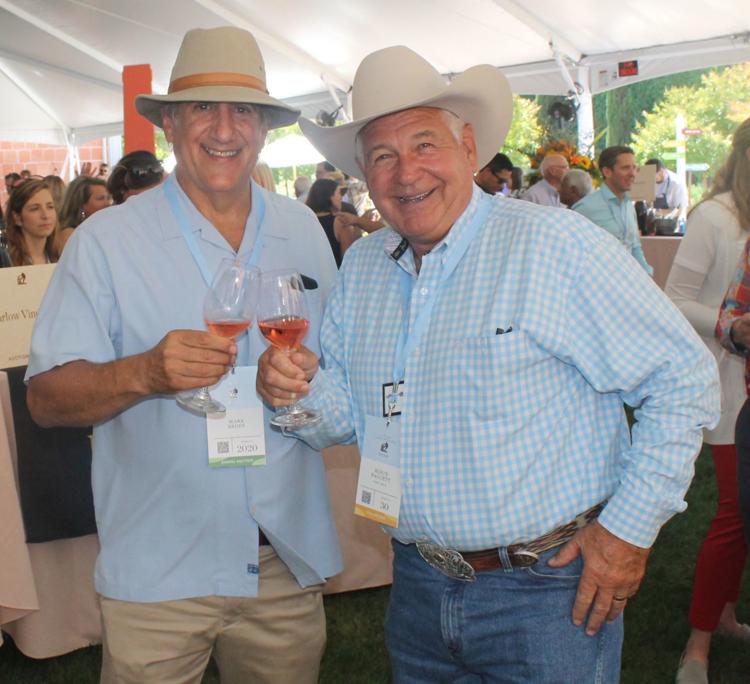 Carolyn Martini was sitting down in the shade, shortly after noon.
"I am absolutely amazed at how gorgeous this facility is, how well it is adapting to this event," she said. "What a way to show it off."
She has participated in many Auction Napa Valley events, although not at Martini, because "we never had space. We always attended wherever they had it, but we never did a big event here, because this was all production space."
Martini Winery restored
You have free articles remaining.
Louis M. Martini built his winery in 1933 and the Martini family sold it to the E&J Gallo Winery in 2002. A decade ago, the Gallos decided to restore the space and hired Howard Backen and John Taft to do so. The renovated space opened in March.
Gina Gallo, vice president of estate winemaking for Gallo, is also Julio's granddaughter and a Napa resident. She joined a large crowd in one of the two barrel rooms.
She has attended the barrel auction many times, and on Friday she said the energy in the room was amazing.
"My family is here, my fellow vintners are all together here and we gather to help the community, which is what I love," she said.
She said it's not easy to participate in the barrel auction, because "it takes a lot of work from a lot of people and it's very stressful. Today, when we're all done, we let go a little bit."
Gallo said she is so proud of her family, who have spent the past decade restoring the winery. Gallo said it was an amazing job to get it done through the fires in October 2017.
Chateau Montelena winemaker Matt Crafton of Calistoga called the barrel auction "unique," adding, "I don't think it is equaled or paralleled anywhere in the wine world. We're happy to be a part of it."
Chateau Montelena offered a live lot on Saturday – the first live lot they've ever done.
"It's a wonderful lot and it is unique, because it is all about here and all about Calistoga," he said.
It offered the winning bidder access to Chateau Montelena, including Crafton, Bo Barrett, one of the winery's owners, and the winery's library, which Crafton called "amazing." The winning bidder will be a part of the Montelena family for a few days and, he added, "I don't think anyone can offer you anything close to that. It's something I don't think we'll ever offer again, so bid on it."
A warm welcome
At the entrance to the Louis M. Martini Winery, John Skupny, co-owner with his wife Tracey of St. Helena's Lang & Reed Wine Company, was one of many greeting people.
He remembers the first auction in 1981, when he and Tracey were living in San Francisco. He worked for Vintage Wine Merchants that represented Napa Valley wineries, including Chateau Montelena, Stonegate, Raymond and Sutter Home.
"I thought it would be good PR for our clients, our bosses thought otherwise," Skupny said. "I moaned about it so much that in 1982, Tracey bought the whole weekend package for my birthday and we came up here and at that time decided this is probably where we should end up living. And we moved here less than two years later."
The Skupny family has been a part of Auction Napa Valley since then, with John's parents, Bob and Kate Skupny, being volunteers for many years, including being named volunteers of the year. Additionally, Tracey was chair of the lot display for many years.
What did tickets cost for the second Auction Napa Valley? Skupny said he didn't know, although he still has the catalog. "I'll bet it was $35. The barrel tasting took place on Saturday and it was at the Wine Service Co-op," he said. "There were maybe 10 barrels" in 1982. "The auction was on Sunday at Meadowood and we all sat around the pool there and had box lunches."
The Napa Valley Vintners through its Auction Napa Valley has raised more than $185 million for the community, which doesn't include the nearly $12 million that was raised this year.
Skupny added, "That's incredible."