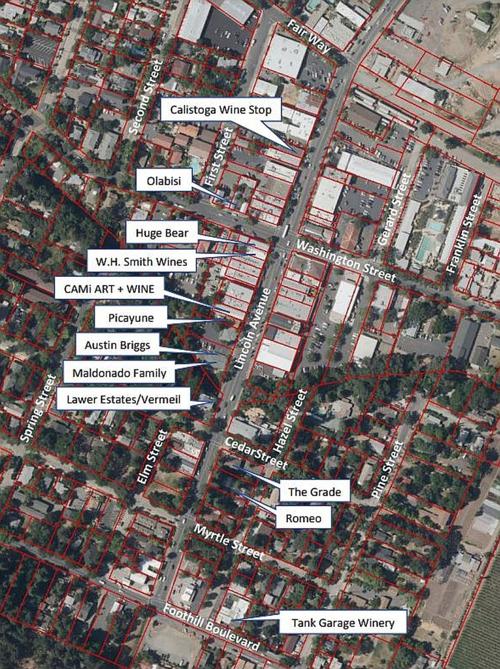 The city is expressing concerns that a growing interest in increasing the number of tasting rooms may crowd out other businesses and dilute the vibrancy and diversity of town.
Calistoga's downtown area currently has 12 wine tasting rooms if you count Wine Stop, which is really more of a retail shop, as planning commissioners pointed out.
Despite changes in the downtown landscape in the past few years, zoning regulations for winery tasting rooms haven't kept up and commissioners would like clear guidelines when deciding whether or not to approve another tasting room.
City Contract Planner Justin Shu presented options for the city based on comparisons to other communities including Carmel, Yountville, Healdsburg and Sonoma.
A few include modifying the code to limit a certain number of permits per year; revoking permits after a 180-day absence; requiring a secondary retail component; and counting multiple wineries as one.
There are currently no new permit requests in the pipeline, said Planning Director Zac Tusinger.
Commissioner Scott Cooper suggested limiting a certain number of new tasting rooms per year. Commissioners also considered requiring a retail element for new tasting rooms by citing the success of Picayune Cellars and Cami Art + Wine on Lincoln Avenue.
"There is a night and day difference in tasting rooms that also have retail. They are so much more visually enticing and give you reasons to go in," Cooper said.
Commissioners also came down on landlords who let their storefronts sit empty while waiting for renters who can afford to pay a high square-footage rate.
"Calistoga is unique, and I've seen a lot of changes in 40 years," said Chair Paul Coates. "My concern is with the number of tasting rooms. We're not getting a balance between serving locals and visitors. (Tasting rooms) are more financially able and landlords will sit and wait for them to pay more square footage cost."
Commissioner Doug Allan pointed out, "It's hard to have the conversation about limiting new business when we have so many vacant storefronts. Can we apply some responsibility to landlords to fill those spaces? It's not fair to the community for them to sit on the property not responsible to the community. Not just limit tasting rooms, bringing positive new energy. There should be a consequence if (landlords) are just waiting for the right business."
Tusinger said a vacancy tax exists in some places and has been kicked around in Calistoga before, and could be explored further.
"These are all great comments and this is why it's so difficult to come up with a conclusion with a local serving and a good balance with commercial business," Coats said.
Staff will take into account commissioners' comments and bring back a follow-up study session in the new year.
WATCH NOW: HOW DRINKING RED WINE CAN BENEFIT YOUR HEALTH
Most-read Napa County wine stories of 2019
These 10 Napa County wine stories garnered the most page views on the Napa Valley Register website and were most popular with our online readers in 2019.
Be the first to know
Get local news delivered to your inbox!