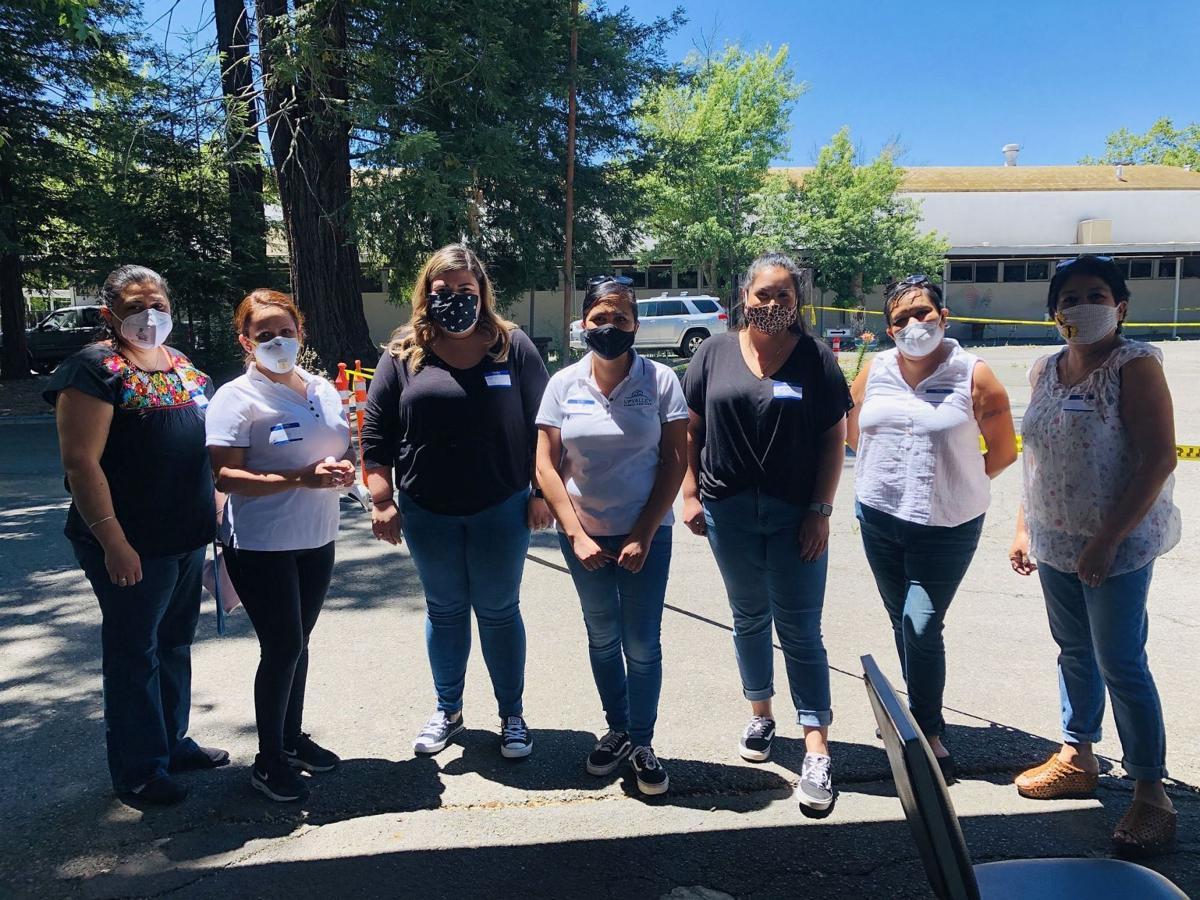 'We've gotten more creative in how we work, in how we communicate with clients, in how we do what we need to do to move their cases forward. It's changed our perspective. Now, it's like nothing can stop us."
When Napa County issued its Shelter-at-Home ordinance in March, life changed in an instant for almost everyone. But longstanding structural inequalities have left some population groups more vulnerable than others to both the health and economic impact of the pandemic. Among them is a community that is essential to the Napa Valley economy: Latino immigrant families. Overwhelmingly reliant on low-wage jobs that can't be done remotely, the pandemic meant that thousands of these families suddenly found themselves without work — or at increased risk of exposure as "essential workers" — and without a safety net to fall back on. UpValley Family Center quickly mobilized to support these families, even as, like so many other businesses, it had to figure out in real-time how to deliver its services remotely. At the frontlines of this work have stood a dedicated team of case managers — themselves all Latina women with deep roots in the Napa Valley community. Here, they share some of their insights and experiences.
The need these case managers are seeing is greater than ever before — and many of the people who call for assistance are new clients. "Maybe they'd been to the Family Centers once or twice to send a fax or make copies, but never for financial assistance," says Lupe Maldonado, Family and Senior Services Manager. She explains, "Families have a sense of pride, you know, they don't want to reach out for support." But now they have no choice. The Family Centers' assistance offers relief — but comes with its own kind of stress. "I'm constantly hearing clients say, 'I'm so sorry, I've never had to ask for anything before, but now I have to,'" adds Indira López-Jones, Program Director.
It's important to understand those feelings, she says — though the team is happy that these families are reaching out. It means we can connect them with supportive resources. It also shows resilience. Households aren't giving up: they're actively seeking out whatever services and opportunities they can to help keep their family afloat. Susana Garcia-Sanchez, Family and Emergency Services Specialist, offers another example: women have been applying for work in the vineyards. Many of them have never done this kind of work before, but it's a sector that has jobs available right now, and they're willing to give it a try. Tania Lopez, also a Family and Emergency Services Specialist, adds that families are finding the positives amidst the uncertainty, recalling a client who expressed gratitude for the extra time she now had available to spend with her family.
Susana explains that case management is like solving a puzzle. Every family's need is different, and so is their eligibility for the various relief programs out there. A lot of those programs have restrictions that feel out of step with the realities that vulnerable households face these days.
Some sources of financial aid, for example, allow families to apply for one-time rental assistance once every five years — but in the past five years they've faced two devastating fires, multiple power outages, and now a pandemic with dire economic consequences.
Other barriers come up too, laying bare the inequities that families face in multiple, painful ways. When COVID-19 testing first became available, County residents were instructed to access one through their health provider — leaving hundreds of uninsured families without a way to get tested, even as they tended to face a higher risk of exposure. Moreover, most immigrant households weren't eligible for a CARES Act Stimulus Check — not even those whose kids are citizens. The State of California took the commendable step of making funds available to undocumented families, but there wasn't nearly enough to go around: just 1,500 checks were reserved for Napa County, though nearly 11,000 undocumented families live here.
And while technology has been a lifeline for many of us during these months of social distancing, it has created new barriers for anyone who isn't familiar with computers. If you aren't tech-savvy, and you don't have a computer at home, what do you do when your (former) employer now communicates only via email? And how can you possibly help your kids with their distance learning?
The complexity and depth of the needs — and the barriers — families are facing ask for a different kind of response. Indira explains, "In the past, we'd meet with a family, gather documentation, and then make referrals to outside services. Now, we're delivering food, running errands for clients in isolation. That's the role we're playing now — and we have to: there's no other system in place to help families deal with this kind of situation." The case managers are a trusted lifeline for their clients. And they take that role seriously. When the County brought a mobile testing site to Calistoga and St. Helena this past month, the full team of case managers was there to help, ensuring that community members saw a trusted face when they arrived.
The work can be draining, and sometimes it feels like there's no break. "At work you spend all day helping people navigate COVID-19," Tania explains. "But outside of work you're constantly dealing with the pandemic, too." Each case manager is navigating its impact on her own family's life. They have kids at home who need help with distance learning, elderly parents at risk of severe illness, or spouses who have lost work hours. They've struggled with the loss of a healthy work-life balance. And all the while, they carry the worry that many essential workers face. "My biggest fear has been spreading COVID-19 without knowing it," Susana says. "What if I'm infected but I'm asymptomatic, and I give it to my clients, or bring it home to my family?"
But the team agrees that saying no to this work was never an option. They're committed to supporting this community, heartened to see so many signs of resilience, and resolved to work towards a just recovery — one that helps immigrant families rebuild stability while also addressing the larger inequities that left them so hard-hit. In addition to helping clients identify feasible job opportunities, for example, they also encourage them to use their voice to ask for what they need. Beyond providing families with rental assistance, UVFC is also advocating before local and County government for stronger tenants' rights protections. And it's doing what it can to help the community prepare for the next emergency. With everything we've faced in the past five years it can feel like there's no time to plan ahead, but it also clarifies just how essential preparedness is. UVFC is committed to doing what it can so that families — and the relief programs that serve them — are just a little more ready to face the next disaster.
To learn more about UVFC's case management and COVID-19 relief services, please call (707) 965-5010.
Watch Now: The Value of Volunteering in Napa County