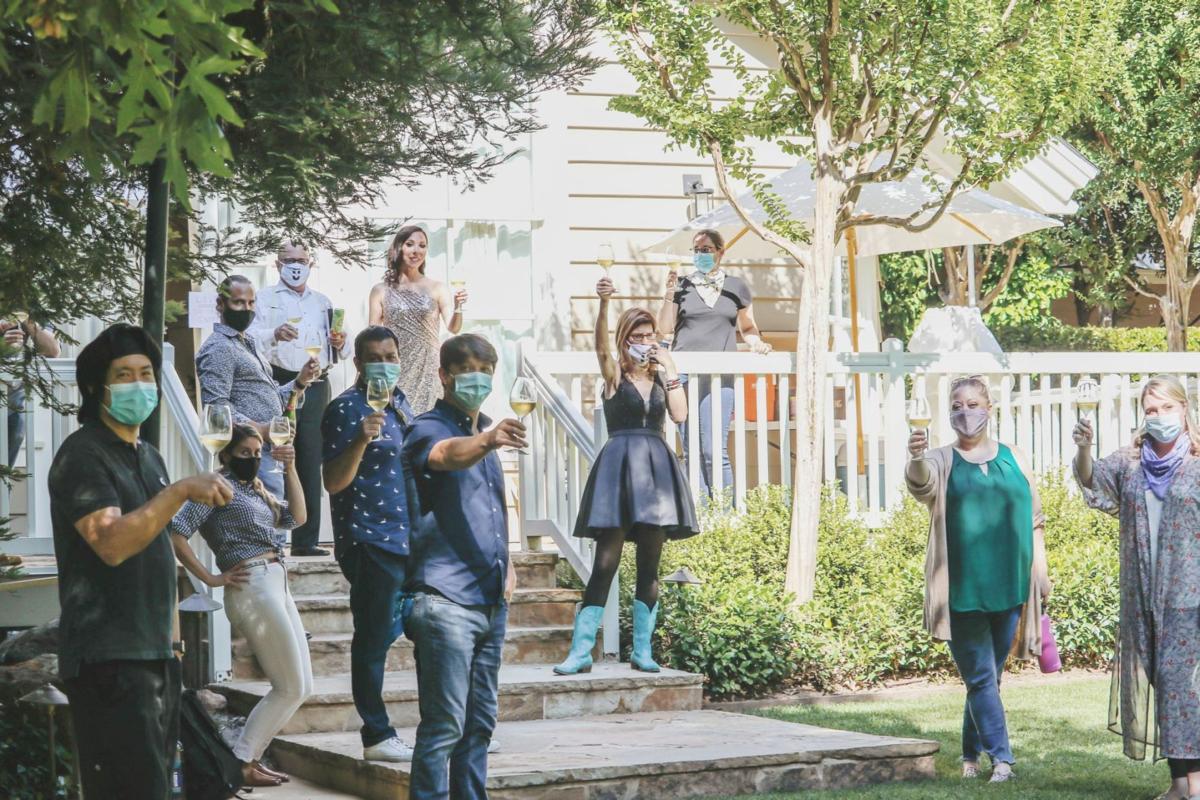 The seventh annual Wineapawlooza, also the first Pawlooza in Place, held virtually Saturday night, raised $1 million to support animals and the mission of Napa County's Jameson Animal Rescue Ranch.
JARR co-founder Monica Stevens said she's very happy with the results, "especially when these times are so uncertain and trying for the country. Vintners were so incredibly supportive as were the generous donors."
The event was shown for free on Somm TV and it featured a live wine auction – 12 lots plus Fund-A-Need – with auctioneers Fritz Hatton and Vanessa Conlin. They were in a small area with two television cameras at Meadowood Napa Valley Resort.
About $200,000 was raised in the last lot, the Fund-A-Need, with bidders raising their virtual paddles, taking it from $112,550 to $174,175 in just minutes. Prodded by Hatton, long-time Wineapawlooza auctioneer, Stevens said $100,000 would buy a 12-horse trailer and a truck, necessary for disaster preparedness and evacuating horses; while a $1,000 donation will spay and neuter 10 dogs; and $500 will feed 10 evacuated horses for a week.
As Hatton and Stevens, both on camera, counted down the last 10 seconds, a $10,000 donation surprised them both and Hatton exclaimed, "Thank you all."
Of the 12 lots, five were strictly wine lots; the other seven were experiences that included wine. The top lot sold for $170,000, which was three double magnums of Screaming Eagle Cabernet Sauvignon from the 1995, 1996 and 1997 vintages, donated by Jeannie Phillips, founder of Screaming Eagle. During the auction, Hatton was beside himself, calling the lot unprecedented, adding "very few" of the three-liter bottles were made.
During a video prior to the bidding – each lot included a video – David Stevens and winemaker Russel Bevan spoke about the wine, saying they "are the most special vintages" of Screaming Eagle. "These three bottles can do magic," Stevens said, adding that Phillips is "the most private person I know," and the "once-in-a-lifetime" wine lot was donated by "the most generous person on the planet."
Before the auction began, the bid was $90,000, and bids quickly went to $110,000, then $130,000 and $140,000, although Hatton said the lot "was never to be repeated. The lot almost sold for $150,000 and Hatton, dressed in all-white, was surprised when a $160,000 bid "came from the East Coast." During the entire auction, the final bids were slow in coming, with both Hatton and Conklin waiting for confirmation. (This writer watched the auction online and watched the bidding on a cellphone at the Greater Giving website, which hosted the auction.)
- $75,000 and $70,000 for two custom barrels of 2020 Cabernet Sauvignon from Beckstoffers' George III Vineyard, made by Helen Keplinger;
- $74,000 for dinner with Andy Beckstoffer and Tor Kenward at Yountville's French Laundry, complete with TOR wine at dinner and TOR wine to take home;
- $72,000 for 50 magnums of the 2020 vintage from all of the Wineapawlooza partner wineries, ranging from Arietta to Zakin;
- $50,000 for six magnums of Schrader Cellars Old Sparky, made from Cabernet Sauvignon grapes from Beckstoffers' To Kalon vineyard;
- $34,000 from two bidders for tours, and two five-course dinners at four animal sactuaries in Sonoma and Marin counties and a private film screening, with proceeds split between the sanctuaries;
- $28,000 for a three-night stay, including tours and private tastings at seven Central Coast wineries.
The event also featured a recorded pet parade, with dogs, cats, bunnies, large and small horses, pigs and, for the first time, bovines. JARR founders David and Monica Stevens said they have helped 15,000 animals since founding the organization in 2014 and unveiled the group's new brand identity, a modified happy face logo created by Calistoga's Michael Roche. Monica Stevens said the successful bidder of each lot would receive swag with the new logo, including a jacket, hats, T-shirts and COVID-19 masks.
An estimated 400 people signed up for the event, at varying cost levels, from all over the country, as well as Latin America and France, according to Brad Schomburg, JARR director of communications. "It is starting to go global," he said, adding several nonprofits tuned in to see how a virtual auction can be held.
Be the first to know
Get local news delivered to your inbox!