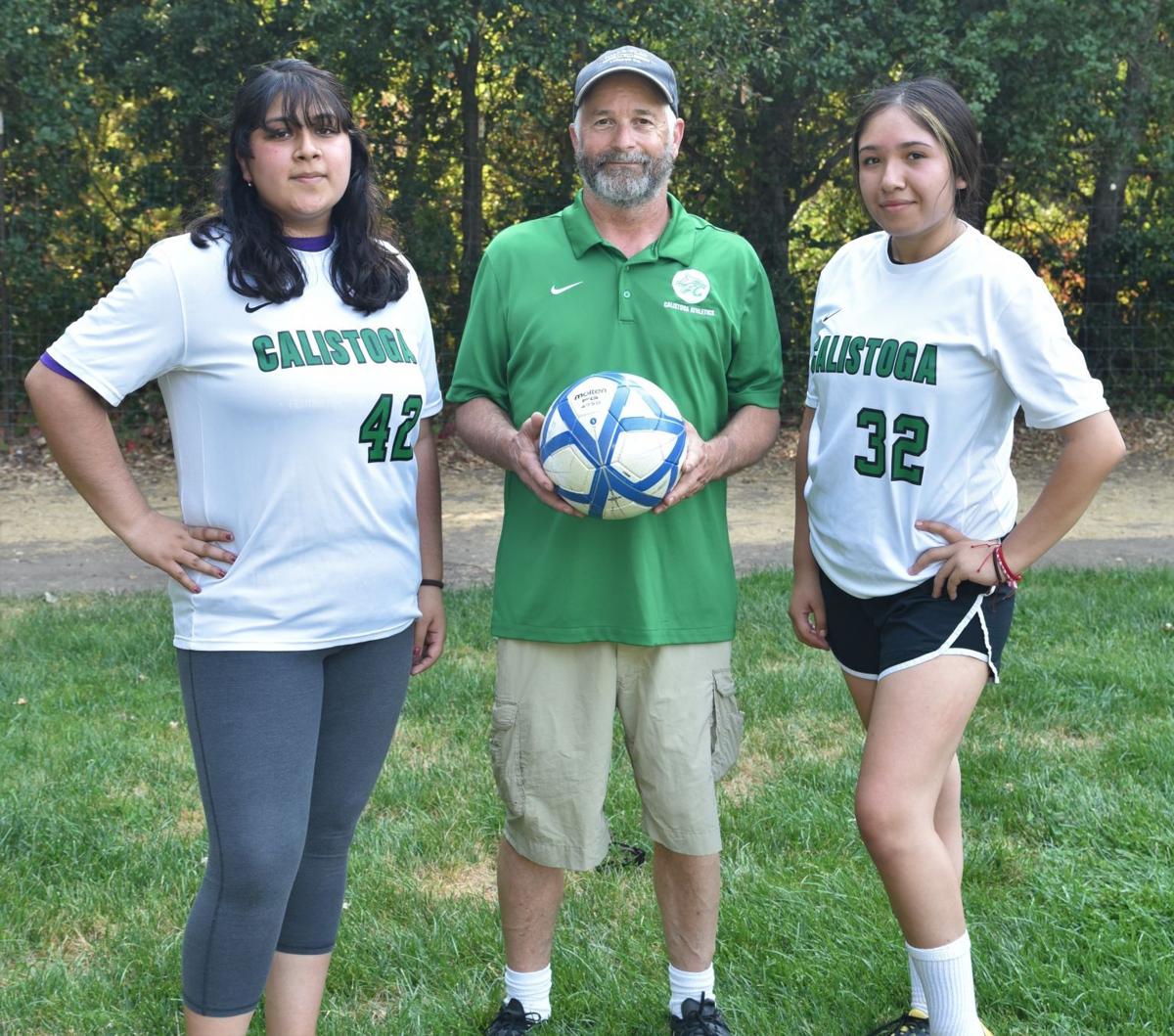 CALISTOGA — Many athletes wish they could experience falling in love with their favorite sport for the first time again.
For a few players in the Calistoga High girls soccer program, that opportunity could come this year. After a full school year with no soccer because of COVID-19, there will once again be a new group of girls looking to learn and improve.
Support local news coverage and the people who report it by subscribing to the Napa Valley Register. Special offer: $1 for your first 6 months!
"Most of the girls that are here this year are beginners, but I have known them for a few years now. This year it's just (us) three seniors, and Julissa (Vazquez) and I have been playing together since elementary school," Aalene Perez said. "Just seeing the new girls, it's just fun for us and brings back memories. We used to be like them and it's just nice to see them enjoy the sport that I've enjoyed for many years."
Taking over the girls program is former boys head coach Charley Hester, who was hired to coach the girls before the pandemic canceled the fall 2020 season. Hester helped the 2019 boys team to an undefeated regular season and a resurgence in the valley. The girls team had an overall record of 3-4-1 and had a North Central League III mark of 2-3-1 in 2019.
"I'm taking a team that is relatively new, because we didn't have any activity last year," Hester said. "Most of the girls who played on the team two years ago were seniors and juniors, so basically everyone who was on the team before has graduated except a few who are now seniors," Hester said. "So we're working on the fundamentals, working on endurance, getting our stamina back, and a lot of the kids haven't been very active over the last year and a half. So it's going to be a very challenging season for me and the kids to come back from all that has happened this last year."
Returning seniors Maria Lopez, Vazquez and Perez are looking to become mentors and enjoy being able to suit up again in a Wildcats uniform for a final time.
"Last year was hard, because I wasn't able to play with my senior friends from last season," Vazquez said. "So now I'm playing with a completely new team, but I am excited for that as well. I am starting to get to know these new girls and it seems like it's going to be a fun season."
With last year cut off for all Calistoga athletics because of COVID-19, the simple feat of heading to Logvy Community Park for practice brings joy to the players. No matter the results at the end of the year, just suiting up and playing again is a feat worth celebrating.
"It feels great to be able to practice again, just because last year we started conditioning and we didn't even make it to a game," Lopez said. "It was very hard and sad, but now having this practice it feels good. For me I take it as a relaxing thing. I am excited this year to play with friends and meet new people. I'm also doing this because of my uncle. He used to like to play soccer and this is an honor to him."
It will all be back to basics this season for Calistoga, as Hester is looking to build the foundation for the future. The girls have been quickly picking up the basics and learning the fine details of one of the most popular sports in the world.
"I'm envisioning us working on fundamentals for most of the season. We will work on everything and anything," Hester said. "So it's going to be important that the kids learn the fundamentals. It's how I've always taught the game, that you're there to learn the game. I learn something new about the game every day and I've played for 25 years."
About the only thing the players have in common for now is the fact they haven't played in a while.
"We each know everyone's not the same. We don't have the same qualities as some, but we actually have a strong bond," Lopez said. "Hopefully we can play this year and we have many games to win. If we don't win. hopefully we get experience for the future."
The Wildcats are limited in numbers this year. That is a normal occurrence for Calistoga athletics, as multiple sports share players to make sure teams are filled. Hopefully for girls soccer, circumstances outside the playing field won't keep the Wildcats off the field a second straight season.
"I think I'm just most excited to be back in general. It's a fresh start for me," Perez said. "Last year was a little hard for a lot of people, so I just think that seems like a good opportunity. I'm thankful that I do have a year back and get to return to, like, semi-normalcy. I'm just excited to see how things pan out, just opportunities that we didn't really have last year."
The Wildcats are scheduled to play their first game in two years at 4:30 p.m. Sept. 10 against Tomales at Logvy Community Park.
About three weeks ago, Hector Contreras was preparing for harvest when an intriguing opportunity presented itself.