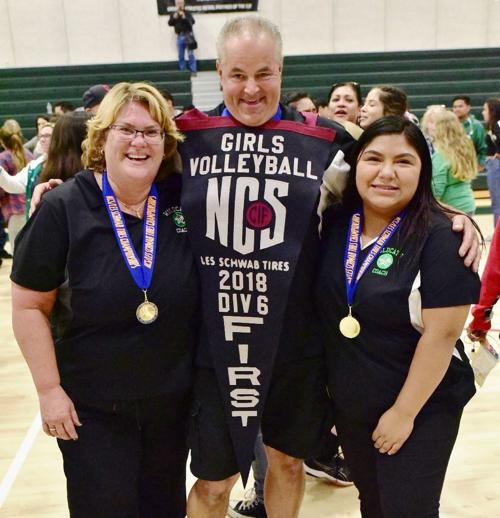 Coming off its most successful two-year stretch in school history, the Calistoga High volleyball program is currently looking for new leadership for this upcoming fall.
Head coach T'Anne Butcher, who guided the Wildcats to their first-ever North Coast Section title in 2018 and to consecutive Northern California playoff appearances the last two seasons, stepped down from her position at the conclusion of the 2019 season.
Butcher also stepped down as Calistoga's varsity softball head coach. Melissa Davis, who was the head coach in 2016 and 2017 before Butcher took over in 2018, will return to replace her on the diamond. But a search for the next volleyball coach will begin this spring.
"It was a very hard decision, but the main reason for the break is I need to focus on growing my business and want to spend more time traveling and visiting my daughters," Butcher told the Register via text message while visiting family this weekend in Hawaii.
Butcher took over the volleyball helm in 2015 and experienced historic success in the past two seasons thanks to a core group of veteran players. In 2018, Calistoga swept through the NCS Division 6 playoffs as the No. 8 seed, upsetting the No. 4 and No. 1 seeds on the road before hosting the championship game at Calistoga High against No. 10 seed Jewish Community. In front of a capacity crowd, the Wildcats beat the visitors in four sets to capture the first section title in a girls sport in school history.
"It's so awesome to see such a great turnout, from the school, the community, the teachers – awesome," Butcher said after sealing the section title on Nov. 3, 2018. "It really was great for the girls, but I think it's just great for the whole school to feel that sense of accomplishment and pride."
For winning the section title, the Wildcats earned an automatic berth to the Division 6 NorCal playoffs, another first in school history. While they came up short of repeating as section champs this fall, the Wildcats did manage to once again qualify for NorCals, adding to their already historic legacy.
Calistoga High Co-Athletic Director Eric Heitz told the Register on Monday that junior high volleyball coach Dulce DeJesus has also stepped down from her position.
"Disappointing, obviously, to lose them both, but people have their own lives and own things to take care of," Heitz said. "Hopefully we'll find some good people to fill in. Even though we haven't advertised it, we've already had a few people ask us about the positions."
While the search for a new volleyball coach is just beginning, finding a replacement for Butcher on the softball field was a quick process. Davis left the school to take a job in Napa in 2017, but has recently returned to Calistoga High after taking a job at Palisades, the continuation school on campus.
"This kind of worked out where T'Anne decided not to coach anymore and it was an easy fit for (Melissa) to come back into the program," Heitz said. "Her and Bud (Pochini, Butcher's longtime assistant coach) are going to team up on that."
"We're familiar with her. She knows a lot of the kids and she's on campus for meetings and all that kind of stuff."
Davis will look to revitalize a program that fell on hard times last year. Due to a lack of numbers, the perennial league title contender and playoff team had to abort its season shortly after nonleague games began.
Spring sports practices officially began Monday and Heitz said that the outlook for softball is much improved from what it was a year ago.
"So far, our numbers are better. I think we had 13 girls for softball, something like that," he said. "Some of our basketball players have decided once again to not play, but we have a lot of younger kids coming out. I think we'll be OK."
Aside from softball, baseball will also be under new leadership this year. Earl Dunkel has taken over as the head varsity coach after Earl Caruthers stepped down at the end of last season. Dunkel was Caruthers' assistant coach the last two seasons. Heitz said the athletic department is currently conducting interviews to hire an assistant coach to complete Dunkel's staff.
Heitz added that the preliminary numbers for baseball were also promising.
"Baseball has like 20 kids that want to play," Heitz said. "I don't know if they're all out there yet, but we should have a decent turnout."
The coaching staffs for rest of the spring sports – tennis, swimming and track and field – are all unchanged from last season. Dennis Rossi will coach tennis, Danny Rossi will return to lead the swim team for the second straight year, and Co-Athletic Director Louise Owens will lead track and field program.
"Everybody else is the same," Heitz said. "We've got the same crew we had last year."
Contact Gus via phone at 707-304-9372 or email at gmorris@napanews.com. Follow him on Twitter @JustGusMorris.
Be the first to know
Get local news delivered to your inbox!