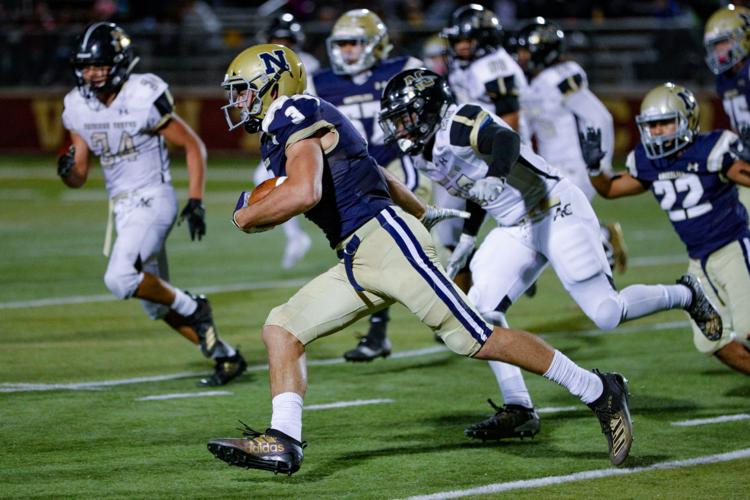 With the 2019-2020 school year in our rear-view mirror, The Register sports staff has turned its attention to the Napa County student-athletes that are returning to play sports in 2020-21.
Per Monday's announcements by the CIF and North Coast Section, the starts of this year's cross country, football, volleyball and water polo seasons have been postponed until January and the rest of the sports until April to help stop the community spread of the coronavirus.
We continue our new Up & Comers series, which highlights rising stars and players to watch for when their long waits are finally over.
Our 20th edition features Brock Bowers of Napa High, Sabrina Wells of Calistoga High, and Casey Potrebic of Justin-Siena.
Brock Bowers
Sports: Football, basketball
One of the biggest disappointments this fall will be having to wait until January to see Bowers take the field again. The senior is listed at No. 10 among the "Top 50 California high school football players from the Class of 2021" in a report compiled by 247Sports and announced by MaxPreps.com on May 23.
"He's been a fantastic teammate and a fantastic leader for the whole team and he continues to impress day in and day out," Napa head coach Richie Wessman said on July 16 during the last week of summer workouts. "Every day he's earning the accolades he's getting. The kids on our football team have all been hungry because they want to take this program to the next level."
After being named Vine Valley Athletic League Most Valuable Player last fall, the tight end was selected by the Napa Valley Register as its 2019 Napa County Player of the Year.
The 6-foot-3, 225-pound Bowers caught 39 passes for 1,098 yards and 14 touchdowns in nine games last fall. He also ran for 316 yards on 22 carries and three more scores as the Grizzlies tied American Canyon for second place in the Vine Valley Athletic League at 4-2 and finished 7-4 overall.
Bowers is also listed No. 12 in the CalHiSports.com Class of 2021 California player rankings.
He was named as the Prep2Prep 2019 North Coast Section Junior of the Year, according to prep2prep.com, and was named to the SportStars' All-NorCal Football Offense 2019 Roster, as announced by sportstarsmag.com.
He has committed to the 2021 All-American Bowl, scheduled Jan. 9 at the Alamodome in San Antonio. NBC will carry the game, which features the top 100 high school players in the country.
Casey Potrebic
Sports: Cross country, basketball, track and field
Potrebic burst onto the Napa Valley running scene in 2013 as a fourth-grader at St. John the Baptist School of Napa, breaking St. Apollinaris Twilight Track and Field Meet records in the mile (6:45.4) and 800 (2:52.9) in the fourth year of the event at Justin-Siena.
He also broke records at the 2014 meet in the 400 (68.7 seconds) and also won the 800 (2:45.7) and mile (6:20.5). In 2015, he set meet records in the 800 (2:37.4) and mile (6:15.2).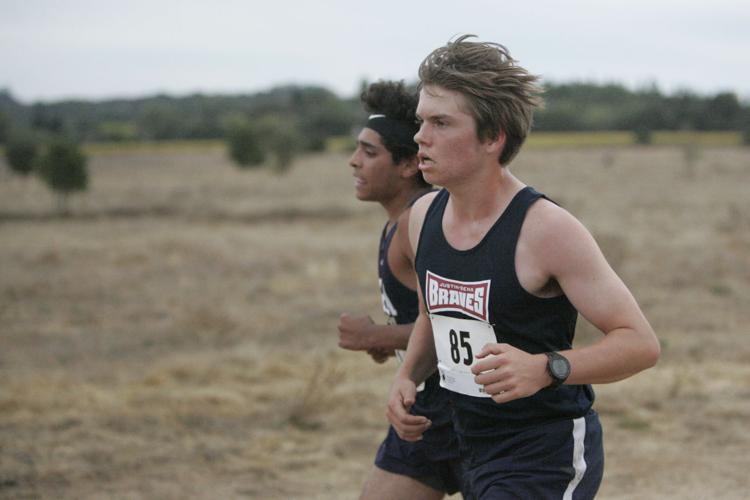 Running for the Napa Track Club that May 2015 at the Pacific Association Championships at Whitney High in Rocklin, he finished second in the 800 (2:28.53) and fourth in both the 1500 (4:54.84) and long jump (14 feet, 4 inches).
At the 2016 Twilight meet, he broke seventh-grade records in the 800 (2:26.8) and 1600 (5:28.8) and anchored the mile relay to another record-setting time. In May 2016, running for the NTC in a meet at Oakdale High, he won the 3000, took third in the 1500 and notched a personal best in the discus. A few weeks later at the Pacific Association Youth Track and Field Championships at Diablo Valley College in Pleasant Hill, he recorded personal bests and made the NTC's top five recorded times in the 800 (2:20.37) and the 1500 (4:41.11).
The Junior Olympics in July 2016 at Sacramento State saw Potrebic record a personal best in the 13-14 boys javelin (112 feet, 1.28 inches) and also qualify for and compete in the 3000 meters.
That fall, he also helped North Bay Basketball Academy win the NBBA Fall Classic in the Eighth Grade Gold Division. His NBBA team also won at the Marin NBBA CYO Classic that December.
In the 2017 March Madness Tournament, his 11 points led St. John the Baptist's eighth-grade boys past five-time defending champion St. Simon's, 30-28.
The next month for the NTC at a meet in Rocklin, Potrebic won the middle school 800 (2:19:82) and javelin (37.44 meters) and was second in the 1600 (4:59:43).
At the 2017 Twilight meet, Potrebic broke eighth-grade records in the 800 (2:16.04) and 1600 (5:22.05) and helped the 4x400 relay team to another record-breaking time (4:23.54).
Competing for NTC at the Pacific Association Championships at Riverbank High in Stanislaus County, Potrebic won the javelin with a personal best (38.48 meters) and was second in the 800 (2:12.76) and fourth in the 1500 (4:40.22) and triple jump (9.99 meters).
In the inaugural All-City Napa Invitational at Harvest Middle School in May 2017, he won the 800 (2:17.92) and was third in the long jump (5.02 meters).
In July 2017, competing for NTC in a Junior Olympics qualifier at De Anza College in Cupertino, Potrebic won the 13-14 boys javelin (36.13 meters) and placed fourth in 800 (2:11.20) and fifth in the 1500 meters (4:33.44) and triple jump.
Potrebic capped his first season of Justin-Siena cross country in November 2017 by placing 23rd out of 154 runners in Division IV with a 3.0-mile time of 16:40.9 at the North Coast Section Championships at Hayward High, needing a top-16 finish to have a shot at the state meet.
He also had a huge first season of Justin-Siena track and field in spring 2018. In the Braves' last Marin County Athletic League Championships, he ran a 2:05.31 in the 800 that is still his personal record. He also placed third in the pole vault at 11 feet, 6 inches to cap a three-man sweep behind then-seniors Roberto Medina (14-0) and Greg Lowe (13-6).
"Roberto and Greg have been at the top of the MCAL vault list for two years, and they performed very well again at this championship," Braves pole vaulting coach Andrew Avellar said. "It is great to have Casey join them in this successful day."
That fall, after the VVAL Championships for cross country had been canceled due to smoke from the Camp Fire that destroyed the town of Paradise, Potrebic and his teammates attended the 2018 section meet. But they never got to compete because the meet was halfted due to unhealthy air before their race could take place. Potrebic had been on a roll, too, having clocked a 3.0-mile PR of 16:20.5 on the Hayward course at the Mariner Invitational that October.
After playing varsity basketball as a freshman and sophomore, Potrebic didn't play in the winter of 2018-19. Last spring, he qualified for the NCS Meet of Champions in track and field with a second-place and personal-record mark of 12 feet, 8 inches in the pole vault in the Redwood Empire meet at Maria Carrillo High. He ended up 16th at section in the event at 11-7.
Last fall, he placed 50th out of 198 runners in Division V at the NCS Championships in 17:15.1.
This spring, he was having a strong track season before it was shut down due to the coronavirus. At Santa Rosa High's Big Cat Invitational on March 7, he notched personal records in winning the pole vault (13 feet, ½ inch) and placing 11th in both the 200 (24.33) and discus (106-10).
Justin-Siena track and field head coach Tracy Martin said Potrebic started to try different events because he's interested in doing the decathlon and has a wide range of skills.
"For instance, he has short-end speed and long-end speed, but is also already one of top pole vaulters in the section. He was our team MVP this year based on leading us in points and his effort level. He's always the last guy at practice. He's one of most determined athletes I've ever coached. He's training right now."
Potrebic was in Idaho this weekend at a camp herd by 2000 Sydney Olympics gold medalist Stacy Dragila.
"He's really smart and technically sound, and when you add ability, watch out," Martin said.
Sabrina Wells
Like Bowers and Potrebic, Wells used to play basketball. She was a 5-foot-10 freshman forward on the Calistoga High varsity squad in 2017. But it's been all swimming for Wells since, not only for her school but for the Napa Valley Waves club team. After this season's cancelation due to the COVID-19 pandemic, she hopes to get back in the groove when her seniors season begins in April.

As a sophomore in April 2019, Wells had quite a meet in the Coastal Mountain Conference Championships at CV Starr Aquatic Center in Fort Bragg. She won the 100-yard freestyle in 1 minute, 0.24 seconds — edging out Emma Larsen of Kelseyville, who finished the race a fingertip behind Wells with a time of 1:00.25 — and finished second in the 50 free in 28.06, just behind Larsen's time of 27.88.
This year wasn't all about the canceled swim season for Wells. She was named the Boys & Girls Clubs of St. Helena and Calistoga 2020 Youth of the Year.
The award was celebrated during a Jan. 9 dinner at Brasswood in St. Helena, where Wells and three other nominees gave speeches to a crowd of about 150 that included the mayors of Calistoga and St. Helena. Wells took home a $2,000 prize.
"After my stepdad passed, I stopped going to the Teen Center. Then, after a while, I signed up for swimming, which later on changed my moods and helped keep me busy," she said in her speech. "Through the years I've developed not only one, but two families that support me, my Teen Center family and my swimming team. I've (finally) realized that I am content with myself."