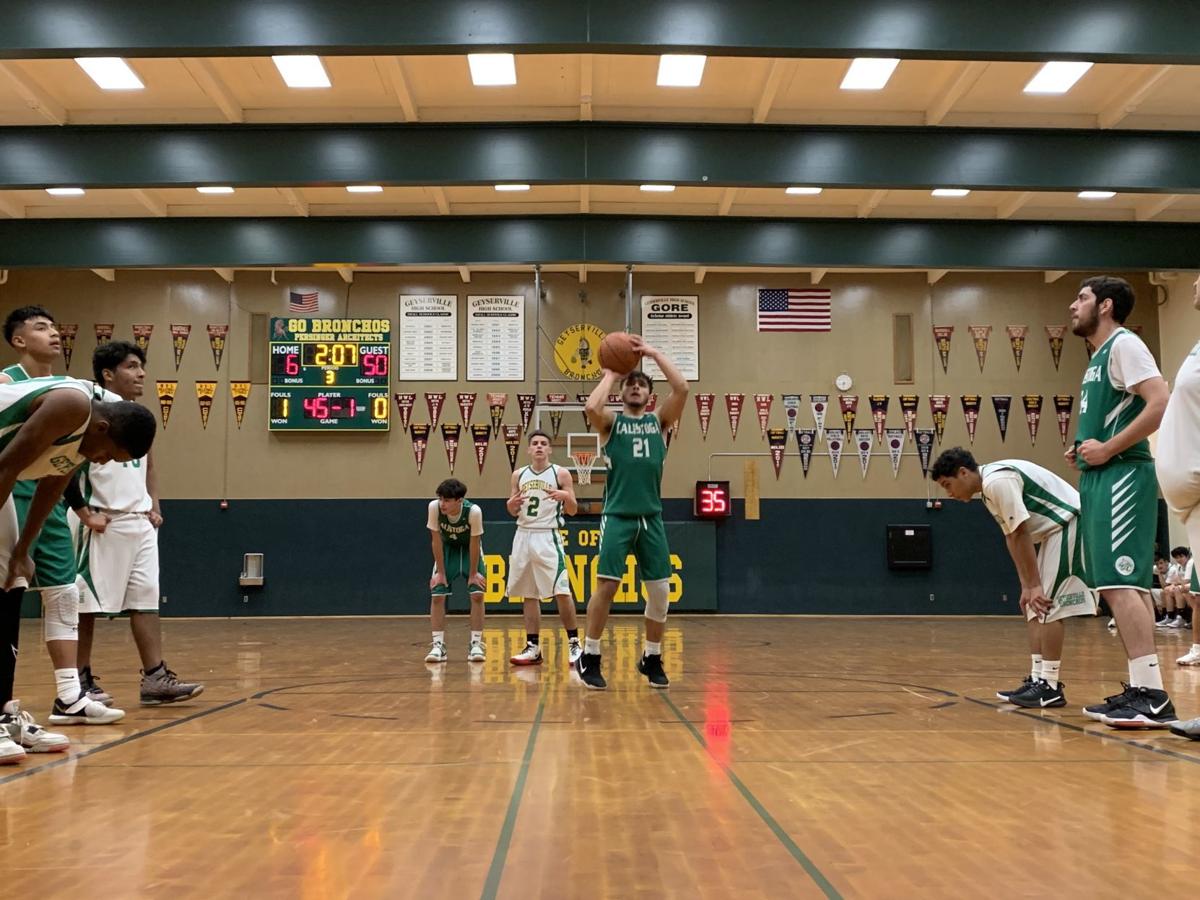 GEYSERVILLE — The Calistoga High girls and boys basketball teams continued their winning ways in league play as both were able to cruise in their games on the road against the Geyserville Bronchos on Tuesday night.
It was an all-Wildcats affair as the girls began the evening with a resounding 87-6 victory to improve their record to 15-2 overall on the season and 3-0 in North Central League IV action.
On the other side, the boys' 63-12 win pushes their record over .500 to 8-7 overall and 3-0 in league.
The girls team blitzed the Bronchos early and often, jumping out to a 28-0 lead after the first quarter. Geyserville didn't get its first point of the game until the 2:34 mark in the second quarter, and the Wildcats went into halftime leading 55-1.
Guard Vanesa Queipo led the way for the Wildcats with 18 points and 5 assists. Forwards Litzy Infante and Hayseel Barrera and guard Lizbet Escobedo each chipped in with 12 points. Overall, five Wildcats scored in double figures.
"We just wanted to do certain stuff pretty well, and we did," Calistoga girls head coach Ray Particelli said. "Obviously, our defense gave up 6 points, so it's kinda hard to beat that. And our offense pretty much scored at will. It was nice to see that, and that's the best you can hope for, a day like today."
The dominant victory is the latest in a string of convincing wins for the girls, who are currently one of the top teams in the North Coast Section for Division 6. Over the last four games, their average margin of victory is a whopping 48.2 points. There's no doubt about it — the Wildcats are ravaging opponents at the moment while in the midst of an historic season.
You have free articles remaining.
While Particelli believes the team still has some kinks to work out, like how it handles intense pressure from opposing defenses and its lack of perimeter shooting, he's still happy with how the Wildcats are performing.
For the boys, the game was a tad more competitive in the beginning as the Wildcats led 18-6 after the first quarter. But they soon found their groove and shut out the Bronchos in the second quarter to head into intermission with a 37-6 advantage.
The Wildcats used a combination of speed and aggressiveness in their transition offense and defense as a catalyst in their 19-0 run in the second quarter to dismantle Geyserville, which essentially put the game away.
It wasn't until with 1:02 remaining in the third quarter that the Bronchos added to their first-quarter scoring, when a layup made it 58-8. The Wildcats easily turned in their best defensive performance of the season, recording 7 steals and holding the Broncho scoreless for nearly 24 minutes of actual game time.
Sophomore guard Christian Caldera paced the Wildcats with 17 points, 6 assists and 3 rebounds, including an acrobatic, reverse and-one layup that sent the bench into a frenzy. Fellow guard Christian Garcia had 12 points and center Christopher Olivares added 10 points and 6 rebounds to help lead the team.
That makes it four consecutive victories for the Wildcats since they hit a snag at the beginning of January and dropped three games in a row. Now, they seem to be in stride with a critical juncture of the season quickly approaching.
"To start the year, nothing felt right," Particelli said. "We had kids missing, the practice schedule was weird — it just took a while to buy in. Now, we haven't played great teams, but we are definitely playing better basketball. And that's the main thing."
"I think they went from hearing how important defense is to believing it," Particelli added. "And that shows. Coach (Cesar Cruz) and I stress defense, defense, defense and they were hearing it. But everything was, 'Oh how (does) our offense look?' We got their attention a few weeks ago — had a come-to-Jesus kind of thing — and showed them what a difference it makes. They've been playing better, and it's fueled our offense and it's made us a much better team. We got a ways to go, but we're on a decent track."
The Wildcats hit the road again on Thursday for another league contest, traveling to Santa Rosa to take on Roseland Collegiate Prep.