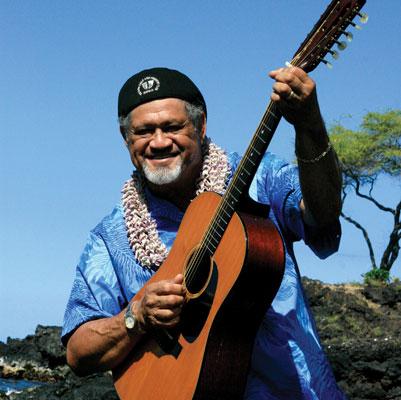 Featuring Grammy Award-winning Hawaiian slack key recording artist Cyril Pahinui, the first Napa Valley Aloha Festival will be held at Napa Valley Expo on Saturday, Sept. 20.
A program of entertainment, talk story gatherings and sharing of traditional Hawaiian food, arts and crafts is scheduled throughout the day. Festival hours are 10 a.m. to 6 p.m. Admission is free with the donation of an item of non-perishable food.
Sponsor is the Manaleo Hawaiian Cultural Foundation, which hopes the festival will become an annual fall event in the Napa Valley. Heading up the team of volunteers staffing the event are members of the Bay Area ensemble, Manaleo, which performed a sold-out concert at Copia earlier this year.
Keoki Cortez, spokesman for Manaleo, said "the festival is supporting the environment by making this a green event.
"The festival will include live entertainment and vendors from the Hawaiian/Polynesian community in the form of music, dance, authentic foods, arts, crafts, clothing and wares from vendors all over the West Coast."
Cortez pointed out the festival "is a family event and alcoholic beverages will not be permitted. And, sorry, no pets. Please bring a non-perishable food product as your admission fee as the donations will benefit the Napa Valley Food Bank. Otherwise, this is a free public event."
The festival schedule begins at 9:45 a.m. with opening pule and blessing by Kumu Kawika Alfiche, followed at 10 with a performance by Na Leo Pumehana. A Hawaiian fashion show is scheduled at 11.
You have free articles remaining.
The Waimea Cowboy, award-winning paniolo singer Ernie Cruz Sr. will take to the stage at noon, followed by the blend of Polynesian and contemporary sounds at 1 p.m. by Faith Ako.
The 2 p.m. slot will be filled by Kumu Shawna, Alapa'i & Halau, Hula Na Pua O' and Ka La'akea, and the Mango Kingz, a Filipino-American sextet from the North Bay, will offer its reggae jam at 3.
Wrapping up the daylong entertainment offerings will be Cyril Pahinui. The son of musical legend, Gabby Pahinui, he is, in his own right, one of Hawaii's most gifted guitarists and singers. Cyril has twice played at Carnegie Hall, has contributed to two Grammy Award-winning albums, received several Hoku Hanohano Awards, and recorded on more than 25 Hawaiian musical releases.
As a slack key guitarist, the Oahu native's technical virtuosity, rhythmic adaptations and instrumental harmonics impart the soul of Hawaiian music, and his beautiful, emotive and well-recognized voice renders an intimate picture of his Pacific island home.
Following Pahinui's set, the closing ceremonies, with hula and chant, will be performed by Kumu Hula Kau'i Peralto and Halau O' Kawainuhi, joined by Kumu Kawika Alfiche and Halau O' Keikiali'i.
When: Sept. 20, 10 a.m. - 6 p.m.
Where: Napa Valley Expo Center,  575 Third Street, Napa
Admission: Free with the contribution of a non-perishable food item to benefit Napa Valley Food Bank.