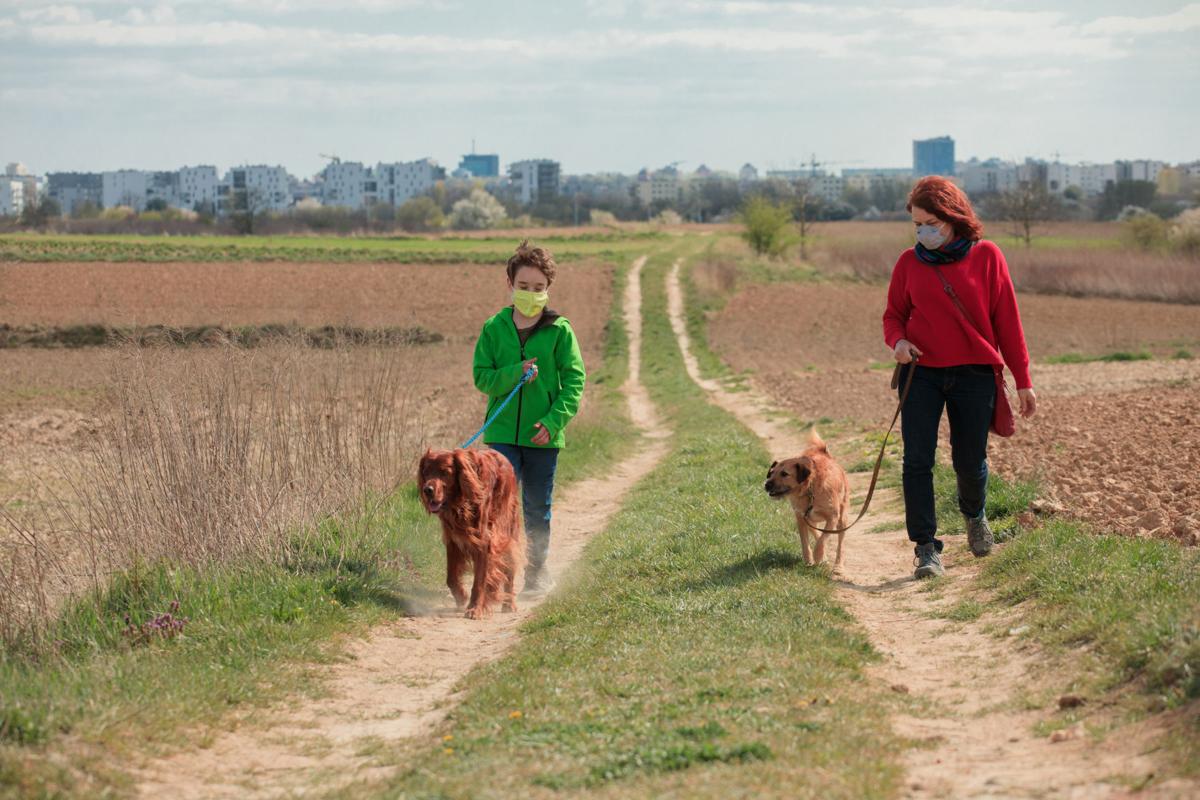 Families have been searching for healthy outdoor activities this summer, to maximize the slim entertainment and socialization options because of COVID-19, as well as safely spend quality time together outside the home. Outings erring on the side of safety, that can be easily enjoyed within our socially-distanced bubbles, that include all of our family members ranging from humans to canines, and that do not take us far from home, are key.
While walking with dogs is fairly common, hiking with dogs takes that fresh air experience to the next level. In Napa County there are many hiking trails that wind through public parks and open spaces, ideal for exploring with pets, ranging from easy to extreme.
Thinking ahead will make for a fun and pleasant hike with a dog. First, make sure that the trail you plan to explore allows dogs. The Napa County Regional Park and Open Space District website publishes a section specific to "Dog Friendly Parks" on their website at NapaOutdoors.org.
Napa Open Space parks that welcome dogs line the entire valley including the Napa River Bay Trail (American Canyon); Napa River Ecological Reserve (Yountville); Moore Creek Park—Hennessy Unit (St. Helena); Bothe Napa Valley State Park—Campground Only (St. Helena) and Oat Hill Mine Trail (Calistoga).
Each city within Napa County has an online guide to local parks and information about what is and is not allowed within each park. Links to each city site are also conveniently listed on the Napa Open Space District website. Some are dog-friendly, while others are not. Most require leashes, while a few allow for the option of a voice command-trained pet. Many parks also require that dogs must be licensed and current with required vaccinations.
At DogTrekker.com a list of 18 Napa County parks that also welcome pups serves as a valuable resource for planning a local outing.
According to both Napa Open Space and the American Kennel Club (AKC), there are tips, and in some cases rules, for safely hiking with dogs. The AKC references on their website at AKC.org common-sense rules established by the National Parks called the B.A.R.K. Rule for hiking with your dog:
These practices show respect and are safe at minimum. Bring pet bags, and, if possible, a secondary collar or harness in case the one in use breaks. In addition, these are some additional recommendations:
Use a leash—To best keep your pet safe, as well as other pets, hikers and wildlife, a leash of no longer than six feet is ideal. In addition to potential altercations, wild animals and other outdoor threats that can harm you or your pet (weeds, foxtails, thorns, burrs and poison oak), a simple leash is a first and simple step toward safety.
Preventive measures—Throughout Napa County, it is recommended that dogs partake in a regular prescription regimen of heartworm, flea and tick prevention. For dogs that hike, this is even more important. Usually these are once-monthly, veterinarian-approved, consumable medications that make your pet less likely to be invaded by these pests.
Treat your pet like a person—Like people, pets need water, shade, a steady pace and may even need "hiking boots" to protect their paws from the rigor of the trail. Bring plenty of water and a collapsible drinking container, stop to rest in the shade and gauge heat levels. Dogs cannot sweat like humans, and need to regulate body temperature through panting.
Wildlife is wild—Remember that when hiking, we (along with our pets) are guests of the animals that live in remote rural regions. Native plants and animals are established and vast. Be respectful of the natural plants and animals, and do not let your dog ruin foliage or threaten native animal species.
Understand the susceptibility of your dog's breed—Certain breeds are more inclined to hiking. Be cautious and aware if your dog is young or old, and realize that the terrain can be physically burdensome. Also watch the heat, and consider hiking during the cooler parts of the day—early in the morning, or in the evening when the daytime heat calms down.
Disallow consumption of water in the wild—Because of the risk of contaminated water, and exposure to parasites or other dangerous elements, do not allow your dog to drink unknown waters.
Post-hike—Check your pet for pests, weeds, scratches and ticks. Yes, check your dogs (and kids) for ticks.
Watch it now: 10 of the most affectionate dog breeds
Please feel free to submit questions, topics and ideas for future pet columns to Lisa Adams Walter at lisa@adamswalter.com.
Be the first to know
Get local news delivered to your inbox!