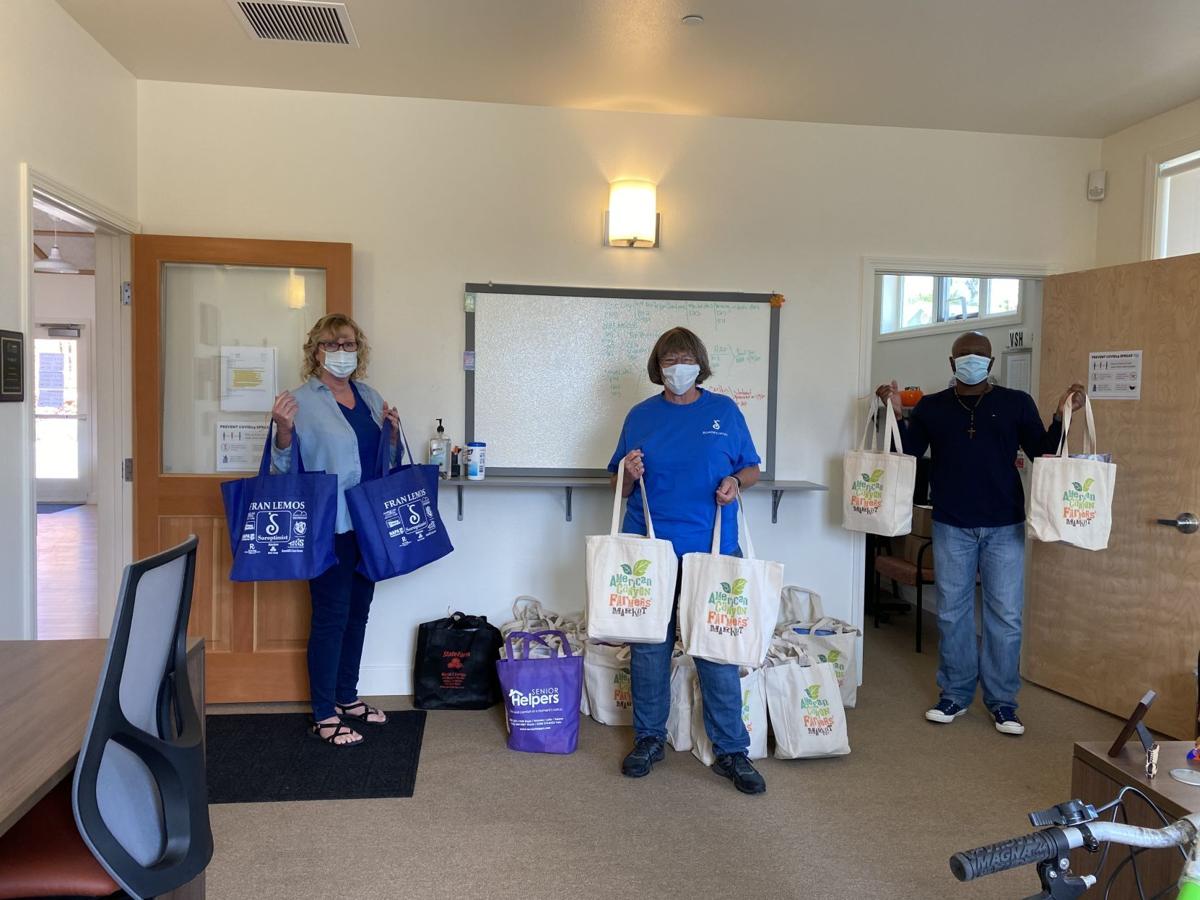 AMERICAN CANYON — Aubrey Daniels says her get up and go has got up and went in the months since the COVID-19 pandemic forced seniors like herself to stay mostly at home, where she lives alone.
Formerly of American Canyon, Daniels, a 65-year-old retired DMV employee, is still affiliated with that city's senior center, even though she lost her home in the housing market crash, and the only place she could afford to live was a small Vallejo apartment.
It's been a serious challenge to stay on the sunny side of despair, she said. It's why the periodic wellness check phone calls from the American Canyon chapter of Soroptimist are such a godsend, she said.
"I sit home and don't want to do anything. I don't want to crochet, or wire wrap and grind my rocks to make jewelry, or work with my sand dollars, or write poetry. I have no incentive to work on them," she said. There's just no get-up-and-go there. It helps to have somebody to talk to."
To add yourself or someone else's name to the list, call the American Canyon Senior Center at (707) 647-5350 and leave a message with your name and number.
"American Canyon Soroptimist are providing resource information and support for seniors in our community through weekly check-in calls," according to American Canyon City Manager Jason Holley's newsletter.
The center had a similar effort before the Soroptimist women's service group took it over a couple of weeks ago, chapter co-president Kristin Einberger said.
The international club's mission is to transform the lives and status of women and girls through education, empowerment and enabling opportunities. "Another big item for us is to educate people around sex trafficking, and we award a number of scholarships," she said.
"We've been doing (the phone calls) for two weeks," Einberger said. "There were calls being made from the senior center since the COVID thing started. But budget cuts caused that person to be laid off, and I thought of taking it on with the group."
That was in mid-June, she said.
"One of our goals is to decrease senior isolation and we'd been doing that already, with various events. We had planned a St. Patrick's Day thing, but the COVID thing hit," she said. "We still want to reduce isolation, so it was a natural thing to take over those calls."
The half dozen women involved started putting together "goodie bags," containing craft supplies, personal necessities like masks, and other items like word search and other brain power exercises, and trivia games, and distributing them to area seniors.
"We have put together 125 of those so far, and brought them to (American Canyon's new affordable housing development) Valley View, and the Las Casitas senior mobile home park, where many seniors live, and we're giving the rest out personally," she said.
The group is also making the wellness check phone calls, working off a list of nearly 100 names and numbers, she said.
"Basically, it's 'Hi, how're you doing? Is there anything you need that we could point you in the right direction for?'" Einberger said. "We had one person ask for a jigsaw puzzle, so I brought her one. One lady asked us to get rid of COVID, but, umm, I couldn't comply. Or they need a phone number they can't find, or they need food, and I can find a source."
There's a learning curve, and the ladies are new at the game, but say they're getting at least as much out of the endeavor as the calls recipients, as they learn new ways of helping.
"We're new at this and still working it out," Einberger said. "People want socialization and we're working on ways to accomplish that. We're also emailing out a trivia question three times a week, with answers to follow."
A Zoom bingo game is planned for August "so people can at least see one another," she said. "We're also planning a music concert and a trivia night, maybe with teams."
The wellness check-in calls are being done from the callers' homes, Einberger said, adding that she has made some 25 calls since the effort started.
"They're happy to hear from us, most of them," she said. "Some seem a little confused, but most want to talk. One lady asked if I could come for coffee that afternoon. She just seemed lonely. My heart went out to her. I plan to call her every week. They're sick of staying home and are hungry for being around other people."
Those living with family aren't as lonely, but many live alone," Einberger said. "They're used to getting out and that's the hardest part — they want to see their friends and family," she said.
That describes Daniels' circumstances.
"There's no one to help you do anything, or to talk to, or to kibitz with," she said. "I just finally got my computer set back up – it was down for a long time. I used to do my computer stuff at the senior center."
Some days are better than others, she said.
"I have some health conditions that keep me from going many places, and all I have is a brother who just moved to Livermore," Daniels said. "Sometimes you don't even realize you have a need until somebody asks. Without these calls it would be even more lonely. Some days go by that you don't talk to anybody; you just yell at the TV."
This is a big change from Daniels' pre-pandemic life.
"Before COVID-19, I was driving for Meals on Wheels, making home deliveries, and I did several things at the senior center and I did AARP taxes. I belonged to a gym club. I was in a writing workshop, so there have not been any creative outlets, and that's part of it," she said.
Soroptimist Anne Payne of American Canyon said reaction to her calls have been mixed.
"Most people are really happy to talk and very grateful that we're doing this," she said. "I'm a senior myself, and if I got such a call, I'd appreciate it. No one I've talked to has told us not to bother them."
One man she talked with suggested the women find a way to get a piano for the senior center, and Payne said she's working on that.
"People miss connecting with their friends at the senior center," she said. "Some are hoping to get iPads or some other device, so they can Zoom with family. Also, some don't have contact information for certain friends, and we want to see how we can do that without violating anyone's privacy."
The group soon plans to add greeting cards to their outreach efforts, said Einberger, a city of Fairfield social worker, dealing with those suffering memory issues.
"This is for seniors or anyone else we hear of who's having a particularly hard time," she said. "It's such a great collaboration between Soroptimist and the (senior center). It's great and will continue to be great. We're meeting weekly with (center program director) Vincent Lin and discussing other ways to help – other things we can do to enrich the lives of seniors in our community."
Editor's note: This item has been amended to correct the names in the photo caption.
Watch now: Walk of Life! Here's How to Make Your Walks More Exciting!
Be the first to know
Get local news delivered to your inbox!