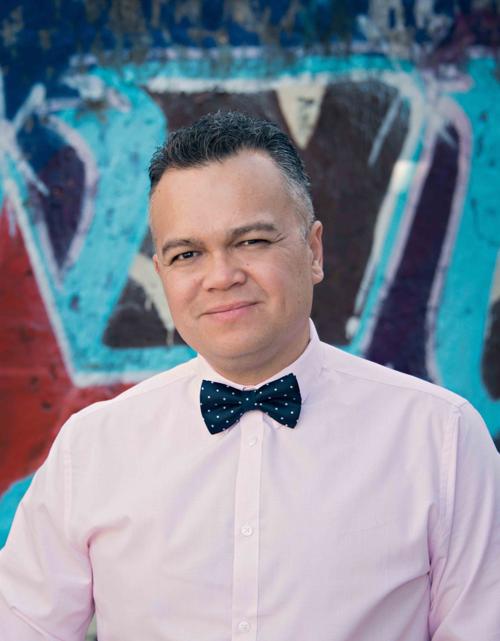 David Oro has big plans for American Canyon. He doesn't just want to make the city better, he wants to elevate it to a whole new level.
"I believe American Canyon has an opportunity to be one of the Bay Area's best cities," Oro said last week from inside Table 29 Bistro & Bar at the Doubletree Hotel.
"We deserve to be a destination, not a drive through — a bedrock community, not a bedroom community," he added.
Oro has served on the City Council since February 2017 when he was appointed to fill out the remaining term of Belia Ramos, who was elected to the Napa County Board of Supervisors.
The 45-year-old corporate communications consultant is running in November to win his own four-year term on the council, competing against incumbent Mark Joseph and three newcomers — Jason Kishineff, Pierre Washington and Robert Vega — for two available seats.
Oro considers himself "an agent of change" who, he says, has helped the council think more strategically and willing to make big decisions since joining it 17 months ago.
During that period, for instance, the council adopted a new ordinance allowing certain recreational cannabis businesses to open in the city. It also agreed to invest in a new regional water project, the Sites Reservoir north of Sacramento, which will give American Canyon rights to 4,000 acre-feet of water annually once it is built next decade.
The new water supply would reduce the city's dependence on the State Water Project, which drastically cut back allowances during the drought, and provide enough to cover American Canyon's water needs if it continues to grow.
But the city is "not complete yet," according to Oro, who says more development is needed to make American Canyon a city people want to visit, not just drive through, and to fund important changes that will help alleviate traffic congestion on Highway 29.
"Right now we don't have the economic tax base to be the city we want to be," he said.
You have free articles remaining.
Oro says he knows the traffic is terrible in American Canyon, and he empathizes with other residents. "I'm sick of being stuck in traffic. I cannot stand it. I hate it. My wife hates it. We know it sucks."
To those who say the city needs to address traffic before approving more development, Oro argues the solution involves doing things the other way around, even if it seems "counterintuitive" to some.
"Developing is going to help the traffic situation through town," he said, because developers are needed to pay for big road projects, such as extending Newell Drive on the east side so it connects with the highway. He also wants Devlin Road to be completed on the west side so there are two ways to bypass the highway through American Canyon.
To this end Oro is supporting the approval of Watson Ranch, which will help with the Newell extension and is expected to come up for a key vote in October before the City Council.
He spent most of his first year on the council recusing himself from voting on any decisions involving Watson Ranch because he had previously worked as a consultant for the developer, McGrath Properties, from September 2015 to October 2016 to raise community support for the project. The recusal was based on state law governing potential conflicts of interest for public officials.
Oro insists his support for Watson Ranch goes back long before his paid work to when he first decided to move his family to American Canyon in 2005. Back then, the talk of building a high school was a big draw for him, as was creating a town center as part of Watson Ranch.
"The one thing we are missing is a sense of place," said Oro, where the community can gather together. Cities like Napa and Petaluma have one in the form of a downtown. American Canyon does not.
Watson Ranch calls for — in addition to building 1,250 new homes — a town center that will be called the Napa Valley Ruins & Gardens, complete with entertainment, commercial and retail developments incorporating portions of the old cement factory buildings.
"That's why I've been a big advocate for the Watson Ranch project," he said. "We need a place to call our own, and I'll tell you right now, it's not Highway 29."
In campaigning for the November election, Oro highlights his community involvement beyond serving on the council. He has been a member of the Open Space Advisory Committee, the citizens advisory committees for Highway 29 and the Broadway District Specific Plan, has coached multiple youth sports teams, and contributed to the local parks foundation and the new Boys & Girls clubhouse.
He also has racked up a list of noteworthy political endorsements during his first-ever run for elected office: Congressman Mike Thompson, state Senator Bill Dodd, Assemblymember Cecilia Aguiar-Curry, Sheriff John Robertson, District Attorney Allison Haley, all five members of the Napa County Board of Supervisors, and more.
"I think that speaks a lot to the vision and leadership that others see in me and in getting things done in American Canyon," he said of his endorsements.
Be the first to know
Get local news delivered to your inbox!