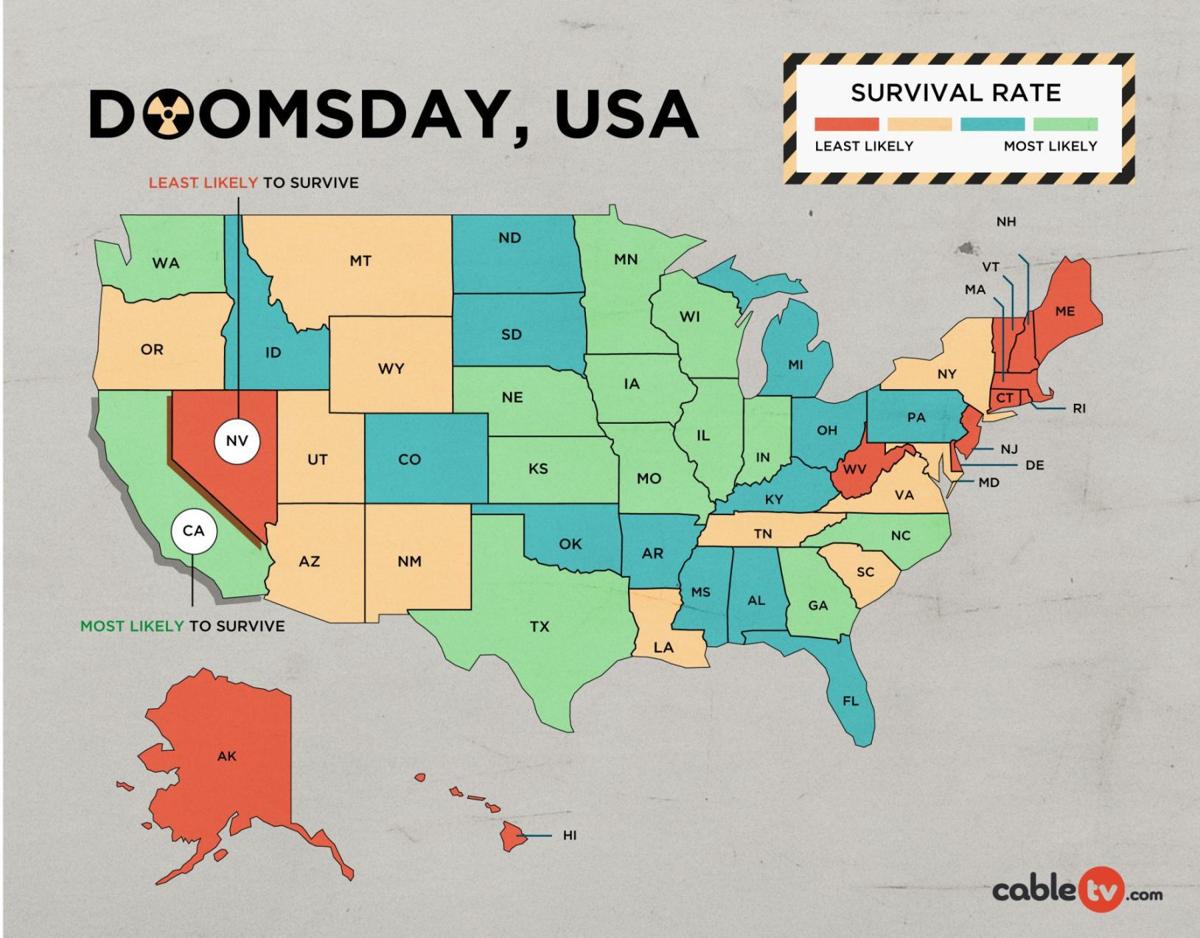 Living in California has its benefits, among which is a higher chance of making it through a zombie apocalypse.
The guide playfully ranked all 50 states in terms of what they have going for, and against, themselves if the end of days ever comes and people are faced with fighting off hordes of the ever decaying and always peckish undead.
The rankings used a variety of federal and industry data to gauge a state's agricultural production, gun ownership, solar energy and climate.
After crunching the numbers, CableTV.com concluded Californians stand the best chance of dealing with doomsday if it ever darkens the Golden State and the rest of America.
While California was ranked No. 1, its easterly neighbor, Nevada, finished (pun alert) dead last.
As Rachel Oaks at CableTV.com wrote regarding No. 1 and No. 50 sharing a common border: "With the Sierra Nevadas protecting them, post-apocalyptic Californians can comfortably enjoy their agriculture and solar energy while taking potshots at Nevada's overflowing zombie population."
Upon reading about Nevada's No. 50 ranking, I wondered if Las Vegas would amend its promotional slogan to: "What happens here [really should] stay here."
As for "A Guide to Surviving America's Zombie Apocalypse," states were grouped in one of four color-coded zones ranging from the highest to lowest rates of survivability: Green (the place to be), Blue (not bad), Yellow (trouble) and Red (time to pack).
The best region to live in when the dearly — and not so dearly — departed start rising up is the Midwest, thanks to its agricultural bounty.
The area you don't want to be in is New England, which was labeled all in red.
That's bad news for my daughter who lives in Connecticut with her husband and my 1-year-old grandson.
Her husband serves in the U.S. Navy, and has had survivalist training, so that's a plus.
Additionally, he may get transferred to Pearl Harbor in Hawaii.
But — and it's a big one — moving to Hawaii may not help them much if zombies take over the world. Hawaii is also ranked among the worse states to make it out of alive.
Aloha! Try the poi, not me!
CableTV.com also included some fun facts for finding and stocking up on certain foods that have a long shelf life, like Twinkies.
"If you're on a postapocalyptic quest," Oaks wrote, "for those yellow, spongy, delicious bastards that will decompose long after you do, Hostess has three Twinkie bakeries in the US: Emporia, Kansas; Columbus, Georgia; and Indianapolis, Indiana."
They also ranked the top 10 states with the longest-lasting supply of Ramen — congratulations New Jersey! You're No. 1 on this list.
Ramen is said to have "a disgustingly long shelf," but could come in handy as a "bartering tool" for survivors who haven't developed a taste for human brains, or flesh.
Be the first to know
Get local news delivered to your inbox!