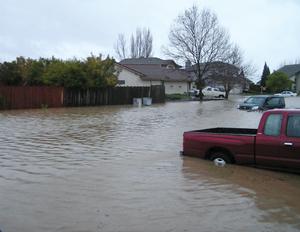 Like many others in the county, residents of American Canyon won't soon forget the last day of 2005. At approximately 4:00 a.m. Saturday AmCan began experiencing serious flooding. Mayor Cecil Shaver declared a state of emergency for the city at 8:00 a.m.
According to Fire Chief Keith Caldwell, Walsh Creek flooded Flosden Road and Broadway, American Canyon Creek flooded American Canyon Road, Broadway, Elliott, and Knightsbridge. A creek with no name flooded Los Altos, Rio Del Mar and Carolyn. Localized flooding occurred due to high tides on Wetlands Edge.
The American Canyon Fire Department had 20 separate emergency incidents including medical aid, assisting with clean-up and rescuing three individuals that were trapped in their cars due to the floodwaters Saturday between 4:00 a.m. and 10:00 a.m. All three vehicles were abandoned and tow trucks were called once water levels lowered. The three individuals were taken to 300 Crawford Way.
Caldwell checked at 4:00 a.m. and "saw water levels higher than I've ever seen it in 40 years." "In a half hour as I checked certain areas of the city the water rose a couple of feet," he said.
Caldwell met Police Chief Doug Koford at 300 Crawford Way and set up an emergency operation center (EOC) for the city. This location also served as a flood evacuation center for three individuals, one American Canyon resident, one from Vallejo and one from Contra Costa County who were rescued from their cars.
The Knightsbridge and Chaucer location was the hardest hit with the water levels remaining until well after all other roads had been re-opened by 10:00 a.m. But it wasn't just inside the city that was the problem it was the surrounding area as well. "Jamieson (Canyon) had a mudslide at 4:00 a.m. Northbound Highway 29 was closed due to flooding and so was highway 121. At one point there was no way into Napa County," said Caldwell.
"I've been here 15 years and this is the first time this has ever happened," said Northrup Street resident Washington Davis. His property was elevated so it wasn't damaged but the yard and walkway were a mess. Shaking his head as he hosed it down he added, "I've never seen anything like it. Usually they clean it (American Canyon Creek) out but this year they didn't. But they said it wasn't the cause."
According to Public Works Director (and now interim city manager) Robert Weil, they did indeed remove vegetation from the American Canyon Creek and have an annual permit to do so every year. "In 2003 we had a major silt removal which restored capacity from Danrose to about 1,000 feet past Elliot. It was a $100,000 project," he said.
The creek overflowed leaving behind a layer of debris in the streets, sidewalks, and lawns for most residents in its path. "I'm out here just cleaning up doing the best we can," said Mark Mathews. But Mathews wasn't taking any chances and was preparing to pick up sand bags before the next round of storms hit preventing further damage to his property. "I just can't stand around here doing nothing. Thank God for power washers and shovels."
Other residents didn't fare as well, and suffered more than just a dirty driveway. Chris Simms, of Knightsbridge had two feet of water hit his home. Both of his toilets overflowed and the backyard was flooded. "We got the brunt of it with the water just seeping into the house," said Simms.
His neighbors, Glen and Rhonda Steve had three cars damaged. Two were in the driveway and one on the street. The Honda Pilot on the street won't start and they called a tow truck. The Civic and Saturn in the driveway both suffered water damage and while the Civic drained the Saturn retained nearly a foot of water. Their bathrooms also flooded with over a foot of water.
"The water wall was three feet high in the front where the living room is. It went all the way around to the patio door. When I walked out this morning the basketball hoop was floating in a pool. And the garage is a mess. We are just going to have to start over and throw everything away," said Rhonda.
"We haven't had this kind of flooding in these streams for at least 10 years so a lot of debris breaks loose," said Caldwell.
The creek behind Parry's Pizza overflowed and filled the pizzeria and store with mud. "By the time I got in the fire department were already here. If it wasn't for them we would still be in mud. The Fire Department are number one - they did a hell of a job," said Manager Piero Tropeano. "The bathrooms were filled with six inches of mud and the coolers were too." Tropeano is preparing for the next storm with sand bags. Fortunately he was able to stay open for business only for take-out orders on New Years Day after having the carpets and floors cleaned that morning in the restaurant area.
Since sewers also overflowed city personnel recommend the public use sanitary precautions when dealing with floodwater, "People should be careful to sanitize themselves if they are exposed to floodwaters. (They should) wash with antibacterial soap or chlorine bleach and keep their children from playing in standing water," said Weil. Public Works Superintendent Fred Simonson agreed, "People should exercise due diligence if they are in standing water. Standing water is not to be played in, hose off your boots and do a hygiene clean-up as a precaution."
Two swift water rescue boats, an engine and ten firemen were sent to assist the city of Napa. "Working with the city of Napa boat team, we evacuated 40-50 people from the Soscol and Lincoln area (in Napa city)," said Caldwell.
"American Canyon is not a huge watershed like Napa. The water goes up and down very quickly here. And the communities in this valley really come to each other's aid regardless of the boundaries, jurisdiction, emergency service and work well to get and keep each other informed. We work by operational areas, South Ops is South of Napa," said Caldwell.
For American Canyon residents, being prepared is the best thing to do in the event of another storm. Sand bags are available at the city corporation yard at 205 Wetlands Edge Road. Anyone needing more information or assistance with sand bags can call 707-647-4369.