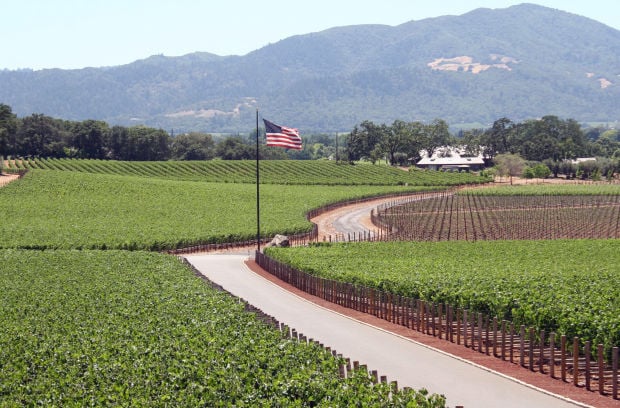 Limiting how much farmland is gobbled up by sprawling, rural homes and making certain wineries follow county rules are topics that will receive in-depth attention from Napa County.
The Board of Supervisors on Tuesday continued sifting through ideas to shape wine country's future. It continued putting its own stamp on recommendations from last year's Agricultural Protection Advisory Committee (APAC).
APAC recommended limiting development of agricultural parcels of less than 40 acres to no more than 20 percent, including a new winery, home and other uses. The cap for parcels larger than 40 acres would be eight acres of development.
"The biggest threat to the valley isn't wineries, it's a proliferation of mansions," one section of the APAC report said.
But the Board of Supervisors decided to take a different approach.
Napa County already restricts winery development to 25 percent of a parcel or 15 acres, whichever is less. County supervisors put the focus on homes.
Each year, the county sees more homes built than wineries, Planning, Building and Environmental Services Director David Morrison wrote to the board. Homes are getting larger and have such things as tennis courts, cabanas, bocce ball courts, pools, second units and guest houses.
Small parcels are most valuable as rural residential estates. This increases land prices to the point that growers and vineyard developers can't buy these properties, reducing land for agricultural expansion, Morrison wrote.
His proposal: limit the footprint for new rural homes and the expansions of existing ones in agriculturally zoned areas. Supervisors agreed.
"It's going to be a challenge for staff, because we have smaller parcels," Supervisor Diane Dillon said. "We have half-acre parcels, we have acre parcels. We have to make a rule that accommodates them as well and makes it fair for everyone."
Supervisors also looked at how to make sure wineries follow the rules. They are working on a successor to the annual winery audit, which looks only at 18 or so wineries chosen at random.
As recommended by APAC, the new plan is for every winery to report to the county each year on their operations, wine production and grape sources. The first reports could be due in 2018, with raw data kept private.
The Board of Supervisors could pass a law late this year that spells out the details of the self-certification compliance program.
A second phase would give wineries a chance to review their use permits with the county. The third phase would be for the county to begin strict code enforcement that requires wineries to immediately comply with their permits.
One goal is to address the criticism by some that it's easier for wineries to violate rules and ask forgiveness than to ask permission in the first place. Another is to address possible confusion caused by layers of winery rules passed over the years.
Morrison called the proposals "a dramatic change" to the county's code enforcement and code compliance efforts.
"I don't want to mislead anybody," Morrison told supervisors. "This will not be a fast process. It will probably be two to three years …This is a fairly significant undertaking, especially looking at a multi-billion industry that includes over 500 brick-and-mortar wineries in the unincorporated area."
A thorny issue is whether revised winery growth rules would apply to existing wineries. Napa Valley Vintners has been concerned that the county might try to take back rights already held by wineries.
The Board of Supervisors favors declaring in APAC-related laws that conforming buildings and legally established wineries are rights that cannot be rescinded. Existing wineries that expand beyond what is allowed by their use permits would follow new zoning rules for the expansions only.
Supervisors also approved doing further work on planning guidelines for outdoor hospitality areas.
As they wrapped up the session, supervisors applauded APAC. The committee with members from the winery, farming, business and environmental sectors, neighborhood groups and cities worked 30 hours over 10 meetings to arrive at recommendations.
"When we do things in Napa, we do it inclusively, we work together," Board Chairman Alfredo Pedroza said. "I appreciate all the time, dedication, hours you spent on this."
Morrison noted the Board of Supervisors launched its wine country rules examination in the wake of the March 10, 2015 county growth summit.
"It's been a very incremental process," he said. "That's the way I think the public process is supposed to work, relatively deliberately but also moving forward. And we're down to these last four issues."