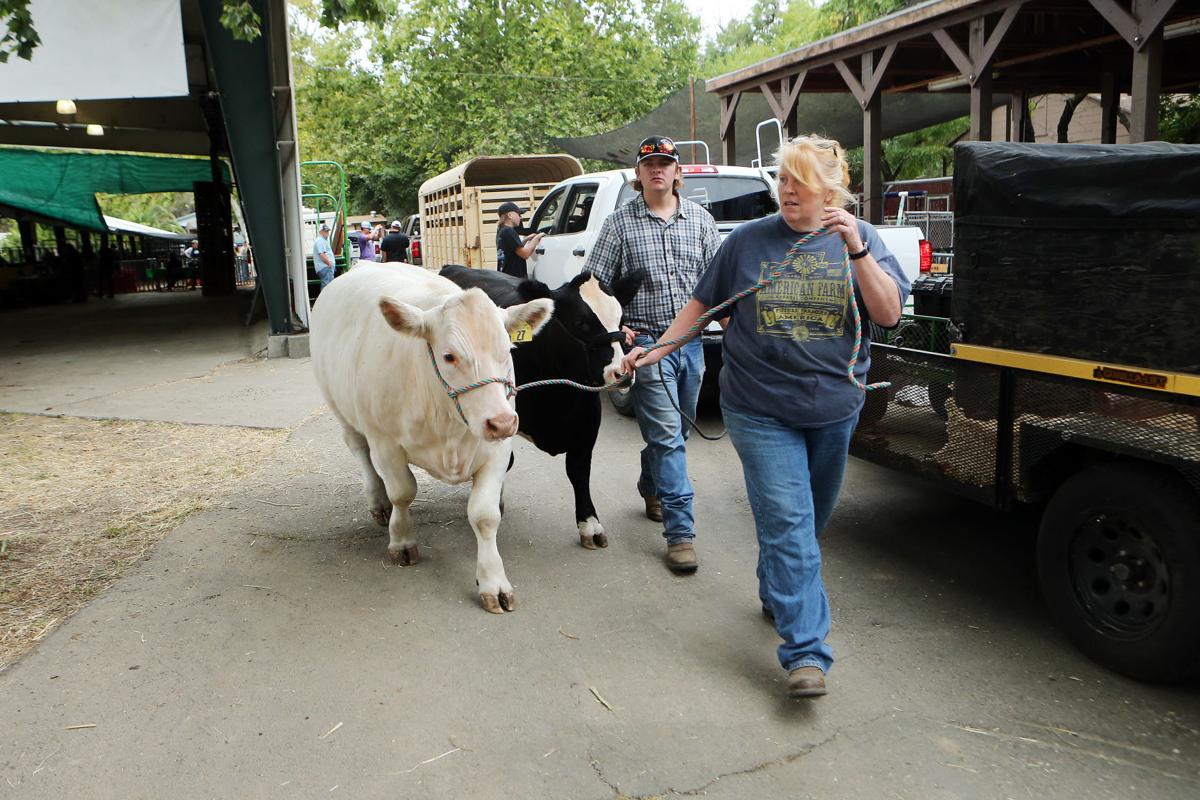 While the Napa Valley Expo remains largely dormant amid the coronavirus pandemic, the fairground's showcase Junior Livestock Auction will go on next month – and will be as close by as a bidder's computer screen.
Children and teenagers from across Napa County have entered 186 animals into the auction, which the state-run Expo will conduct online after canceling its annual Town & Country Fair due to the accelerating spread of COVID-19. Internet bidding will take place from 9 a.m. to 6 p.m. on Thursday, Aug. 13, with animals to be delivered to winning bidders Aug. 15 and 16 at the fairground on Third Street in downtown Napa.
Typically one of the highlights of the Town & Country Fair, the Junior Livestock Auction is the sole portion of the late-summer festival that will take place amid the widespread event cancellations triggered by the pandemic. The Expo's board of directors voted in May to abandon this year's five-day slate, which had been planned for Aug. 12 to 16.
While the Napa fairground will be bereft of carnival rides, food booths and pop concerts this year, the Expo's board of directors has made preserving the livestock auction a top priority in order to keep up local interest in agriculture among the young.
"I think there's a real opportunity to show great support for FFA and 4-H, and not only in the Napa Valley," board president John Dunbar said Tuesday morning during the Expo board's online meeting. "We could have aunts, uncles, grandparents who can show support for the industry. We should be blasting this out to the community (on social media) so we can get as much support for this as possible."
This year's auction, for which submissions closed Friday, will feature numerous rule changes designed to compensate for the lack of face-to-face contact between animal owners and judges – and between judges and the cattle, pigs and goats they will evaluate.
Participants will shoot 30- to 60-second videos of each animal and email the footage to organizers along with the animal's name, ear-tag number and weight. The videos must be continuous and unedited, shot horizontally rather than vertically, and not include any dialogue. All videos are due by 5 p.m. Sunday.
Deliveries of pigs at the Expo are scheduled for Aug. 15, with other animals to be delivered the next day. Rules posted at the Expo website and shared with the board include social distancing measures such as requiring those trucking in animals – with no more than two people per vehicle – to stay in their vehicles during delivery.
A veterinarian must inspect each animal before Expo staff will allow it to be unloaded, weighed and penned. Animals that fail the vet's physical, weigh less than the minimum for their weight class, or that behave dangerously will be declared unsold and loaded back into their vehicles, according to the Expo rule book. Each delivery will be assigned a specific time to ensure safe distancing at the fairground.
The animal auction will inject activity into a fairground that has been mostly dormant since March, when Napa County and California imposed a sweeping stay-home order to combat the COVID-19 outbreak.
Event rentals have ceased due to social distancing rules, and indoor exhibition space has been reserved potentially to house coronavirus patients in case of a sharp surge of infections. In addition, a homeless shelter that normally operates on Expo property only in the winter months is remaining open through at least Aug. 30.
The pandemic also led to the postponement, and then deferral to May 2021, of the BottleRock music festival, which attracts an estimated 120,000 spectators to the Expo. BottleRock's producer, Latitude 38 Entertainment, pays the fair authority about $850,000 a year.
Overall, the Expo has lost about $1.6 million of revenue from events that would have taken place from March to August, chief executive Joe Anderson said shortly before his retirement in June.
A small stream of revenue has begun flowing into the Expo through vacationers staying at its RV park, which the authority reopened in June with social distancing rules designed to keep guests apart unless they belong to the same household.
Also Tuesday, Anderson, who has been a consultant to the Expo part time since his retirement, reported that two applicants have proposed staging drive-in entertainment at the Napa fairground while shelter-at-home rules remain in force. The programming may include drive-in movies or live music with audience members remaining in their cars, facing a screen that would be temporarily installed on site.
Any such plan will require approval both from the state and the county's Health and Human Services agency, Anderson told the Expo board.
Watch Now: Know the basics of social distancing
Concerned about COVID-19?
Sign up now to get the most recent coronavirus headlines and other important local and national news sent to your email inbox daily.