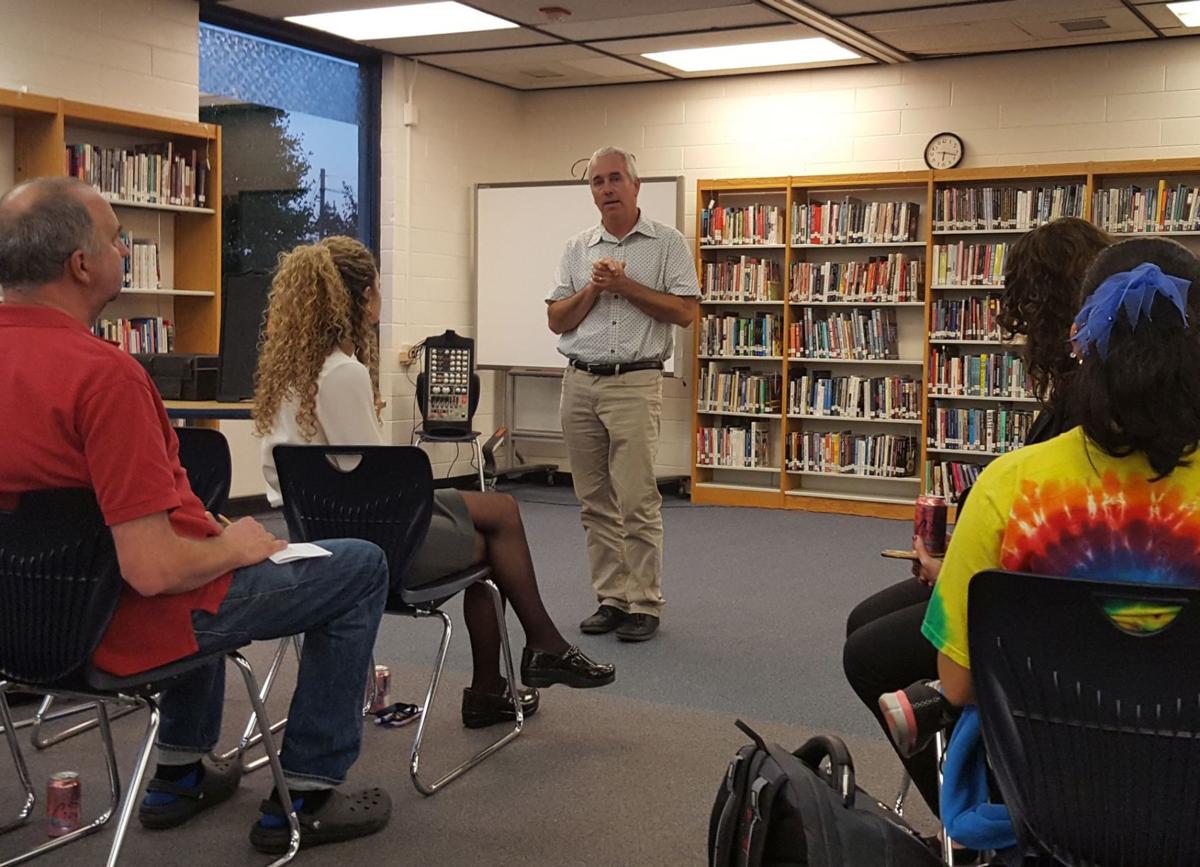 Napa High School has been the subject of many emotional public meetings in recent years, and last Thursday night in the school library was no different.
School district officials called a meeting that attracted about three dozen individuals — mostly parents but also some teachers — to discuss the transition of Principal Annie Petrie, who will be moving into a new position at district headquarters next month, and her interim replacement, Frank Silva, current principal at Browns Valley Elementary School.
The meeting revealed raw feelings for many in attendance, and demonstrated the need for healing at Napa High, which has been rocked by controversies over the past two years involving hazing by football players and replacing the school's longtime mascot name and symbol, the Indian.
On Thursday, parents as well as faculty fought through tears to express their unhappiness about Petrie leaving and frustration over the timing of the transition — only two months into the school year — and what some said were a lack of details by the Napa Valley Unified School District to explain their decision.
Superintendent Rosanna Mucetti, who led the meeting, tried to provide answers to the satisfaction of distraught attendees, but sometimes it proved to be rough going.
At one point in the middle of the meeting a woman who identified herself as a Napa High teacher rose from her seat in the back of the room and approached Petrie, sitting in the front row of chairs.
With her voice full of emotion, saying she could no longer remain silent, the teacher bent down and gave Petrie a big hug.
"We're still suffering," she said to the room. She complained NVUSD didn't take faculty into consideration before deciding to change principals.
Following the district's announcement on Oct. 17 about Petrie, a group of about 50 Napa High teachers gathered the next day at lunchtime to express their shock and dismay over the principal's departure.
At Thursday's meeting the teacher who hugged Petrie turned to Mucetti and said: "You insulted our intelligence" with your explanation for this decision.
Mucetti said several times during the nearly two-hour meeting that she "inherited a complicated set of circumstances" without elaborating.
The superintendent, who took over NVUSD in July, mentioned that for the past year "we had some complications with teaching staff that aren't easy to explain in detail."
Mucetti also acknowledged the Napa High campus was polarized in the wake of the hazing and mascot controversies, but said none of them "were a direct correlation" to the decision to promote Petrie and put her in charge of special projects involving secondary education for NVUSD.
She added there were things "tethered" to past events, and as a result the district felt it was the right time for the transition. While parents and students naturally focus on the current school year at hand, Mucetti said, the district must look ahead to next year, indicating the change in leadership was also based on this forward looking strategy.
Plus, the superintendent said, "[Petrie] has been through a lot" in recent years.
Principal since 2015, Petrie told the audience she has always been open to changes and challenges in her life. "I'm embracing this," she said, while adding, "We don't always get to choose the next step" in our lives.
During the 2016-2017 school year, Petrie as well as the NVUSD school board and former Superintendent Patrick Sweeney came under heated criticism by members of the Napa High football community.
Players, coaches, parents and alumni packed school board meeting to complain about the school's and NVUSD's decision to expel several players for hazing-related activities. At least three expulsions were eventually overturned by the Napa County Board of Education Trustees.
Petrie also endured criticism during a year-long debate and eventual decision by the school board to remove the Indian name and logo. The school replaced it with the Grizzly following an election in August by students and staff.
A parent on Thursday asked if Petrie was changing jobs because "a certain group of people" wanted her out.
Mucetti said the decision wasn't based on one group's opinion of Petrie. "We're going to try to make it great for Annie at the district office," Mucetti said, reiterating this kind of move is usually seen as a promotion.
Of the approximately 30 people at the meeting, nearly a third were Spanish speaking parents who heaped praise on Petrie and her work supporting English Learner students at Napa High.
A parent speaking through the school district's interpreter said to Petrie, "Best of luck to you, Annie. We love you."
A Hispanic father told Petrie: "You will always be in our hearts" — a remark that provoked applause from the audience.
Another parent got up and said it was her understanding that Petrie was popular with the faculty, "and you don't get popular if you suck at your job and aren't a nice person."
Hispanic parents expressed worry that children still learning English will suffer in the wake of the transition.
Mucetti, a former bilingual teacher, congratulated Petrie on her school's good work helping English Learners, who make up 13 percent of the 1,867 students on campus, according to the district. She also said NVUSD overall needs to do more and achieve "a lot of growth still" with its EL programs.
Other parents said Napa High students in general are "hurting" from losing Petrie and need support from the school and district.
Interim Principal Silva promised to do everything he can to help improve morale at Napa High and give students what they need to heal and thrive in school.
"I'm going to throw myself in front of a bus for your kids," Silva told parents. A father whose own children attended Napa High, he added: "I'll treat them like they're mine."
Several parents said they knew Silva when their kids attended Browns Valley Elementary, where he's been principal for a decade. They had nothing but positive things to say about his leadership and working with students, including English Learners.
"He's a great human being," said one mom, "We have a great incoming principal coming here."
Silva will officially take over as interim principal on Nov. 26. Until then, Petrie will work with him on the transition, as will assistant principals and staff.
Petrie said she will focus during her remaining weeks at Napa High on student support. "We can't apply one strategy" and expect it to help every kid, she said.
The school will need to do more to reach out to them, according to Petrie. "We have missed the mark" on helping the kids through this time.
Mucetti said the district will revisit Napa High early next year to assess Silva's performance. If he seems to be a good fit for the school and wants to remain, the district will consider making him the permanent principal.