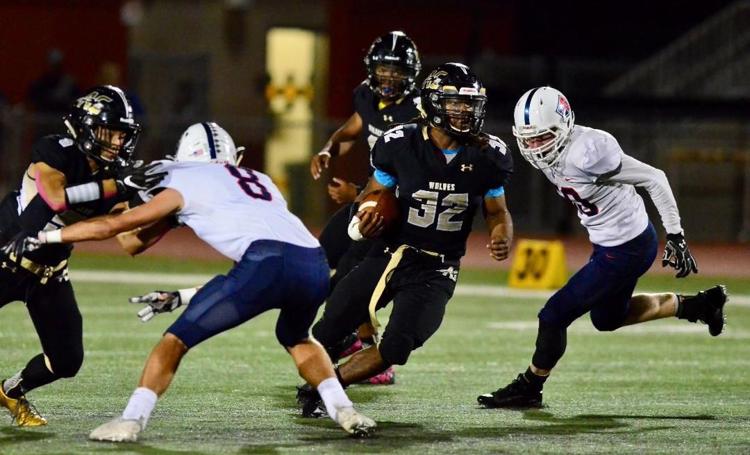 Part of the fun for area high school football players and fans this season were matchups between Vine Valley Athletic League teams that had never played each other before.
Friday night was such a night at Wolf Den Stadium as American Canyon solidified its second-place league finish with a 27-14 win over Justin-Siena in their first-ever meeting.
League play was quite a turnaround for the Wolves (5-5, 5-1 VVAL). They lost four nonleague games to start the season, but came back to win five league matchups, losing only to league champion Vintage.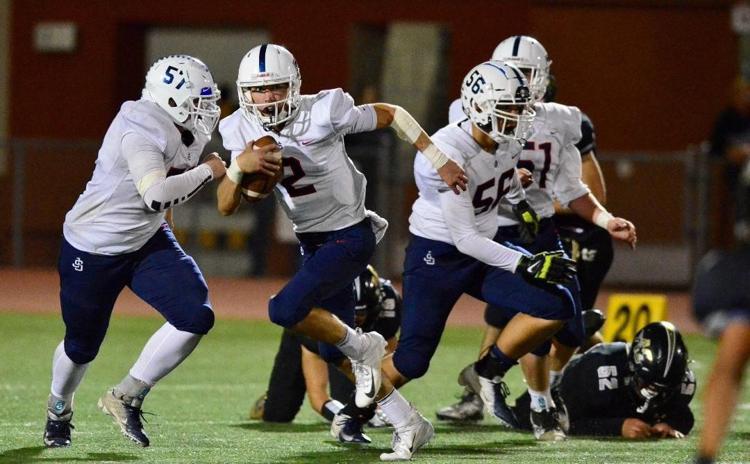 "The kids battled back hard after those first four games," said American Canyon head coach John Montante. "Adversity tests you and these kids learned a lot about themselves in the last 10 weeks. After Week 4, we were dead and buried in a lot of people's eyes, but look at these kids now. They're in the playoffs."
Although American Canyon had a fast start on Senior Night, scoring on its first two possessions of the game, Justin-Siena (4-6, 1-5 VVAL) fought back in the fourth quarter and actually had a possession with four minutes to go and a chance to win.
"I give American Canyon a lot of credit, they came out of the gate pretty fired up but we battled back like crazy and I'm very proud of the boys for that," said Justin-Siena head coach Brandon LaRocco. "The kids fought tooth and nail to the very end of the game and we gave ourselves a chance to win. That's what you have to do."
The Wolves showed off their vaunted running attack most of the game, with star running back Eddie Byrdsong carrying most of the load for 112 yards on 26 carries.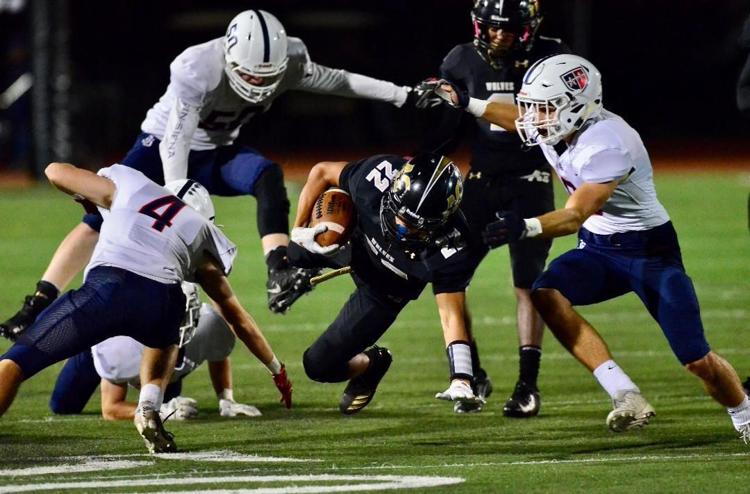 Meanwhile, quarterback Vince Eschenburg scored three touchdowns on runs of 9, 4 and 2 yards. He capped off his night by sealing the win with a 28-yard TD pass to Brandon Seay, his only catch of the night, on fourth down with just under a minute left in the game.
"You have to roll the dice sometimes," smiled Montante.
With Justin-Siena trailing 20-0 entering the fourth quarter, virtually no one was thinking of a Braves comeback – let alone a shot at a win. But on the first play of fourth quarter, quarterback Barrett Donohoe finally got time to throw and connected with Solomone Anitoni for a 48-yard bomb.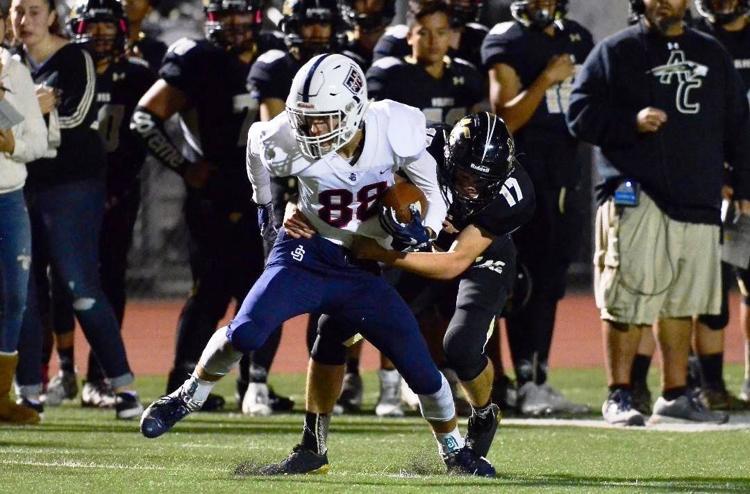 Two minutes later, the Justin-Siena defense scored when Miles Williams scooped up an Eschenburg fumble and dashed 9 yards to paydirt. Suddenly, the Wolves' lead had shrunk to 20-14 with plenty of time left.
"We caught a spark there in the second half," said Donohoe, a senior playing his last regular-season game.
But American Canyon had the last word on the Eschenburg-to-Seay pass after Justin-Siena turned the ball over on downs in its final possession.
"It was a very competitive game," said Montante, who had no apologies for running the ball on all but five plays. "That's what we do – we establish the run."
As usual, Byrdsong had a lot to do with that.
"It felt awesome to get another 100-yard game, and I want to give a shout-out to my entire offensive line," Byrdsong said.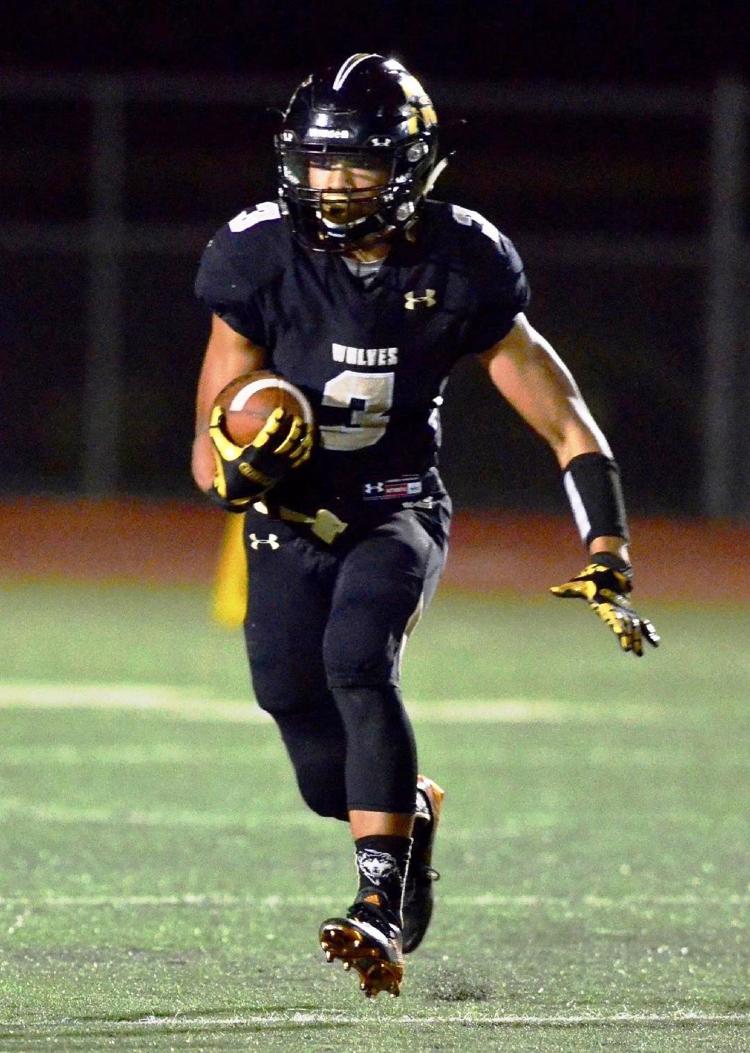 Byrdsong was also in on perhaps the most surprising play of the night, when he came in for one play on the defensive line and sacked Donohoe just moments after he took the snap.
"I don't really play much defense, but when I get in there I try to make something happen," the senior said. "The coach said he needed someone to step up on the defensive line and I said 'No problem.'"
Donohoe was sacked four times on the night.
"They are very aggressive up front on defense and we had a hard time with that blitz package," said LaRocco.
LaRocco also complimented his run defense for holding down the American Canyon ground attack after the first quarter.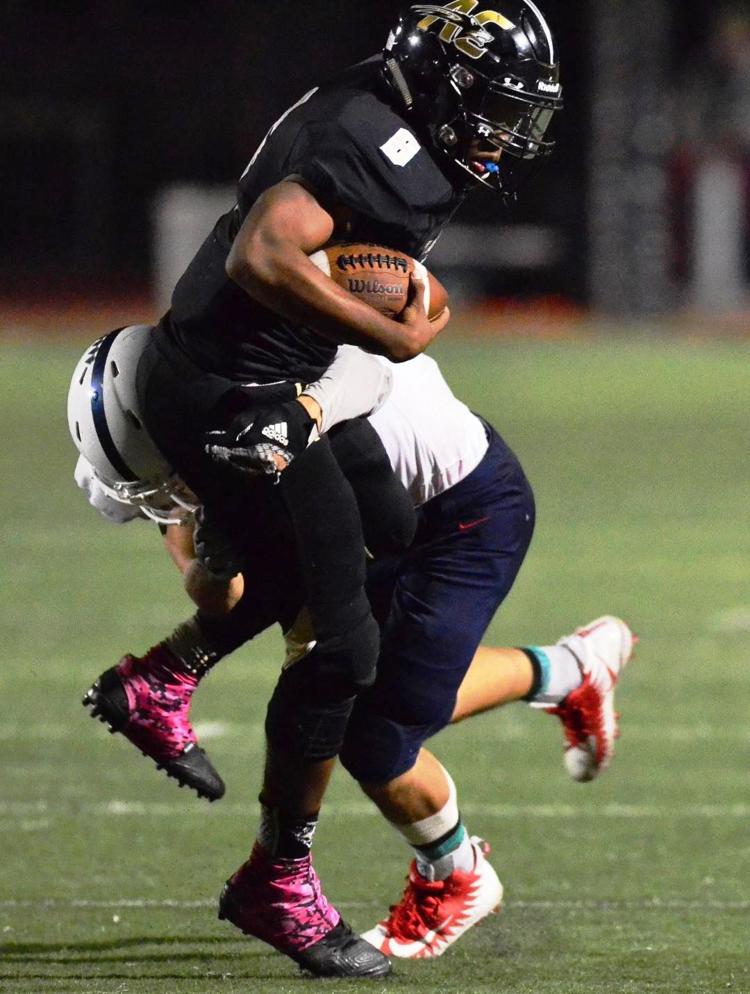 "I was very proud of our D-line, particularly Grant Koehler, Julio Lopez and Jake Shaffner, who battled inside all night," the coach said. "Michael Fitzgerald and Nolan Dunkle at linebacker also did a phenomenal job."
It doesn't appear it was a must-win game for either team, as both were already likely to hear their names called when the North Coast Section playoff brackets are revealed Sunday. American Canyon will be playing in Division 2 and Justin-Siena should get a spot in Division 4 because of its .500 record against teams in its division, LaRocco said. The playoffs begin Nov. 2.