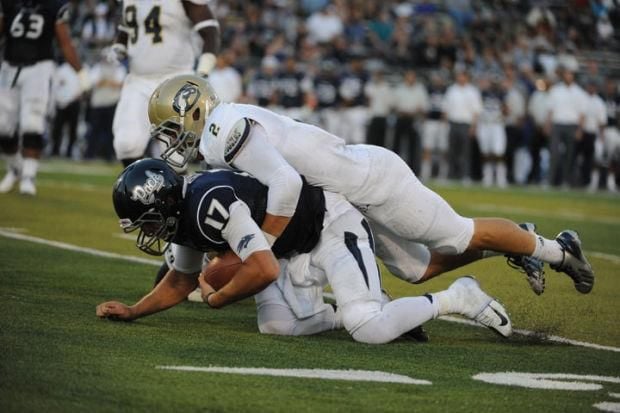 Napa's Charles Boyett, who played free safety and strong safety while also returning punts and kicks during his collegiate career, was selected to UC Davis' All-Decade Team for the years 2010 through 2019, it was announced at ucdavisaggies.com on Nov. 22, 2019.
Boyett was named All-Big Sky Conference honorable mention during both his junior and senior seasons for the Aggies. He was chosen as the outstanding defensive player and received the team's Casey Merrill Award following the 2014 season.
The All-Decade Team was selected by a panel of coaches, staff and media members – each of whom covered the Aggies for all or most of the years 2010 through 2019, according to a story at ucdavisaggies.com. Players are voted on to the team.
Boyett, a 2010 Napa High School graduate, was selected as a safety on the All-Decade defense. He played for UC Davis from 2011-2014.
He had 169 tackles in 34 games over four seasons for UC Davis.
Boyett led the Aggies with 86 total tackles, including a team-high 51 solo stops, at strong safety in 2013. He had four pass breakups and two forced fumbles while also intercepting a pass. He stood out on special teams, with a career-best 44-yard return against North Dakota and averaged 15.2 yards per return over a 10-return stretch.
He was limited to five games because of injuries during the 2014 season and had 36 total tackles.
He graduated from UC Davis in 2015 with a degree in human development.
Boyett was an assistant on head coach Troy Mott's staff at Napa High and was a graduate assistant on the staff at Northern Arizona University.
He was named All-Napa County first team as a junior and senior and also earned All-Monticello Empire League first-team honors as a junior running back. He rushed for 988 yards and 15 touchdowns for Napa in 2008.
Other Napa Valley players who have been named to All-Decade teams for UC Davis include:
* Steve Jones (1985-87), right guard, 1980-89 Offense. Jones, who is from Napa, is a Vintage High graduate and played at Solano Community College.
* Jay Suesens (1997-2000), guard, 1990-99 Offense. Suesens is a Napa High graduate.
* Myrel Moore (1955-57), end, 1950-59. Moore is a Calistoga High graduate.
* Steve Clerici (1977-78), linebacker, 1970-79 Defense. Clerici is a Napa High graduate.
* Dave Clerici (1970-71), left end, 1970-79 Defense. Clerici a Napa High graduate.
Prep2Prep honor for Napa's Bowers
Napa High tight end Brock Bowers, who caught 39 passes for 1,098 yards with 14 touchdown receptions in nine games, was named as the Prep2Prep 2019 North Coast Section Junior of the Year, it was announced by prep2prep.com.
Bowers averaged 28.2 yards per catch and 122 yards receiving per game for Napa (7-4 overall, 4-2 Vine Valley Athletic League), which lost in the first round of the CIF North Coast Section Division II playoffs to Clayton Valley Charter-Concord, 35-9.
Bowers had a long reception of 90 yards.
He had 316 yards rushing on 22 carries, with a long run of 47 yards, and scored three touchdowns.
Bowers also plays outside linebacker.
"At this level, his ability to do so many different things certainly sets him apart," Napa coach Richie Wessman said in a Prep2Prep.com story. "It was really fun to game-plan with him, and be able to use him in so many different ways."
Wessman added: "Brock can pick things up after just being told one time, so while we usually prefer one-way guys, he is certainly the exception to that rule. We're looking forward to doing even more with him next year, and to have even more fun."
Bowers named All-State
Napa High tight end Brock Bowers was named First Team Offense on the Cal-Hi Sports All-State team for juniors for 2019, it was announced by calhisports.com on Feb. 1.
Prep2Prep honor for St. Helena's Robledo
St. Helena High's Ivan Robledo, who had 2,132 yards rushing and 33 touchdowns in 11 games, was named as the Prep2Prep North Coast Section Sophomore of the Year, it was announced by www.prep2prep.com.
You have free articles remaining.
Robledo averaged 10.8 yards per carry and 193.8 yards per game, and had a long run of 93 yards to lead St. Helena (9-3 overall, 5-2 North Central League I), which was 1-1 in the NCS Division 7 playoffs.
He ran for a school-record single-game 329 yards and scored six touchdowns in an NCL I game against Lower Lake.
Defensively, Robledo had 34 total tackles and five interceptions.
"I can't believe we have Ivan for two more years. He's a real down to earth, humble kid in all aspects of his life. On the field, he is so good and instinctive already in the open field, with such tremendous vision and maneuverability. He's going to be really good the next couple years," St. Helena coach Brandon Farrell said in a Prep2Prep.com story.
Bowers honored by NorCalPreps
Brock Bowers, a junior tight end for Napa, was named to the All-NorCal Football Team by NorCalPreps, it was announced by norcalpreps.rivals.com.
Bowers is on the first team.
All-Metro honors for Napa Valley players
Napa High's Brock Bowers was named first team offense at tight end on the San Francisco Chronicle's All-Metro team, it was announced on Jan. 12 at sfchronicle.com.
Justin-Siena's Hudson Beers (quarterback) and Miles Williams (wide receiver-tight end), and American Canyon's Kekoa Wilson (linebacker) were named honorable mention North Bay.
Raiders returning to Napa
The Raiders will be moving from the Bay Area to their new home in Las Vegas this year, but they will continue to have their training camp in Napa this summer.
This year will mark the organization's 25th summer in Napa. The Raiders have a 2½-field complex, which includes a fieldhouse, at Redwood Middle School.
The team's first year in Napa was 1996.
Head coach Jon Gruden, speaking at a press conference on Dec. 30, said the Raiders will have their offseason program at their facility in Alameda starting in April.
"We'll have our offseason here and then we'll have training camp in Napa, and my understanding is after we break training camp, we will formally move to Las Vegas," Gruden said in a transcription provided by the Raiders.
The Raiders are scheduled to move later this year to Las Vegas and will play at Allegiant Stadium. Their new base facility will be in Henderson, Nev.
"It's going to be exciting," said Gruden. "We're going to do everything we can to get the Raiders back in the Super Bowl. That's all I know. We're going to keep working. We've got work to do. But I'm proud of the progress."
All-North Coast Section
Napa High tight end Brock Bowers was named first team offense on the 2019 All-North Coast Section team, it was announced by prep2prep.com.
St. Helena running back Ivan Robledo and Justin-Siena tight end Miles Williams were named second team offense.
Vintage running back Mauricio Castro was named third team offense.
American Canyon linebacker Kekoa Wilson was named third team defense.
Receiving honorable mention were American Canyon's Justin Del Rosario and Jordan Fisher, Justin-Siena's Solomone Anitoni and Grant Koehler, Napa High's Isaiah Newton and Tyler Clark, St. Helena's Cody DiTomaso and George Cutting, and Vintage's Jacob Aaron, Louie Canepa and Cutler Low.
AmCan players named to Times-Herald All-Area team
Eight players from American Canyon High were named to the Vallejo Times-Herald All-Area team, announced on Jan. 4 at timesheraldonline.com.
Vance Eschenburg (quarterback) and Justin Del Rosario (wide receiver) were selected to the offense.
Derrick Conner (defensive line), Kekoa Wilson (linebacker) and Jordan Fisher (defensive back) were named to the defense.
Ezekiel Anderson, Jeffery Brown and Kaave Gaviola were selected all-purpose.