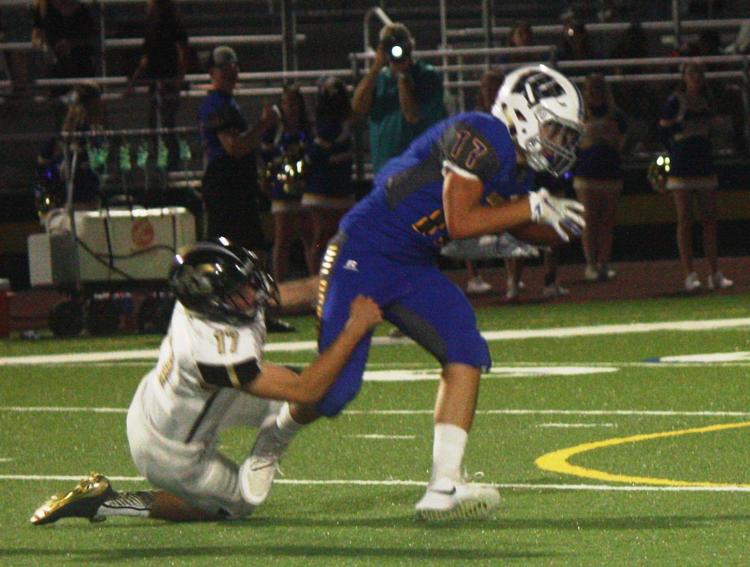 VACAVILLE — Most coaches dread the term "moral victory," but some losses are more honorable than others.
While American Canyon head coach John Montante did not specifically use either term following his football team's 28-22 loss to Wood on Friday night, he was amply encouraged after his team fell to 0-4 entering Vine Valley Athletic League play.
Petaluma, which the Wolves will host next Friday, defeated El Molino of Forestville, 56-31.
The game was delayed 28 minutes after Wolves placekicker Jose Lopez sustained what appeared to be a broken leg that coincided with a roughing the kicker penalty on an extra point attempt with 4:20 remaining in the first quarter. Lopez was carted off the field and taken to a nearby hospital for further examination.
"Our kids are fighting," Montante said. "We are battle-tested. They rally for each other now. Ball security was better. Tackling was better. They are learning that it is a fight for four quarters. They are learning to deal with pain and overcoming it. Now, we are 0-0."
Considering that American Canyon had been outscored 147-34 in its first three games, the fact that the Wolves led in a game for the first time this season was a good sign. American Canyon had a chance for a potential game-winning score but turned the ball over on downs at the Wood 16 with 1:47 left in the contest.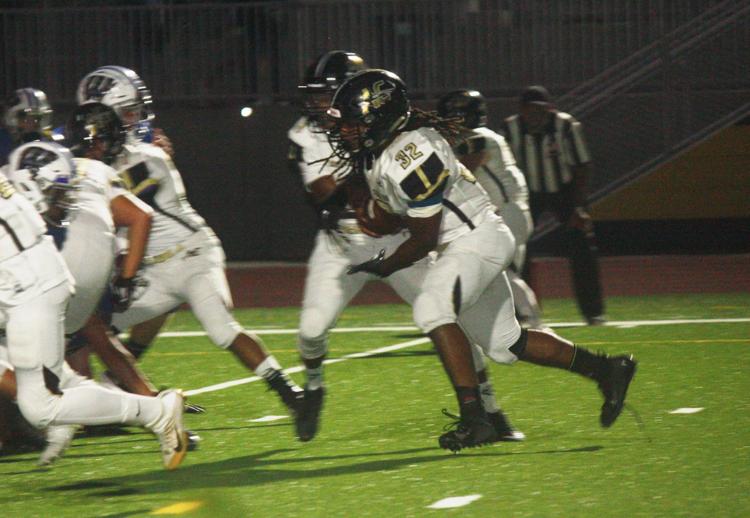 Montante is hoping that because the Wolves have faced a challenging nonleague schedule, one that featured opponents with a combined record of 9-3 entering Friday's action, will translate into VVAL success. The Wolves are accustomed to hanging league championship banners. In their former league, the Solano County Athletic Conference, they won six consecutive crowns, either shared or outright.
"The harder the forge, the stronger the steel," Montante said, referring to the nonleague games.
American Canyon's offense was good but not great. The Wolves rushed for 239 yards behind the starting line of Kekoa Wilson, Ronald Hamilton, Jesus Sanchez, Joseph Mendoza and Daniel Luu.
Eddie Byrdsong, who is American Canyon's 18-wheeler rolling downhill, carried 21 times for 133 yards and two touchdowns. Quarterback Vance Eschenburg tallied 73 yards on 17 carries, and Alec Tadlip added a 12-yard touchdown run.
Montante was particularly encouraged by the fact that his team committed just one turnover, considering that giveaways had been a significant problem coming into the game.
"If you can control the mistakes, you are in a better situation," Montante said. "We still made a few at the wrong time but are fixing it. This is a good team that we played. They are explosive offensively. We did, for the most part, a good job of taking that away."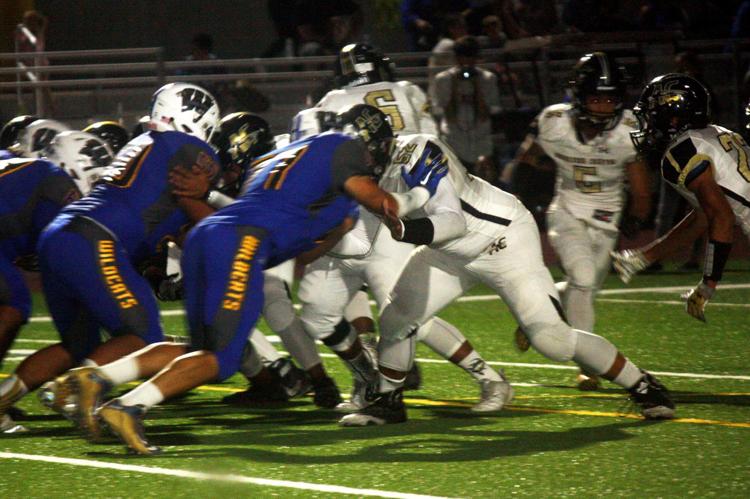 Montante was referring to a versatile Wildcats offense that makes the opposition tackle in space. Dual-threat quarterback Jhalen Grayer was a thorn in the Wolves' side with his mobility and right arm, to the tune of 13 of 20 passing for 169 yards three touchdowns and nary an interception.
"When they run these RPOs," Montante said of Run Pass Option plays, "if you look at the film on any given play, there are up to four options on what the quarterback can do with the football. He's a good athlete and distributor of the ball. You have to be disciplined to stop him. They got us on some and we got them back on others."
Defensively for American Canyon, Derrick Conner had two tackles for losses, and Alec Hoover and Wilson each had one. Darrius Thomas and Conner each had one impact tackle (gains for 0-3 yards). Conner and Hamilton each had a quarterback sack, and Antonio Perez added a fumble recovery.
American Canyon JV 30, Wood 30
Despite trailing the entire contest, the Wolves battled back to create a tie thanks to quarterback Vinnie Espejo's 32-yard touchdown pass on the game's final play to running back Ezekiel Anderson, who also ran for the subsequent two-point conversion. Behind the starting offensive line of Juan Hurtado, Gustavo Reyes, Orin Stockford-Reid, Joseph Lopez and Tobyn Bunch, the Wolves (1-2-1) rushed for 252 yards on 40 carries. Anderson had 133 yards on 21 carries and two touchdowns. Espejo also scored on a 53-yard run.
Defensively, Harold Malone, Roman Webb and Hurtado each had two tackles for losses. Hurtado also added a sack and an impact tackle. Malone led the team with three impact tackles, and Alex Saquelares, Alijah King, Anthony Huynh and Anderson each had one.