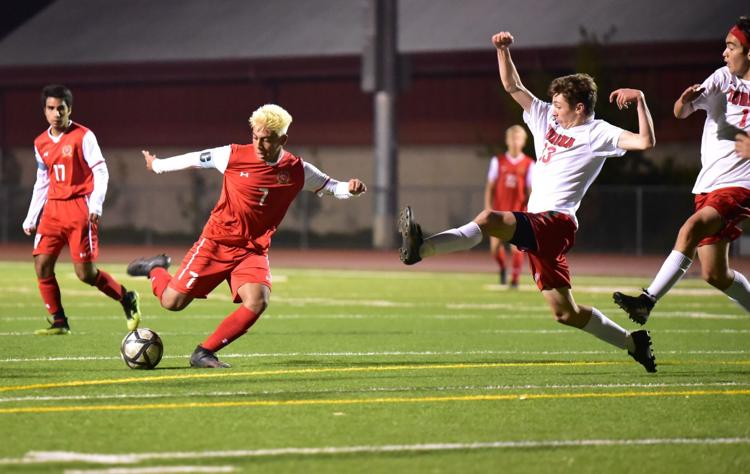 With the 2019-2020 school year in our rear-view mirror, The Register sports staff has turned its attention to the Napa County student-athletes that are returning to play sports in 2020-21.
Per last week's announcements by the California Interscholastic Federation and North Coast Section, the fall season for high school sports in the 2020-21 school year is now scheduled to begin in December and January with the rest of the sports slated to start in February and March to help stop the community spread of the coronavirus.
With that in mind, we continue our Up & Comers series, which highlights rising stars and players to watch for when their long waits are finally over.
Our 23rd edition features Diego Moya of St. Helena High, Jamie Pope of Vintage, and Devin Garingarao of American Canyon High.
Diego Moya
In his third year of varsity soccer, Moya rallied the sixth-seeded Saints to their first playoff win since 2007 with a second-half hat trick in a 4-1 comeback win over No. 1 seed Eureka in a North Coast Section Division 1 opener last fall.
Moya went on to score both goals in a 7-2 quarterfinal loss to No. 3 seed International of San Francisco, finishing with a team-high 20 goals on the season.
St. Helena finished 14-6-1 overall and Moya was selected by the Napa Valley Register staff as its 2019-20 Napa County Boys Soccer Player of the Year.
"I've had a lot of players and I've seen a lot of good forwards that scored a lot, but not when it counted," St. Helena head coach Ozzie Gallegos said. "He's a kid who scores when the game is on the line. That's when he tends to shine the most."
From the start of last summer, Moya took on more of a leadership role, organizing offseason team workouts and holding his teammates accountable for showing up.
Gallegos had coached numerous Saints squads to league titles in the mid-2000s, and to the section title game in 2005. Moya wants his group to join that conversation.
"(Diego) made it a point in saying 'You will remember our 2019 team, too,'" Gallegos recalled. "They didn't do anything special; all they did was they showed up to practice and if we were here two hours we practiced hard for two hours. Diego's class is setting the bar pretty high because they want to be the next great team. It really started with him. He really dedicated himself to this team and to creating his team's own chapter like how the 04-05 teams did it."
"I tell him it's not just because of your skills but because that (2005) team not only had skill but they were a tough group, meaning if you messed with one of them you messed with all of them, and I told him he has that kind of edge that they had. They had a certain swagger to them."
Moya also scored in a 2-2 tie with Calistoga in the Saints' second game, the first time they hadn't lost to their Upvalley rivals since 2007, and won a league game at Fort Bragg for the first time in five seasons.
St. Helena won 13 of their next 14 games, solidifying themselves atop the North Central League I standings.
"That game for sure had some big meaning," said Moya. "I remember that season before we took a big loss to them and we were just super down from that game. We knew we could play a lot better than that and I think coming back this season, that tie really was a wake-up call for us."
But Moya and Co. lost their final three games of league play, costing them what could have been their first league crown in years.
"We just felt super confident and we thought we had first place secured," Moya said. "That just falls on us as a team. It's something to learn now coming into next season. We're just going to come back stronger and ready."
Jamie Pope
The Vine Valley Athletic League may not be the strongest girls tennis league in the North Coast Section, as evidenced by champion Justin-Siena getting seeded just 15th in the 2018 playoffs and 10th in the 2019 postseason despite going undefeated in the VVAL both years.
But the league has two of the best players in the Bay Area in Pope and Justin-Siena's Priyanka Shanker, who defeated Pope for the VVAL title in 2019 and handed Pope her only league losses of the season. Pope fell in the league semifinals in 2018 to Justin-Siena's Parvathi Shanker, who then beat her sister for the title before skipped her junior season.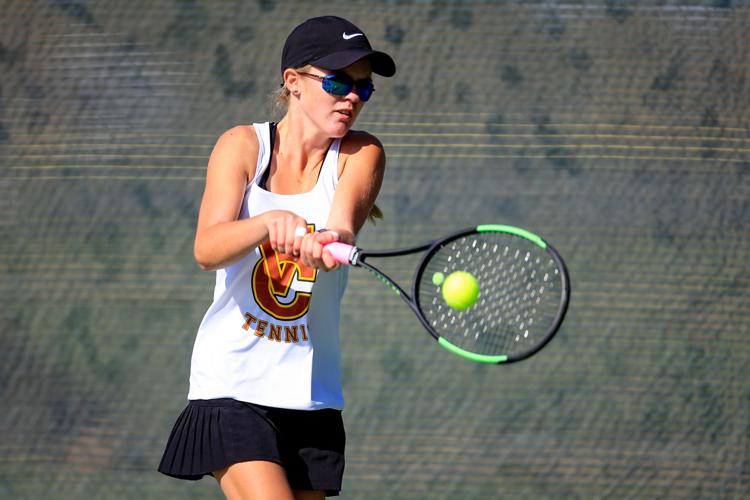 While Priyanka Shanker went on to capture the NCS Division 2 singles title at Napa Valley College, Pope competed in the NCS Division 1 tournament at Mill Valley Tennis Club and came away with a fourth-place finish out of 16 qualifiers.
In her first match, the unseeded Pope came back from a lopsided opening-set loss to stun No. 2 seed Anushka Singh of American-Fremont, 1-6, 6-4, 6-3. In the quarterfinals, she swept Dougherty Valley-San Ramon's Smitha Chandrasekliar, 6-2, 6-2.
Pope finally met her match in the semifinals, falling 6-1, 6-4 to Berkeley High's Sofia Valentine. In the third-place match, College Park-Pleasant Hill's Sophie DeGroot held on for a 3-6, 6-4, 6-2 win over Pope.
"Vintage High School and I could not be more proud of this rising star," first-year Crushers head coach Elizabeth Silva said. "Jamie's grit, determination, and focus propelled her into a semifinal match against our section's top girls tennis players. It will be exciting to see where next season takes Jamie."
Pope has two more years to pull out league and section titles. Meanwhile, she continued to be Vintage's most dominant girls player in decades.
"She's my co-captain and the girls love and respect her," Vintage boys head coach Chris Cole said in 2018, when he also coached the girls. "She's very sweet, but very determined. Never had a player like her. A real gem. I've had some good players, but I've never seen any of them behave in such a professional manner for a 14-year-old. I forget sometimes that she's so young."
Devin Garingarao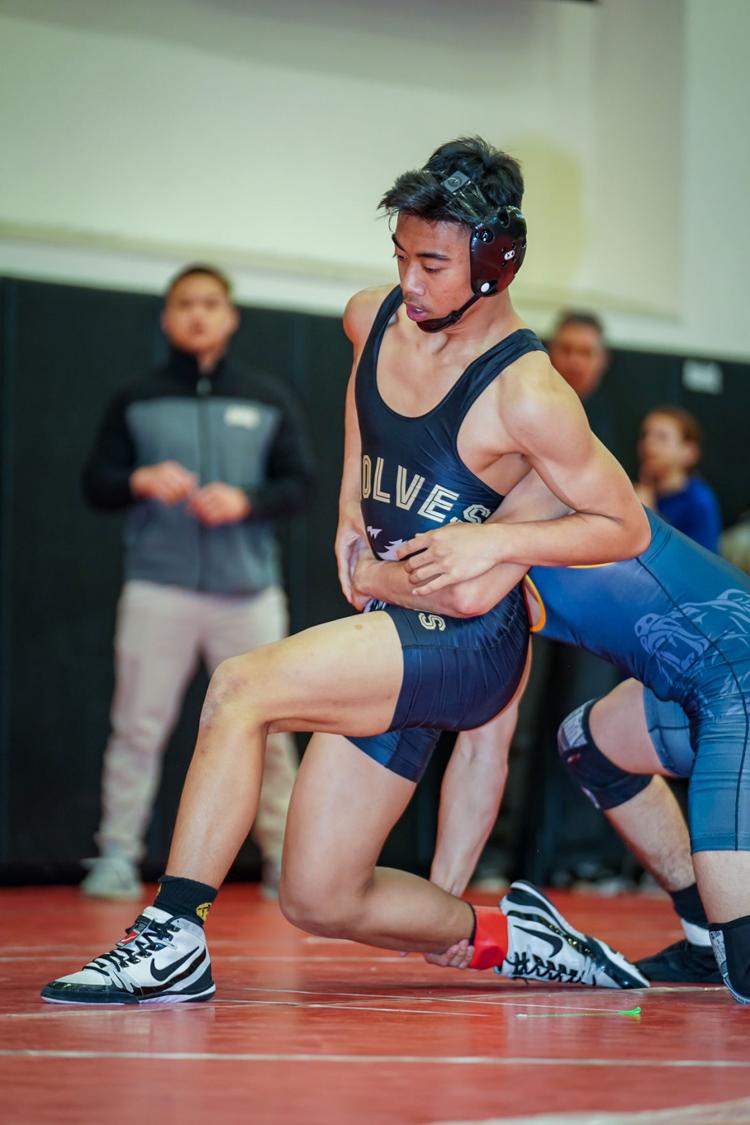 Garingarao finished his 25-12 junior season by going 3-2 at 132 pounds at the North Coast Section Championships in February at James Logan High in Union City. He won by pin (1:46), lost a decision (11-1) and won by technical fall (16-0) and decision (10-4) before falling 5-2 to Napa High's Axel Briseno.
Garingarao qualified for the section meet with a third-place finish at the Vine Valley Athletic League Championships in his own gym.
Having also finished third in the VVAL and 3-2 at the NCS meet as a sophomore, Garingarao will have plenty of unfinished business when his senior season begins in April due to coronavirus-related rescheduling.
Watch Now: You're likely showering wrong. Here's how, according to experts.
Be the first to know
Get local news delivered to your inbox!