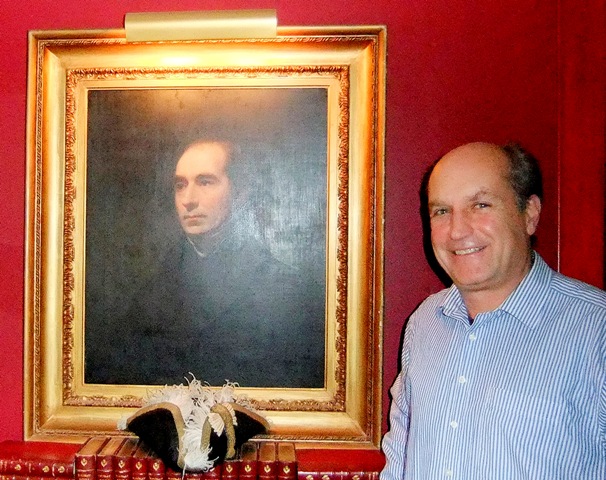 St. Helenan Sir James Forbes has designed an app that includes a warning from your mother.
Called "Dramophone," and created by Forbes of Bearshead Productions in St. Helena, the smartphone app is a virtual encyclopedia of single malt whisky, distilled from the copious knowledge and love of scotch with the added touch of Forbes' wry wit and sense of fun. (And yes, when speaking of scotch, it's always spelled "whisky" and not with an "e.")
One selection of the Dramophone is called "My Perfect Dram Finder," and by swiping it you enter into the world of single malt whisky in much the same manner as a native of the Highlands might. The selections take you through a step-by-step process to find the best scotch available:
• "Where are you? Scotland? Not Scotland, but civilized-ish? The Back of Beyond?"
• Select "Scotland" and Dramophone asks you "What time is it?"
• Choose "Well before lunch" and it queries your current physical and emotional condition: "I haven't been to bed yet"; "I need a 'Hair of the Dog'"; "Breakfast"; etc.
• Choose "Breakfast" and Dramophone humorously sends you "A note from your mother" reminding you that "Drinking whisky for breakfast is not big and not clever, and really you should know better, dear."
Nevertheless, unperturbed and with typical Scottish sympathy, Dramophone delivers you the information you seek, identifying one of a variety of single malts that might fill the bill, soothe your nerves and strengthen your fortitude.
You might say that Forbes, who is a direct descendant of Sir Charles Forbes of Aberdeenshire, Scotland, rightly has scotch in his blood. But he moved to the Napa Valley more than 20 years ago and started a video production company in 1997 to capture the unique qualities of the Napa Valley, its vineyards, wineries and wines. Bearshead has created video productions for such wineries as Cakebread Cellars, Grace Family Vineyards, Silver Oak Cellars, Groth and St. Supery, and the company's Napa Valley DVD has been praised as a "lavishly filmed Tour de Force" by Forbes Magazine (no relation, of course).
Forbes began gathering video interviews with distillers in his homeland more than two years ago, with the intent of creating an e-book about a subject near and dear to his heritage: single malt whisky. The original plan was to create a great DVD, but along the way it became obvious that no one was buying DVDs any longer. And so, in a technological leap of faith, he began pouring his vast knowledge of his native drink into Dramophone. The results are both informative and fun.
Each entry within Dramophone provides you with the location of the distillery (Lowland, West Highlands, North Highlands, etc.), the relevant information about the particular scotch distilled in that region, brief tasting notes ("Light, grassy, fruity, vanilla notes, peaty, etc."), as well as a photograph of the bottle and the distillery with a potted history of the selected whisky.
By comparison, the "Quick — I need a dram!" selection displays a virtual slot machine where a pull of the handle will display a product from one of the 50 distillers represented in the app. There is also a gift finder that tailors your search based upon the tastes you identify for the gift recipient. There's alphabetical access to all the distillers in Scotland, and a separate "Whisky Thinking" FAQ that lets the smartphone user explore the terms, traditions and temperament of the single malt lexicon.
Dramophone is available for both iPhone and Android smartphones at the associated iTunes or Google Play app store for $3.99 and is a fun way to enter into the world of single malt whisky. Forbes said that a follow-on interactive e-book on the distilleries and single malt whiskies of Scotland is also in the works and will be available this spring. For information, visit Bearshead.com.