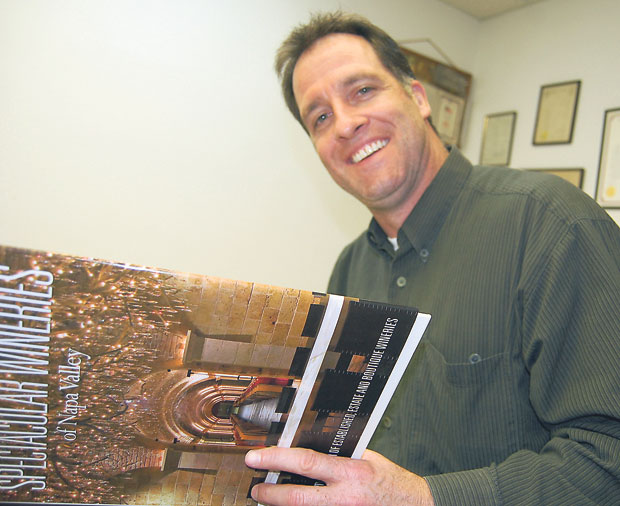 Martin Cody's brainchild could be one of the best things that ever happened to the small winery. In other words, to about 90 percent of all the 400 wineries in the Napa Valley that produce fewer than 5,000 cases annually. 
Several charities stand to benefit from Cody's idea as well, given that they receive 
10 percent of proceeds earned by each winery that signs on with Cellar Angels, the name the Chicago native gave to his cause-based marketing concept. So far he said there are 34 mostly Napa and Sonoma wineries, including a few recognizable names such as Silverado and Grgich Hills. Not bad for 16 months in business.
Finally, there's benefit to wine aficionados from outside the region who are tasting wines that, if not for Cody, may never been accessible to them.
Cody said his first and foremost objective is "to save the small wineries" by connecting them with places that are out of their reach, because, as he said, "they don't have a district sales manager in D.C., Miami, Chicago or Dallas. 
"Wineries as small as 200 cases — those are people I want to try to help," he added.
Simultaneously, he aims to raise money for charity, most especially at present for Auction Napa Valley and the V Foundation. Cody has ironed out agreements with both.
It is quite an undertaking for a start-up that Cody said was capitalized by "six investors and a lot of sweat equity." He adds, "We are like the wineries we work with — about as grassroots as it gets."
In fact, Cody needs the income he makes as vice president of a medical software company while trekking from Chicago to the Napa Valley every month to shoot four or five videos in two days. 
"There are deadlines every single week," Cody said. "We have to be in production by a certain time, edits and spellchecks need to be done and it's not like there's a staff of people doing all that. So you are doing something almost around the clock."
But he is convinced his concept will work, because the experts told him it would after he spent the better part of four months laying out his plan and telling attorneys and business advisors to take their best shot — "spare me no mercy" — in shooting it down.
Instead, he said, he was told it was a "win, win, win" idea. "The wineries win because they get exposure. The consumers win because they have products that they would never have access to at a price that is going to be available only for a short time. The charity wins because they are getting contributions they would never have had."
Using the videos, Cellar Angels tells each winery's story to target audiences.
"They are custom videos that talk about the wineries, share stories, et cetera," Cody said. "Our goal is to sell as much wine online as possible, so we can contribute as many dollars as possible to as many good causes as possible."
The winery can select its nonprofit partner.
What they get for their investment is promotion via a tailored video of their operation shot by a Cellar Angels crew. The videos talk about the winery, share stories about the wine made there and can be used on the Internet indefinitely. 
Cellar Angels has worked out a fee structure with each winery that covers access to its membership base, video production, video promotion, marketing, advertising and winery promotion. 
As another long-term residual, Cellar Angels gives the wineries the names and addresses of those who buy their wine for inclusion in their marketbase.
"We can actually leverage the power of the Internet," Cody said. 
"Selling wine on the Internet isn't new," he added. "What's new is we're the only ones who do video, cause-based marketing and charity. There are a lot of sites out there, but as far as I know we're unique because we're the only one doing business 100 percent with wineries. We don't work with distributors."
Under Cody's present system, he'll work with one winery a week, because, he said, "We can't promote and help establish a market by doing a different winery every day. We probably will go to two wineries a week just because there's that demand.
"We spent an untold amount of time working with California ABC just to make sure we were operating within the confines of the law," Cody continued. "We had legal firms in Sacramento and Chicago hammer our business model so that we are not in violations of various agreements for wine sales such as the one we have with Napa Valley Vintners as a charity partner."
Cody hasn't been in business long enough to establish any solid projections for what Cellar Angels can do for wineries or nonprofits. 
"Ultimately, we'd like to hang a shingle out here (in the Napa Valley) so that we can have much more of a local presence," he said, "and I'd like to get myself out of a day job."
Has Cellar Angels made any profit yet?
"Oh, God no!" Cody said. "Small wineries earn their stripes. That's what we're doing. There's a growing period. No one knows about us because we haven't hired a PR firm or any of that stuff. So we can't compete with larger (distribution) companies, but there's not a chance they're going to out-service us."