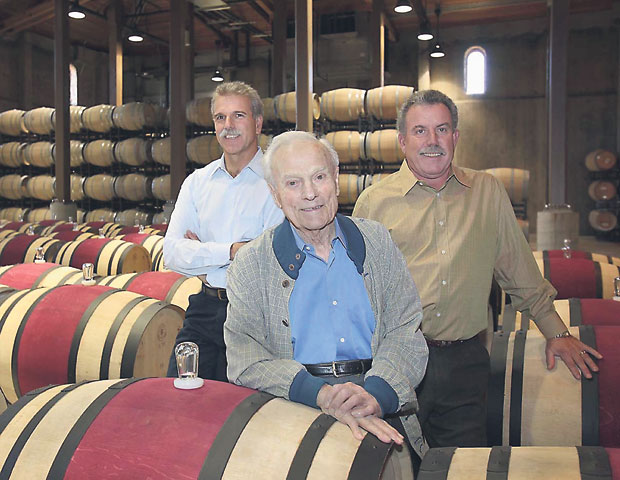 The changes in the Napa Valley from 1861 to 2011 are immense. St. Helena Mayor Del Britton commented on some of them last week when the city of St. Helena presented a proclamation to 96-year-old Peter Mondavi Sr. on the 150th anniversary of the Napa Valley's oldest winery, Charles Krug Winery. 
The city also proclaimed Sept. 10 as "Charles Krug Winery Day." Sept. 10 is when the winery will host its annual "Tasting on the Lawn," which has been held since 1951. 
"At one time, what we had in the Napa Valley was a lot of prunes and a lot of walnuts. And we had three or four major wineries in the valley," Britton said. "If you look around today, all you can see is wine. You don't see prunes or walnuts anymore."
Mondavi, whose family has owned the Charles Krug Winery since 1943, also talked about the changes in the wine business. "To me, one of the problems here is the high-priced wines," he said. "I don't know how we can explain it. I just keep on seeing the multimillionaires come into the valley and pay $100,000 an acre and up, and I don't know how you make any money out of that."
Then, he said, the boutique wineries appeared on the scene and many have to sell their bottles of wine for $150 "in order to live with it," Mondavi said. 
As for the future of Charles Krug Winery, which is now owned by Mondavi and his sons, Marc and Peter Jr. and their families, Mondavi said, "We are looking forward to the continuation of our business by enlarging it enough to take care of our 850 acres of Napa Valley vineyard. Today, our Charles Krug Winery is run by my two sons and our financial officer while I study future additional requirements."
He added he's most thankful his sons and their families are so devoted to the wine business, in spite of its ups and downs. "Because there are ups and downs, but I always say you have to love the business to stay in it," he added. 
In accepting the award, Mondavi said, "Our sincere thanks for a wonderful award. It's an award which I wish to share with my father and mother because it is they who really were responsible for what we have today, and I mean it. They did all the work." 
In prepared remarks, Mondavi gave a history of his family and their involvement in the wine business. His parents, Cesare and Rosa Mondavi, were born in Italy, he in 1883 and she in 1890. He came to the United States in 1906, worked in the mines in Virginia, Minn., and two years later, went back to Italy to propose to Rosa, who was 18, while Cesare was 25.
She accepted Cesare's proposal and they were married in Italy. Mondavi said even at 18, Rosa was capable of managing a household. Four children followed, including Robert in 1913 and Peter the following year. Mondavi said neither of his parents "were fortunate enough to have a full education. However, they both had the business mentality and the drive to be successful." 
Cesare owned a saloon in the years before Prohibition, while Rosa ran their house, raising four children and providing room and board for 15 mine workers. Who does that today?, Mondavi asked rhetorically. "That's unheard of now," he said. 
After Prohibition began, Cesare switched over to the grocery business. His customers, though, wanted to make their own wine and urged Cesare to go to California to ship zinfandel grapes back to Minnesota. Mondavi said of his father, "Being a foreigner and speaking very little English, in fact no English at the time, and carrying on a shipping business? It's unbelievable. I don't know whether I'd ever have tried to do a thing like that myself." 
Cesare made his first trip to Lodi in 1920 and shipped grapes the same year. He made the trip several times, realized its potential and benefits, got out of the grocery business and moved to Lodi, the heart of the shipping business, in 1922. He shipped zinfandel grapes from Lodi, and Muscat, cherries and melons from Fresno. 
With the repeal of Prohibition, Cesare decided to go into the wine business. Mondavi said, "He always looked in the future. Even with little education, he had business ability. And my mother had capability, too, for (running) the household. She took care of a lot of things for him at home, including entertaining." He said Cesare's friends "all loved to come from the East, because my mother would put on a big lavish Italian meal and Lord, they would celebrate all the time." 
Cesare sold bulk wine produced by Sunny St. Helena (now Merryvale) for a few years and bought it from Mr. and Mrs. Jack Riorda in 1935. Mondavi said his father maintained his shipping business throughout his life — he died in 1959 — while expanding his wine business. The next step was to buy the Charles Krug Winery in 1943. Later he sold Sunny St. Helena Winery. 
Mondavi said, "As I say, Dad was Italian, but not a winemaker. He was a businessman. He knew who to hire and what to do. So he achieved an awful lot. Imagine being a foreigner and doing all this business. And he had a very good reputation with the bank because he was not a real talker. He was very quiet, but everything he said made sense." 
During World War II, Robert Mondavi retrofitted the winery and the Carriage House, with Cesare's approval. Peter served in the military and when he got back in 1946, he joined Robert at the winery. The Mondavis' first vintage of wine was 1944. 
With the passing of Cesare in 1959, Rosa became the winery president and ran the winery for a number of years with the help of San Francisco businessmen, including Joe Alioto.
Mondavi summed up the problems he and others had with Robert. "I have to bring that up," he said. "He was a big promoter. So our differences amounted to the point that he offered to buy us out, and of course we just refused. So he went on his merry way and developed a tremendous business. But I know he told me, on his expansion — we were communicating periodically — and it got to the point that he wanted to expand and expand, so he was going to have to go public in order to do it.
"I told him that's the kiss of death in the wine business," Mondavi said. "But anyway, he developed that and of course he had to sell the winery eventually. And, of course, there was a big profit on that one, so he could retire — we could all retire very well."