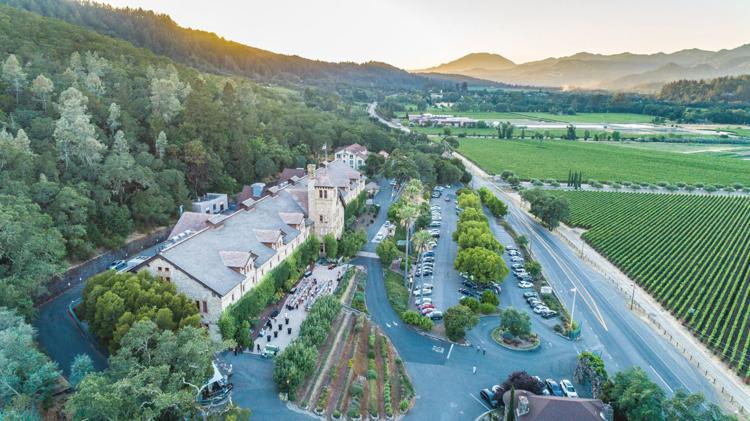 On Saturday, July 14, two long dining tables lined the stone terrace outside St. Helena's Culinary Institute of America at Greystone. Seated guests and featured farmers had come to enjoy a meal created by teams of students who had spent the last 12 weeks learning what it means to create meals completely from products procured from local farms.
"This whole experience was eye-opening — I mean, it changed my life," said David Cruz, a third-year student originally from Poughkeepsie, New York. "I'd never seen where my food was coming from before. I also didn't know how much work and care goes into growing and transporting all the food we eat."
The response from Cruz is exactly what Chef Rebecca Peizer was hoping to achieve. Peizer is in her second year as lead instructor of the Farm to Table Concentration program at the CIA.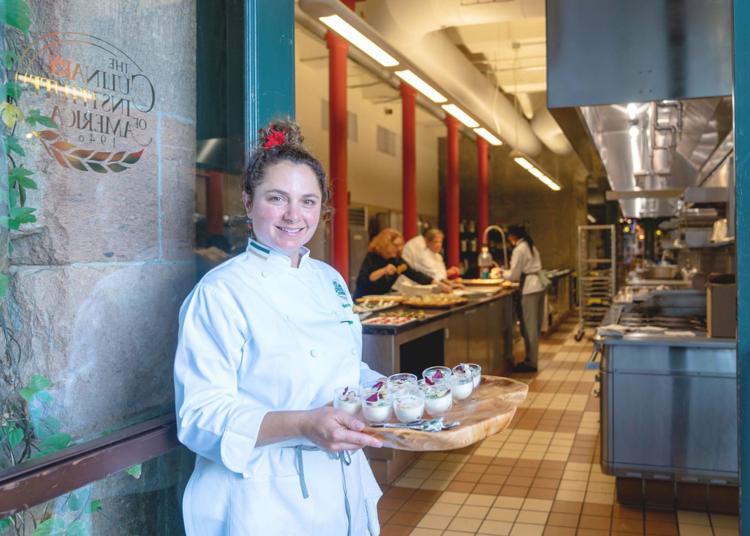 "This event is the final," she said, "A community event for this group of students who for the last three months have been learning about everything from how to grow their own vegetables to meeting with farmers of meat, seafood, dairy, cheeses and vegetables from some of the best producers from the area."
The future of food
"One of the prime benefits of this program is giving the students awareness and appreciation of just where their food comes from," Peizer said. "We've also designed the program to highlight that these young chefs have an important role in the future of food."
Peizer also grew up in New York. Her Israeli mother had always grown tomatoes and cucumbers, and even as a young girl she'd found the transformation of a seed to something edible wonderful — a fascination she hopes to share with her students.
"As a kid I'd taste those things we'd grow and was amazed that life could just happen like that and then you could eat it and it would be so delicious," she said. "As a chef I always took that with me. I wanted to know where my food came from and how it was grown."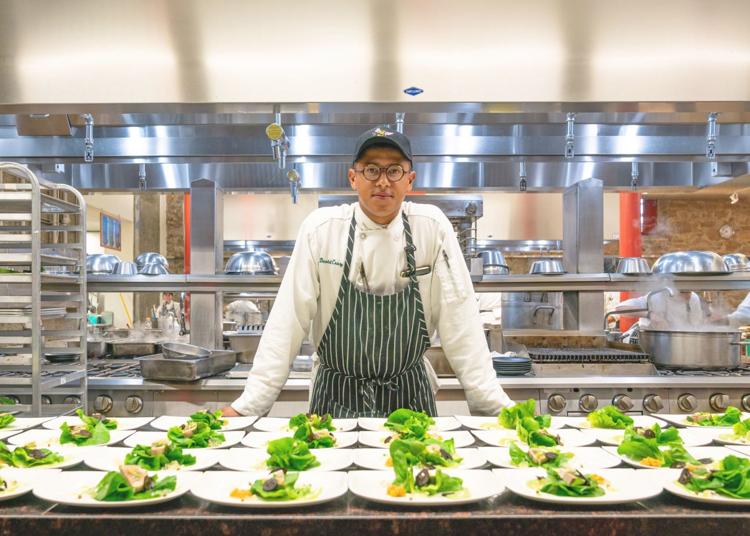 As part of the program, students traveled around the area meeting with local farmers such as Peter Jacobsen, whose Yountville "culinary farm" has quietly been supplying restaurants and chefs, including the French Laundry's Thomas Keller, with produce for decades.
You have free articles remaining.
"Most people don't know my culinary farm exists, and it's designed that way — I serve mostly Michelin-rated restaurants in the Napa Valley and San Francisco," Jacobsen said. "This [Farm to Table] program is important because these young people are at the beginning of their careers and they've come to learn, explore and connect with the broader food world. So it's important to engage with them because it's a two-way street — farmers teaching chefs and chefs teaching farmers."
Students as leaders
Jacobsen went on to explain that he taught a class at the CIA in the past where he highlighted the importance of a chef's influence over the direction of farmed products and practices.
"It's clear to me that chefs and farmers don't interact as much as they might," he said. "We're constantly re-understanding the perspective of what 'farm to table' is about and where chefs fit into the discussion as thought leaders in the community, but what we know is that these discussions are critically important to advancing our shared goals."
When the students visited Jacobsen's farm they toured the grounds, learning about and tasting a few of the 25 different culinary flowers grown on the property or sampling from more than 120 fruit trees. They also got a chance to envision a future when they'd be the next culinary leaders.
"During the tour the students got a chance to be leaders, asking questions that leaders might ask," he said. "For example, what are they going to think about when they see and taste products in the future? How are they going to invent the foods of the future for their patrons?"

As to the importance of the CIA-Napa Valley connection, Jacobsen is certain.
"The CIA is important because, as they say, it's the Harvard of cooking schools, and the Greystone campus is one of the most beautiful and historic venues in the valley," he said. "More broadly, the valley, with this institution's vision, provides the environment and location for ingenuity to thrive and where exploration and experimentation can carry forward because it's the new ideas that matter. Bring that together with all the excellent local restaurants and the former CIA graduates and instructors who remain in the valley and what you get is something very special."
On that warm evening as the sun set over the stony towers of the historic Greystone building, guests sampled dishes made from the students' interpretations of the farmers' products. Between the many courses farmers were provided with a moment to tell their own stories, followed by one of the students' explaining the motivation behind the particular dish — each item on the plate representing something grown and nurtured by both the farmers and aspiring chefs.
"I hope that this program will help foster deeper connections between those who grow our food and those who cook our food," Peizer said. "I also hope that it provides an opportunity for the entire community to come together and celebrate food and life — and I'd like to see that grow, more and more."
"This whole experience has really shown me the connection that exists with food, farmers and chefs," Cruz said. "To see the amount of effort, love and care that are being shown at every step makes us better chefs, makes us better at understanding what it is that we're putting on the plate, makes us better people."