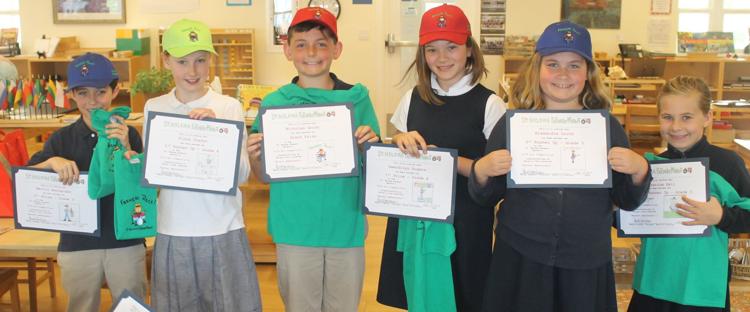 Nicholas Groth was one of 79 third- through fifth-graders who participated in the 2019 St. Helena Farmers' Market art competition, held annually for the past 10 years. On Tuesday, April 16, he was surprised to learn that his design won the grand prize.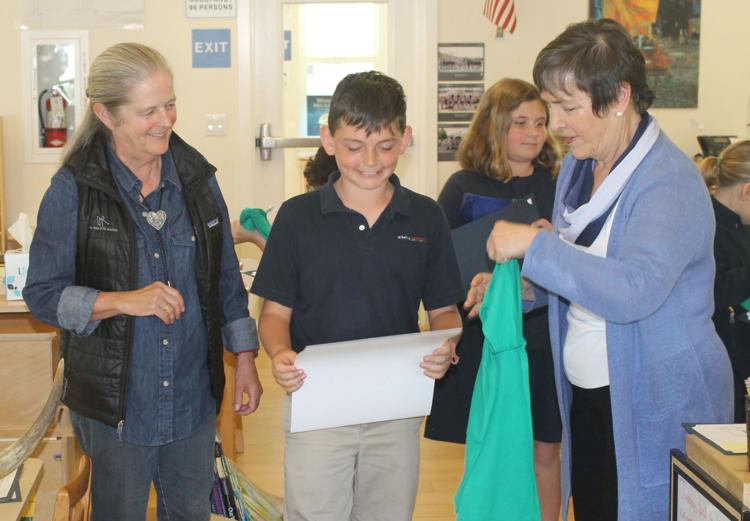 Wendy Strachan, president of the volunteer board of directors, and two board members, Laddie Hall and Kelly Foster, went to the St. Helena Montessori School, where Groth is a fifth-grader. Students from the Montessori School, Foothills Adventist Elementary School and St. Helena Elementary School participated in this year's contest.
Two of the first-place winners, Martin Hernandez, third grade, and Gwendolyn Rogers, fourth grade, were from the Montessori School and were honored on April 16. Jacob Zuniga from the St. Helena Elementary School was the fifth-grade winner. He also was honored April 16 in another ceremony.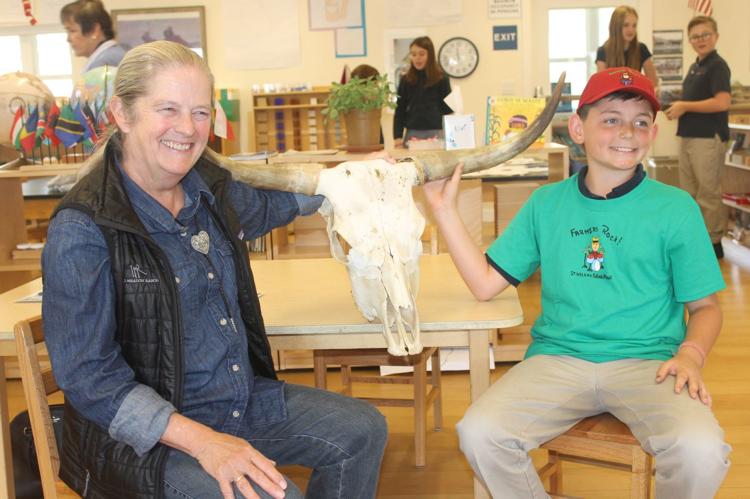 At the Montessori School, Strachan, Hall and Foster first gave everyone who participated in the competition a certificate and a wooden coin good for $2 worth of merchandise from the St. Helena Farmers' Market. Then they announced the various grade winners, although they purposely left Groth sitting on the floor. Strachan said she had no more certificates, then rummaged around and pulled out a large St. Helena Farmers' Market poster featuring Groth's artwork.
Groth stood up and smiled as he was told he had won the entire competition. His art, which illustrated the theme "Farmers Rock," showed a smiling farmer wearing a yellow hat and playing a set of drums, complete with a stand-alone cymbal. For drumsticks, the farmer was holding a carrot in one hand and a stalk of broccoli in the other.
Groth's artwork is the theme of the 2019 edition of the St. Helena Farmers' Market, which begins Friday, May 3, and continues through Friday, Oct. 25. His art will be printed on T-shirts, hats and other merchandise at the market this year. Market hours are 7:30 a.m. to noon and as in the past, the market is held at Crane Park, 360 Crane Ave. in St. Helena.
Strachan said when the students were given the theme "Farmers Rock," some pictured a rock group, while others drew farmers and boulders. When asked why farmers rock, the gathered students' answers included that they work hard and grow everything we eat, including vegetables. When asked what farmers grow, the students' answers were a little surprising: Okra, yams, watermelons and Brussels sprouts, along with raising chickens, cows, pigs, horses and llamas.
Then a real farmer, Laddie Hall, spoke to the students about her experiences with the St. Helena Farmers' Market, which began either in 1990 or 1991. "We had a big garden and we were sharing the produce," she said. Her two boys, who were 9 and 12 years old, were "always looking to raise money" and Hall suggested her sons should sell their produce at the St. Helena Farmers' Market. But, since they were youngsters, Hall drove them to the market and the boys sold their produce out of the back of a truck.
"Now, the boys are grown, and Mom is doing it," Hall said, with a much bigger garden that is a lot of work, including getting ready for the weekly farmers' market. "Then, the customers come and that's the fun part. We started with two boys and now growing the garden is very much a part of Long Meadow Ranch," Hall added. The Halls run Long Meadow Ranch, which includes a restaurant in St. Helena as well as a large garden and raising Highland-breed cattle in Tomales in Marin County.
The Halls also raise chickens, primarily for their eggs, lambs and this year, they are raising three baby pigs for the Napa Town & Country Fair. On their property, they see a lot of wild turkeys, but this summer, they will raise turkeys for their employees for Thanksgiving.
Hall brought a large skeleton of a steer, complete with horns, to the classroom and talked about the herd of cattle. They all have long hair and horns, even the girls, she said, because they use the horns for protection. In climates colder than California's, the cattle use their horns to poke holes in the water troughs when they are frozen over with ice.
The calves are not born with horns, which begin growing when they are one year old; by the time they are 3 or 4 years old, the horns are good size. The cattle, which are raised for beef for their restaurant, are fed only grass, Hall said.