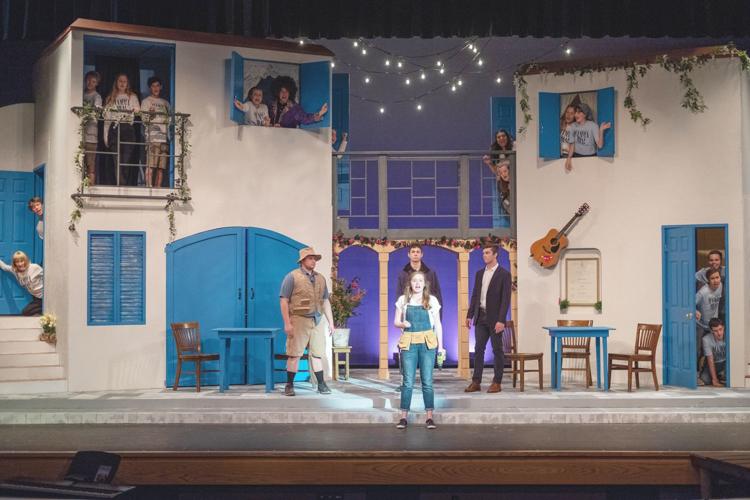 If the words "Mamma Mia" instantly prompt you to sing "Here I go again," then St. Helena Drama has just the show for you.
Students have been rehearsing their spring musical "Mamma Mia" since November, and everyone from the lead players to the lighting crew is determined to put on an entertaining show and leave you with at least one catchy ABBA tune running through your head.
"Everyone in the cast is amazing," said co-star Sofia Osborne. "The set is beautiful. The orchestra is so fun. It's just a blast to be in it, and I'd love to be able to watch it myself."
Opening Friday, March 8, at the St. Helena Performing Arts Center at St. Helena High School, the Broadway hit tells a story of romance, comedy and family secrets, set on a sunny Greek island and featuring oodles of ABBA songs.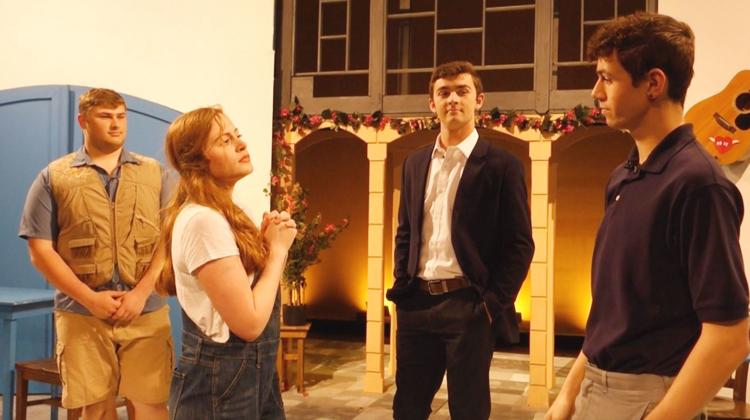 The soon-to-be-married Sophie (Osborne) wants her biological father to walk her down the aisle, but she's not sure who he is. To solve the mystery, Sophie invites the three likely candidates – Bill (Frank Lenney), Sam (Sam Smiley) and Harry (Caleb Jeske) – to the scenic isle where they each had a romantic liaison with Sophie's mother Donna (Mia Pelosi).
During a press preview on Monday, the cast and crew ran through early scenes featuring songs like "Honey, Honey," "Money, Money, Money," "Thank You for the Music" and the title song, led by a power drill-wielding Pelosi. (And for those of you waiting throughout the whole show for "Waterloo," just sit tight — it's coming.)
The early scenes also introduce characters like Sophie's friends Ali (Cynthia Medrano) and Lisa (Carrie Steil) and Donna's friends Rosie (Ileene Christianson-Torres) and Tanya (Grayson Capener).
'A long journey'
The show is a bittersweet one for seniors like Lenney, who's been participating in St. Helena Drama productions since he was in eighth grade.
"It's been a long journey," said Lenney. "I've formed a family with everyone here. Everyone knows and appreciates each other. Leaving is going to be very hard."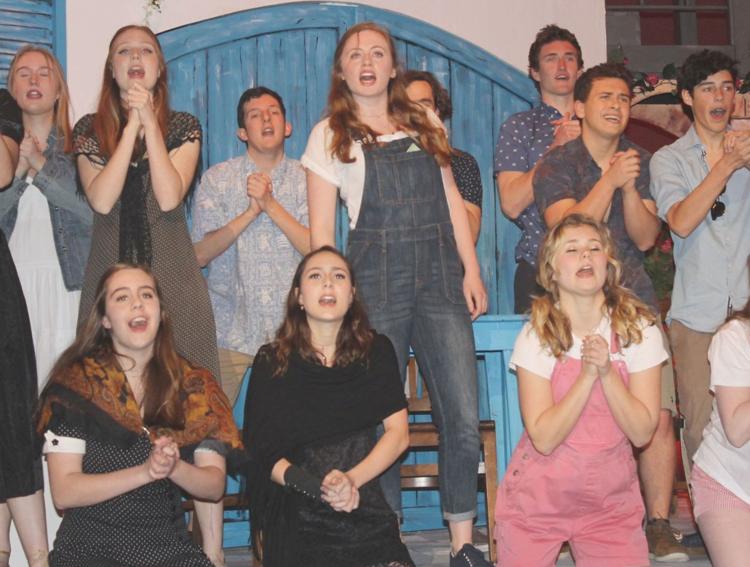 Lenney said the role of amiable, easygoing Bill Austin is much closer to his natural personality than the hot-tempered characters he's played in the past, like Tevye in "Fiddler on the Roof."
"It made getting into character a lot easier," he said.
Christianson-Torres, also a senior, was an experienced singer long before she started attending St. Helena High School two years ago, and she hopes to pursue it as a career. But she'd never performed in drama until productions like "The Curious Incident of the Dog in the Night-Time," "Fiddler on the Roof" and "Shakespeare in Love" were presented.
Christianson-Torres enjoys her newest role because Rosie is "funny, outgoing, and doesn't care what people think." She describes herself as "timid," but she enjoys getting outside her comfort zone to play Rosie.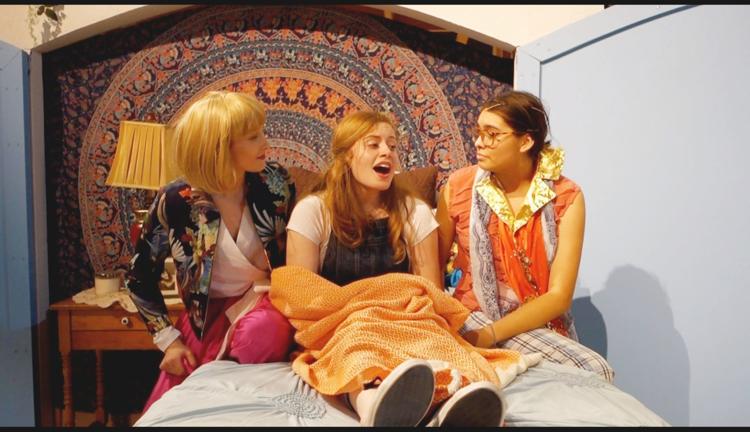 Her favorite song from the show is "Take a Chance on Me," which she performs with the character who becomes Rosie's significant other.
"This is really good for being a high school production," she said. "People worked really hard and it's a beautiful story anyway."
How hard is "really hard"? Christianson-Torres said she can't even count the hours she's spent preparing.
"In November we started dance rehearsals that were like three hours straight every other day," she said. "One of Patti's friends (Reed Davis) came in and showed us how to do dance choreography, so we had to spend a whole day learning how to dance every single number."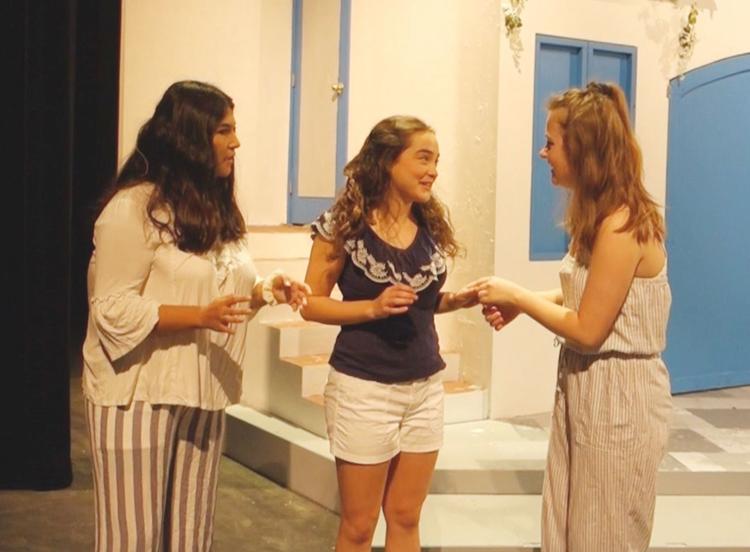 Osborne, a junior, said this is her biggest role yet and her 12th and final collaboration with her friend Pelosi, who's graduating in June. The duo co-directed "12 Angry Jurors" last August, and both plan to pursue a career in the theater.
"This is our last show together – if we don't end up on Broadway together at the same time in the same show," Osborne said with a laugh. "It's really special that I get to co-star with her for the last time."
In addition to playing Sophie, Osborne also serves as dance captain on "Mamma Mia," whose cast already worked with Davis, a professional choreographer.
'A labor of love'
Directed by Patti Coyle with music direction by Craig Bond, "Mamma Mia" is St. Helena Drama's first pop/rock musical. Performances will feature local professional musicians, conducted by Bond.

Like other St. Helena Drama musicals, this one requires flawless coordination among the 41 members of the cast and crew. In other words, stars like Pelosi and Osborne can't take advantage of their time in the spotlight if there's no spotlight.
That's where Nick Jeworowski comes in. This is his fifth St. Helena Drama production but his first time running the spotlight. It's a job he'd love to do again if he weren't graduating in June.
"We're all counting on the actors getting to their spots at the right time so we can put the spotlight on them," Jeworowski said. "But we also have to count on each other."
As someone who knows "Mamma Mia" inside and out, it might come as a surprise that Jeworowski has never seen the film adaptation in full or listened to ABBA before.
Coyle, on the other hand, traces her history as an ABBA fan back to the age of 5, when she got one of their records and charged neighbors 10 cents to watch her and a friend do a choreographed dance routine to "Knowing Me, Knowing You."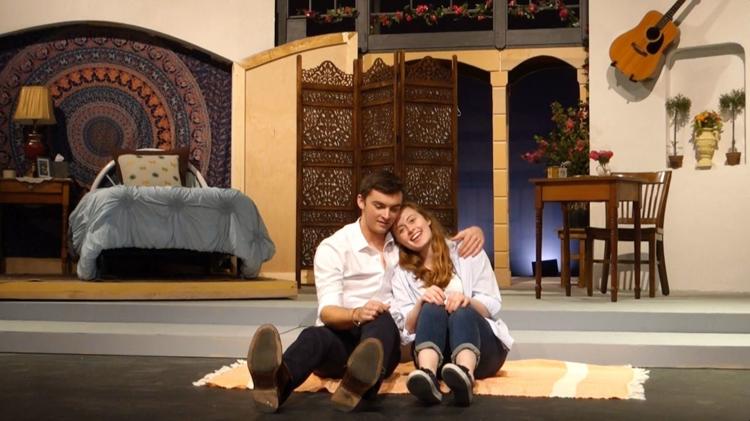 "This has really been a labor of love for me," Coyle said. "I have the exact right cast at the right time for this show."
Unlike a lot of so-called "jukebox musicals," "Mamma Mia" has a solid plot, dramatic conflict, and relationships between well-drawn characters, Coyle said.
The set, a two-story mockup of the Villa Donna hotel with working doors and windows, was built by Bill Kauffman, a veteran of Napa Valley Playhouse and Napa Valley College productions, and painted by Lisa Goldfarb, the mother of Josie Goldfarb, a member of the ensemble cast.
"This is a completely student-run production, and each person is a professional at their job," Lenney said. "Everyone's doing what they need to do when they need to do it – and in a fantastic way. I think everyone should come see the show."
Be the first to know
Get local news delivered to your inbox!