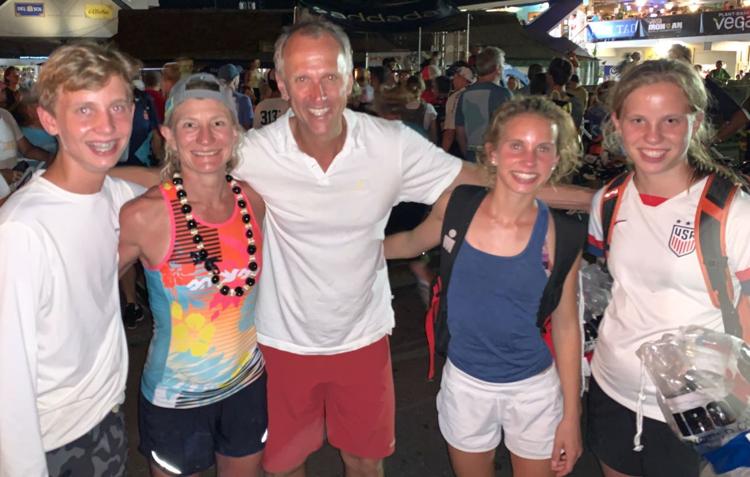 St. Helena winemaker Sarah Gott thought she could never do the Ironman World Championship because it's held in mid-October — in the middle of harvest. She was wrong.
Gott finished what is arguably the world's toughest triathlon in 11 hours, 43 minutes and 17 seconds, coming in 39th out of 85 female competitors in her age group (45-49). The Oct. 12 event was held on Kailua-Kona in Hawaii.
Recently, Gott and two of her many supporters, Anne Cottrell and Janet Todd, talked about the experience.
"I think it's interesting," Cottrell said. "To qualify (for the World Championship), you just don't do another Ironman, you have to win your age group. She had to be the first person at Lake Placid."
Gott was not expecting to qualify at Lake Placid in July, although it was her fifth Ironman triathlon and she said she had done well at each one.
"I've always felt good in what I've been able to accomplish," she said, "But, there's some really strong women and you don't know who's going to show up that day."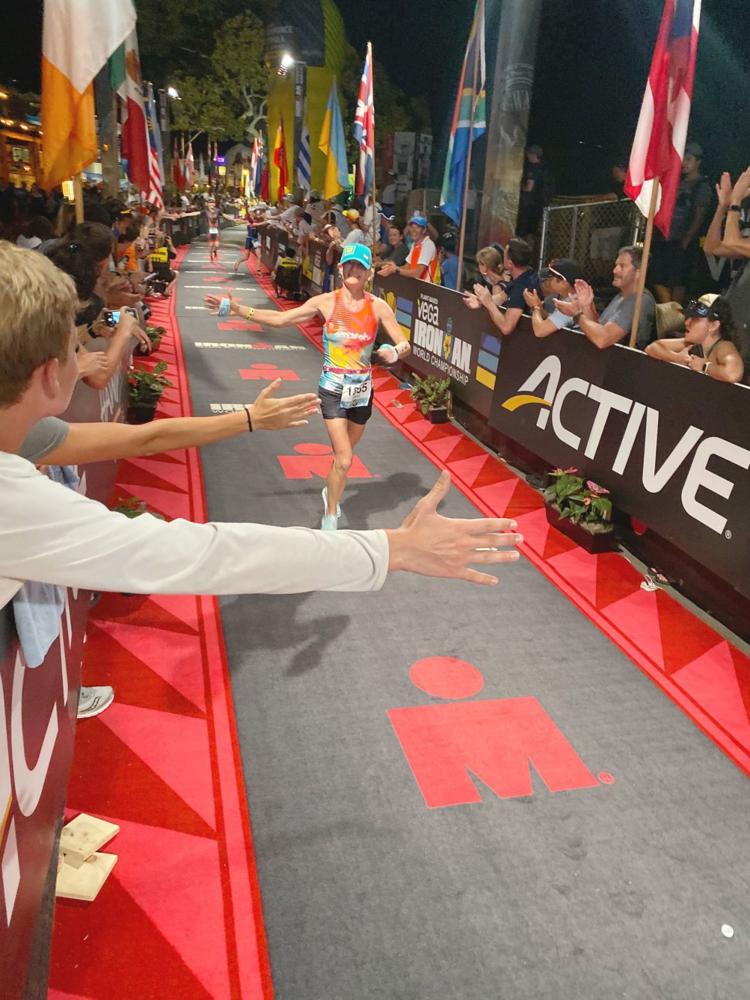 Winning her age group at Lake Placid, Gott earned an overall time of 11:18 — broken down that included 1 hour, 3 minutes for the 2.4-mile swim; 5 hours, 55 minutes for the 112-mile bike ride; and 4 hours, 10 minutes for the 26.2-mile run.
"Two years ago, I had done a similar time," Gott said, but ended up seventh in the age group.
'A fun adventure'
Gott competes in an Ironman every other year and has been training and competing for the past eight years. "It's been a fun adventure. There are times you get physically tired but you don't get down time, because you have a life. I still need to work, (husband) Joel is really busy and the kids (Lucy, 16, and twins James and Lael, 14) are busy. I said I'd never be able to do Kona because of the timing, it's in the middle of harvest."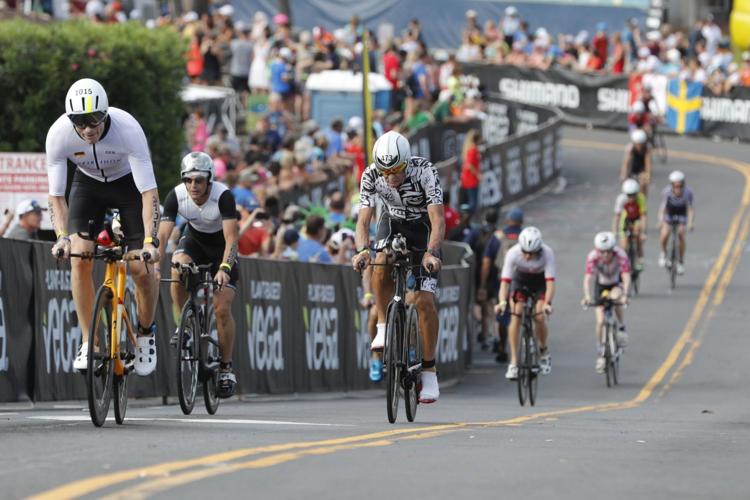 In July, for a time, Gott was running with her nearest competitor in Lake Placid. "We were neck and neck and I had to beat her to qualify. I said if I qualify, I'll give it to you because it will be harvest and I won't be able to do it."
As it turned out, Gott said everything worked out, because she has an awesome team helping her with harvest, adding, "The week when I was gone, it wasn't too crazy."
Cottrell said one of Gott's strengths is her perseverance. "She's been doing Ironmans over the last seven years and it seems like every event has its challenges." During an Ironman in Whistler, British Columbia, it rained for the entire bike ride, it was 45 degrees and freezing.
"I could barely feel the brakes, I had to stop and have someone help me get the water bottle out of the cage," Gott said. "I couldn't even use my hands, they were so frozen." And gloves didn't help — they were soaked.
Race day
Gott started with her age group at 7:20 a.m., an hour after the pros began their race. That hour means it was warmer with more wind, Gott said. All Ironman races are the same distance, but obviously the conditions are different. At Kona, there were big swells in the ocean and swimmers couldn't see very far ahead, often from just buoy to buoy.
Cottrell adds, "I remember Sarah telling us on the swim, there were times she couldn't see the shore. And there were times when Sarah would come up between the swells and she couldn't see anything else."
Gott is a strong swimmer, and she passed a lot of people in the last quarter. Because each of the age groups started at different times, Gott caught up to slower swimmers and had to maneuver around them, which was difficult. "You hate swimming over people, it's a horrible feeling, because I've been swum over, too. You don't want to hurt anybody, but you have to get through. That was challenging," Gott said.
She finished the 2.4-mile swim in 1:07:07.
On her Specialized triathlon bike, Gott said the first 40 miles were "decent, but then I hit a headwind. It shouldn't be that hard, because there's only 5,000 feet of climbing," adding that other Ironman road courses were much harder. But, in Kona, the wind and the heat coming from the pavement are "pretty brutal." She finished the 112 miles in 6 hours, 8 minutes and 21 seconds.
Todd added that Gott had to stop several times on the bike to try to cool down because it was so hot.
The 26.2-mile marathon run was "hilly and just really hot. The first part of the run was so humid, you're so hot coming off the bike, and the run is really exposed, with no shade at all," Gott said. By then, it was mid-afternoon and "the heat was just pounding. It was hot and humid."
Along the route, volunteers manned aid stations, with ice, cold water and sponges. To keep cool, Gott said she stuck her head four times in the big ice bucket, adding, "I finally felt like my core temperature could cool down."
She finished the run in 4:12:42. She finished the marathon before 6:40 p.m. Gott said it was dark during the last half hour of the run, or about 10 kilometers, but she added, the last half-mile was in town, so there were lights.
"My transitions (between swimming and cycling and between cycling and running) were a little bit longer than normal because I wanted to take some time to cool down," Gott said. The transitions are timed.
Ironman training
The winemaker, mother and athlete trains 10-12 hours per week throughout the year, and then 15-20 hours per week building up to the Ironman.
"It's a good part-time job, but it's a passion, too, I love it," she said.
And she has her cheerleaders, including Cottrell and Todd, whom she runs with; and her family, which is also supportive – daughter Lucy was following Gott during the race and texting news to about 20 people.
"Part of the reason why I'm so into this is because you have great friends that you train with. It's a mixture of your social time, therapy and everything in between," Gott said. "A lot can happen out on the road, between bikes and runs."
During the race, though, Gott admitted, it's tough and she had "moments of doubts and struggle. This is really hard, this is really painful, why am I doing this? I could walk away and no one's really gonna care, but there's that inner drive, too. I have trained for this."
Inspiration
And there's inspiration. "It's amazing when you see people with no legs, or without an arm competing. I have no excuse. I can suffer and be in pain, but I can finish this," Gott said.
She was talking about 27-year-old San Diego native Roderick Sewell, who became the first man, with both legs amputated above the knee to finish the Ironman with a time of 16:26:59. Sewell credits the Challenged Athletes Foundation for helping him since his legs were amputated when he was 2 years old. (He was born without tibias in his legs.)
"It was so unbelievable" to see Sewell, Gott said. In the water, he used his arms; on the road, he used a kneeler-style handcycle and ran with prosthetic legs with blades attached.
"I think there are stories in the Ironman. We live in such a little bubble, but you get out and see such things like that. Wow, there's so much more to all of us," Gott added.
What's next? Gott, Cottrell and Todd all laughed and Gott added, "I don't know. Enjoy right now and recover. I'm still pretty tired."
To do an Ironman triathlon takes a huge toll on your body and you have to rest. Gott said, "With this weather, my brain says I want to get out on my bike, do a long run, stuff like that, but I'm not quite there yet. Biking will come, maybe this weekend."
Be the first to know
Get local news delivered to your inbox!