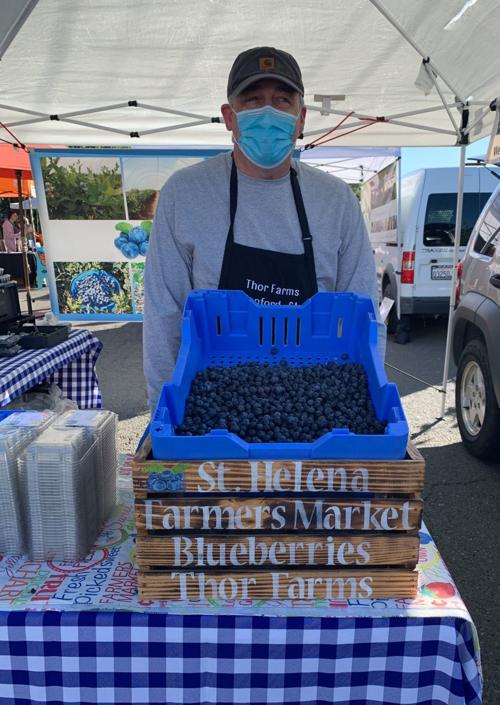 Thirty-five years ago when I moved to California, my East Coast friends and family predicted that I would miss the change of seasons. Little did they know that I was trading four calendar-based seasons for a myriad of smaller "seasons" based on Mother Nature's splendor. We never imagined the glorious vibrant yellow of mustard season or the distinctive pungent aromas of harvest season. One of my favorite mini-seasons is "Cherry/Berry season," and it's happening right now.
Cherry/Berry season is that small window when cherries, blueberries and strawberries are all at their peak. While strawberries, like the beauties from V&M Farms, enjoy a long season, cherries and blueberries are not so fortunate. This week may be the last week for the spectacular blueberries from Thor Farms. The Spring High varietal is one of my favorites. Gotelli Farms is featuring delicate Sweet Brooks cherries and their more robust Specialty variety. Neufeld Farms and several other vendors also have cherries and berries right now.
Cherries and berries are amazingly versatile. Compotes, pies, jams, clafoutis, puddings and savory sauces all come to mind. I found a good recipe online from Simplyrecipes.com for a simple savory cherry compote that would be perfect with the excellent pork paté from Sonoma County Meat Co. The compote combines minced and lightly sautéed shallots with chopped fresh cherries, walnuts, rosemary and black pepper, then finished with a bit of red wine and honey. The paté and this compote paired with a simple green salad would make a wonderful lunch or light supper. And you can never go wrong with a simple bowl of fresh strawberries, blueberries and cherries for all-day snacking.
"Save the Pollinators" month continues with lots of fun and informative activities available in our beautifully adorned Market Classroom booth. The Western Monarch Society will once again distribute free milkweed plants for you to adopt. The month's culminating activity will be a screening of the fascinating documentary "The Flight of the Butterflies" on Monday, May 31, at 11 a.m. at the Cameo Cinema. There will be a Q&A following the film. Tickets are $5 and available on the Cameo website.
Join your friends and neighbors every Friday through October 29 from 7:30 until noon in beautiful Crane Park. To keep updated on what's happening, please check our website, Instagram, Facebook or Nextdoor St. Helena.
Stacey Bressler is a local vintner and member of the St. Helena Farmers' Market Board of Directors.