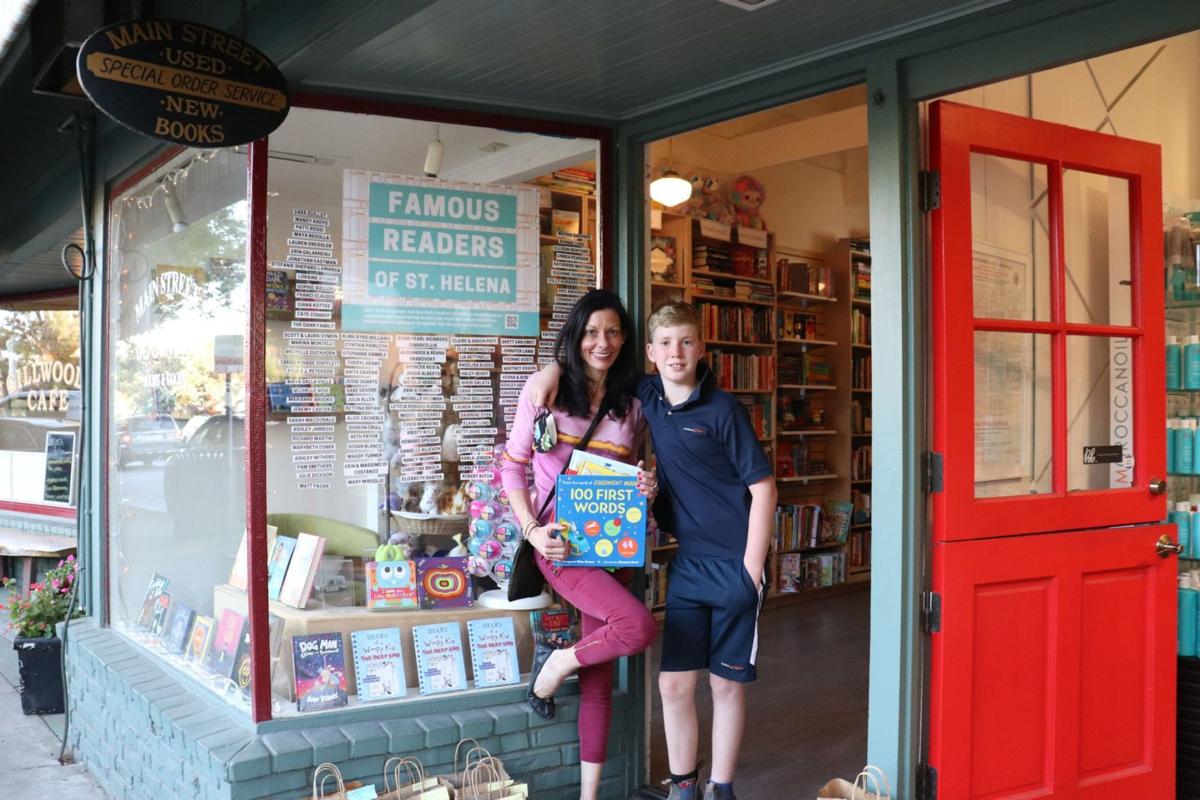 The nonprofit Napa Bookmine Literary Foundation (NBLF) was officially launched on Nov. 18.
In what a press release described as a longtime dream of Napa Bookmine owner Naomi Chamblin since first opening her bookstore in 2013, the nonprofit was created to provide free books to kids, families, and teachers in Napa County, build community, and foster a passion for learning through literacy-themed events.
The organization's board is spearheaded by local community member Kelsey Frazier, executive director. She is joined by Naomi Chamblin (CFO), Elayna Trucker (secretary), and Michelle Dickson (treasurer). If you are interested in joining the NBLF board, reach out to info@napabookmineliteraryfoundation.org for more information.
Studies show that children with access to books early in life are more successful in both school and adulthood, but not all kids have equal access to books. The NBLF works to remove barriers to access and increase the number of books in both school and home libraries throughout Napa County. It does so through programs that give students, teachers, schools, and organizations access to literacy resources year-round.
Their current lineup of programs includes:
Free Books!
NBLF's Free Books! Program provides free books to Napa County families, schools, and organizations. Ways to get free books include:
Attending an in-person community book fair (in-person events are currently on hold due to COVID-19)
Request books for your home, classroom or organization. Request books via
Teachers and schools can also inquire about NBLF's in-store shopping experience
Community members can host a book drive and collect used, like-new, and lightly used books from friends and family for NBLF to distribute. Host a book drive by filling out
Authors-in-Schools
Fostering connections between children and authors brings the reading and writing process to life. NBLF partners with authors from around the world to bring diverse stories to life in classrooms throughout the valley.
Inviting children's book authors and illustrators to local schools has been a part of Napa Bookmine's mission since 2013 and NBLF will carry that mission into the future. Some of the authors who have visited in the past include: Christian Robinson, Bob Barner, Eunice James and Sabrina Moyle of Hello!Lucky, Andrew Jordan Nance of Mindful Arts SF, Sally Bolger, Regina Shkovsky, Annie Rugyt, Rosanne Barry, Samantha Vamos, Joy Steuerwald, Jesse Bennett, and more.
Teen Review Council
Are you a teen that loves to read? Do you know a teen that loves to read? Join NBLF's Teen Review Council and you'll get to read books that haven't been published yet. Write reviews of upcoming releases and work with the Napa Bookmine team to decide what books to carry in their stores. Your reviews will also be published on the NBLF blog.
The Teen Review Council is a new program open to teens ages 13-17. The council will meet once a month in 2021 to discuss the books they've read, pick out new books, etc. Due to COVID-19, all meetings will occur virtually. Apply to the Teen Review Council here.
Teacher Wishlists
Are you an educator in the Napa Valley? Are you looking for specific books to add to your classroom library? Create a wishlist and NBLF will work with their partners at Napa Bookmine to make sure your order is fulfilled. Create a wishlist here.
Community Support
The Napa Valley community has experienced unprecedented challenges in 2020. The NBLF is giving back to the community in the following ways:
Rebuilding lost home and school libraries for victims of the recent LNU Complex and Glass fires.
Providing children who lost their favorite books in the fires new books of their choice at no cost.
How to help
As a nonprofit, the NBLF relies on community support to fund its programs. Tax-deductible donations can be made to the Napa Bookmine Literary Foundation at two levels:
Community Supporter: Community supporters are the backbone of the Napa Bookmine Literary Foundation. Donations at this level range from $5 to $5,000. Every little bit makes a big difference! Donations can be made via the organization's official PayPal account.
Major Donor: Individuals interested in donating $5,000 or more are asked to email info@napabookmineliteraryfoundation.org.
Visit napabookmineliteraryfoundation.org for a full overview of NBLF's programs and ways to get involved. Those interested in receiving news and updates from NBLF are encouraged to sign up for its newsletter.
The sign-up form can be found on the website's homepage. You can also follow NBLF on Instagram at @nblitfoundation.
WATCH NOW: BOOKS YOU REALLY SHOULD HAVE READ BY NOW
CATCH UP ON NAPA COUNTY'S TOP NEWS STORIES
Catch up on Napa County's top news stories
Be the first to know
Get local news delivered to your inbox!