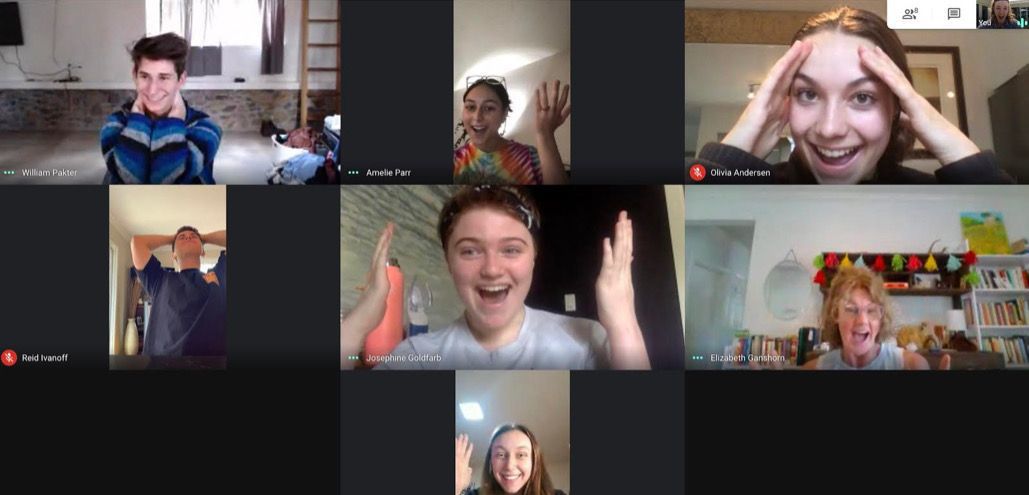 An investigative podcast recorded by St. Helena students and exploring the whereabouts of a beloved clown from their childhood is a finalist in the NPR Student Podcast Challenge.
The 15 high school finalists, chosen from more than 2,000 entries nationwide, were announced May 27 by NPR. The three Grand Prize winners — set to be announced Wednesday, June 3, after the Star's deadline — could be featured on NPR's "Morning Edition" or "All Things Considered."
The podcast selected as a finalist by NPR was recorded by Olivia Andersen, Josie Goldfarb, Sofia Haug, Reid Ivanoff, William Pakter and Amelie Parr for Elizabeth Ganshorn's 11th grade English class. They set out to answer the question: Whatever happened to Popo the Clown?
The nine-minute podcast opens with reflections on growing up in St. Helena and hanging out at The Big Dipper, the now-defunct ice cream shop that used to display photos of local kids on the walls – many of them with their faces intricately painted by a woman the kids knew as Popo the Clown.
The memories never faded, but Popo's presence did – kids no longer saw her around town or at the Harvest Festival. Where did she go?
"There was something drawing us to this mystery," Ivanoff says in the podcast. "Maybe it was closure or maybe we wanted to have a little fun and act like detectives, but either way Popo brought us closer together. We can't thank her enough."
The students tracked down Popo (aka Penny Byrd) on Facebook, arranged an interview, heard her life story, and came away with profound lessons about following your dreams and making sense of the bewildering transition from childhood to adulthood.
Parr said the topic started out as a joke during a brainstorming session, after members of the team drew a picture of a clown on a piece of paper. Parr said she turned to Goldfarb and asked her if she remembered Popo the Clown from when they were kids. That got them wondering where she was.
After the interview with Popo, the project took a more serious turn, and Parr realized it was going to be more than a piece of light nostalgia. Goldfarb remembers it the same way.
"At the beginning I thought this was going to be more of a funny piece," Goldfarb said. "I didn't know it was going to end up so sentimental."
"I learned a lot about embracing what you love to do and not conforming to what society tells you you should do," Goldfarb added.
The assignment was due in mid-March, just as the high school was closing for the COVID-19 pandemic. Due to the shift to remote learning, some groups weren't able to finish their podcasts, but others were.
The whole project, from brainstorming to submission, took about two and half months, Haug said. The team couldn't use copyrighted music, so Pakter remixed some public-domain music and Parr and her father, Zachary, recorded themselves playing guitar.
Students wrote their own copy, recorded the narrative portions on microphones provided by library media specialist Susan Swan, and recorded the interview with Popo at a park in Sonoma. They used GarageBand to edit the audio.
The assignment taught students about ethical reporting guidelines, technical rules, copyright laws, interviewing and recording techniques, digital citizenship, rhetorical skills, and managing deadlines. Each team compiled an extensive annotated bibliography.
Be the first to know
Get local news delivered to your inbox!