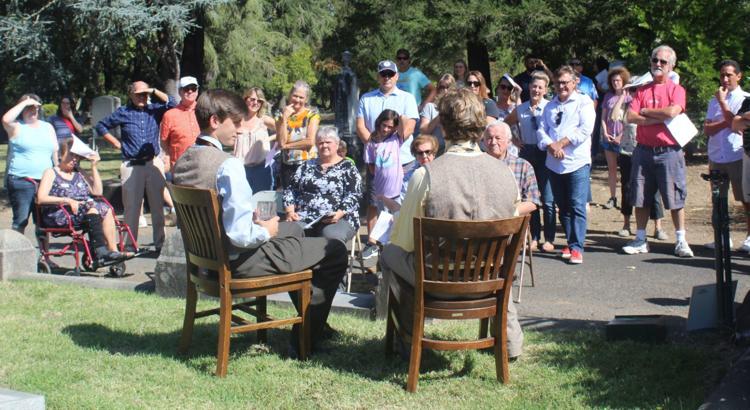 Guests at Sunday's Spirits of St. Helena cemetery tour didn't exactly commune with the dead, but they did come away with a greater understanding of the French and Franco-Swiss winemakers who helped shape the Napa Valley.
Students from the high school's St. Helena Drama club dressed in period costumes and played the roles of pioneering winemakers, their wives and children, as tour-goers passed the gravesites where those pioneering families are interred.
Titled "Vive le Vin," the tour told of enterprising immigrants who earned small fortunes in the early wine industry, and in a few cases lost them due to phylloxera and Prohibition.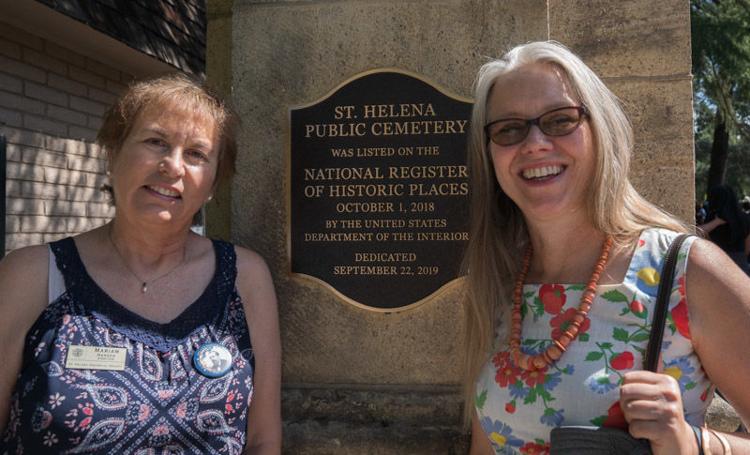 The day also saw the dedication of a plaque celebrating the St. Helena Public Cemetery's addition to the National Register of Historic Places.
Adrien Chaix
Adrien Chaix immigrated to the Napa Valley in 1881, at the age of 19. Three years later he bought the first 40 acres of what would become the prosperous French-American Wine Company, with vineyards and wineries in Rutherford, Healdsburg and Cloverdale.
At his gravesite, Chaix, played by Micah Diaz, and his business partner Pierre Bernard (Aidan Schelhorn) reminisced about their careers, including the time the company got fined for discharging winery waste into the Russian River in 1905.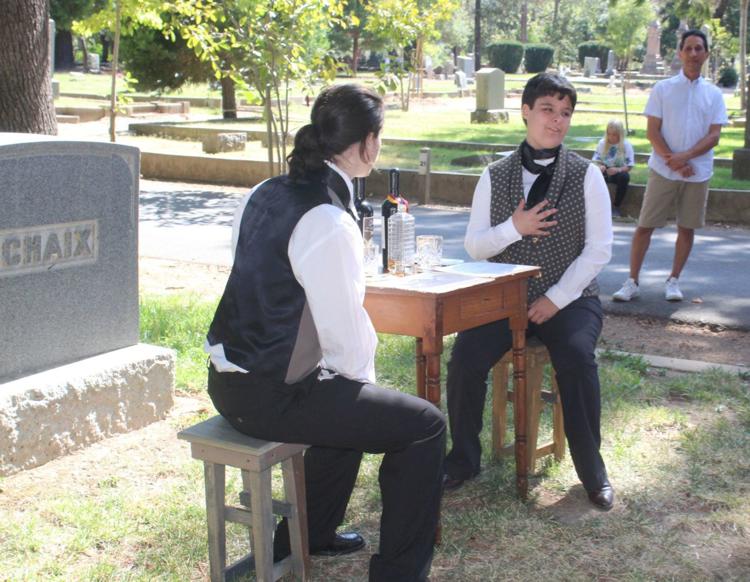 "That whole event made me extremely mad," Chaix/Diaz said, his voice rising in indignation. "They insulted our business and our reputation without knowing what happened. We had a tank rupture and a new cellar rat that didn't know what to do."
"Then the next year they wanted to build a so-called temporary dam without knowing what it would do for our property," he continued. "For what? Tourists to go swimming?"
After that legal tussle died down, the company's wines won six prizes at the 1915 Panama Pacific International Exposition. But three years later, Prohibition brought an abrupt end to the company's fortunes. Chaix died in 1934, one week after voting in the governor's race against "that communist" Upton Sinclair, as Chaix/Diaz put it.
Today, two of Chaix' great-grandchildren operate Chaix Wines on the family estate, where Chaix' 1880s-era house and tank house are still standing.
Louis Roulet
At the grave of Louis Roulet, his wife Jane (Stevie Alvarez) and daughter Marie (Zoe Schelhorn) reminisced about life in St. Helena.
Arriving in the U.S. in 1860, Louis and Jane used her savings to buy nine and half acres on what is now Mills Lane for $1,540. As he waited for his new vines to produce, he established a successful cooperage business. Between the cooperage and the winery, he became one of the most prosperous people in town.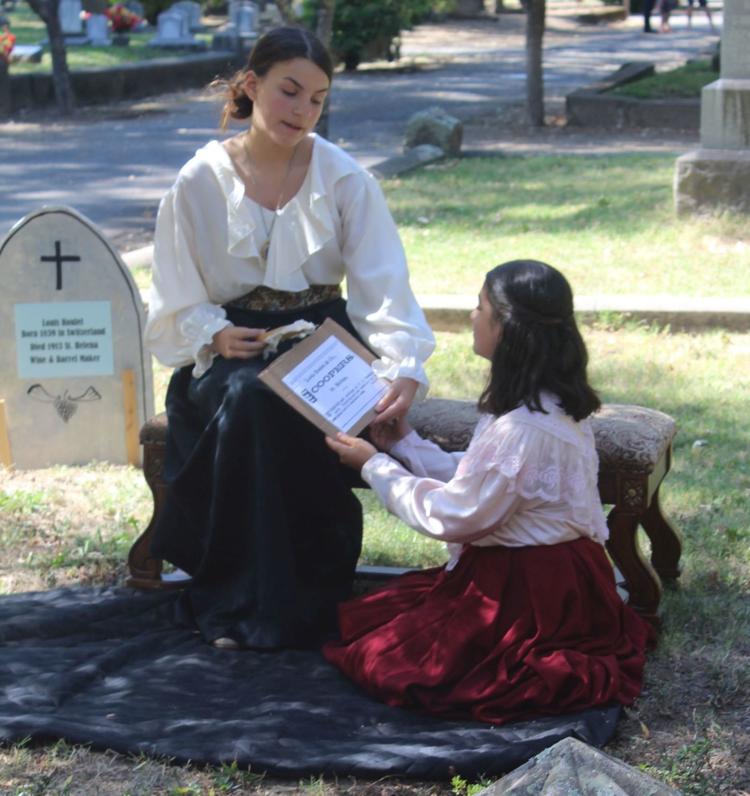 Roulet employed his nephew Armand, who proved to be dangerously unstable and violent, stabbing Roulet and permanently injuring his arm. Armand was deemed insane and institutionalized.
That incident notwithstanding, Roulet's success continued until a phylloxera outbreak in the 1890s.
"When the phylloxera destroyed everyone's vineyards, no one needed barrels," said Jane Roulet/Alvarez. "We had no crops to make wine. By 1897, we had no money."
The Roulets lost everything to foreclosure. Jane died in 1905, and Louis was reduced to applying for public aid. He died in 1913.
Germain Crochat
German Crochat immigrated to New Orleans, fought in the Confederate Army, and ended up in the Napa Valley, where he landed a job as a distiller at Charles Krug. He saved his earnings and, along with two Swiss partners, bought 750 acres in Conn Valley and established the Franco-Swiss Winery.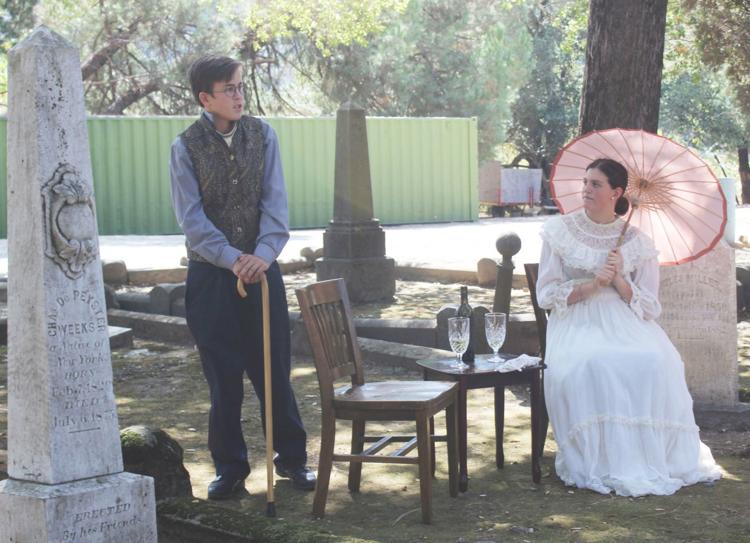 Crochat's nephew immigrated from France with his pregnant wife Louise and their two toddlers. The newly arrived nephew was murdered by a disgruntled former employee who'd been banished from the winery.
"My dear husband never had a chance," Louise, played by Haven Demchuk, told Germain, played by Ewan Oliver. "We'd only been there three months. … After that day I had no husband, no friends other than you, dear uncle."
The widowed Louise, age 28, found solace in the arms of Germain, age 63. The couple fell in love, married, and had two children.
You have free articles remaining.
By the 1880s, the winery was producing 100,000 gallons a year and winning awards for its claret. After Germain died in 1894, Louise moved to Chiles Valley and established a ranch, vineyards and winery.
Tragedy struck again when the couple's son Germain died in an auto racing accident in 1912.
"My heart was broken. I did not want to live," Louise/Demchuck said. "Two weeks after my son died, I joined him in his grave."
Jean Laurent
Fifteen-year-old Jean Laurent immigrated from Bordeaux in 1852. After 16 years as a miner and rancher, he came to St. Helena, planted grapes, and started producing 10,000 gallons of wine a year. He married Swiss immigrant Louisa Trumpler, and together they built a stone cellar north of St. Helena that became the successful Laurent Winery.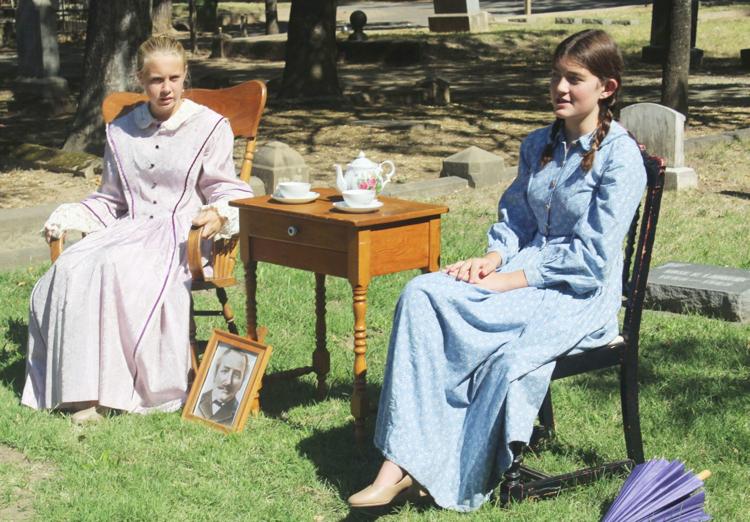 Laurent used advanced crushing equipment and oak barrels, which weren't common in California at the time. His technological innovations made him a major figure in the wine industry.
As Louisa (Alice Werde) explained to the couple's daughter Irma (April Shaw), Laurent was a humble man. He never had his picture taken and only one sketch of him survives.
"But once he did write a letter to the St. Helena Star defending his reputation by denying rumors that he paid $33 a ton for grapes, which would have been way too high," said Irma/Shaw.
Laurent died unexpectedly at the age of 53. Louisa took over the winery herself with the help of her sons and later married Swedish immigrant John Ericson. The Laurents, several of their children, and Ericson are all buried at the St. Helena cemetery.
Laurent Winery had various owners over the years, and today it is known as Markham Vineyards. The old stone cellar build by Jean and Louisa still stands.
Henry Pellet
The two wives of Henry Pellet, who never met in real life, shared an animated conversation about the civic-minded Pellet, who was elected the first mayor of St. Helena in 1876.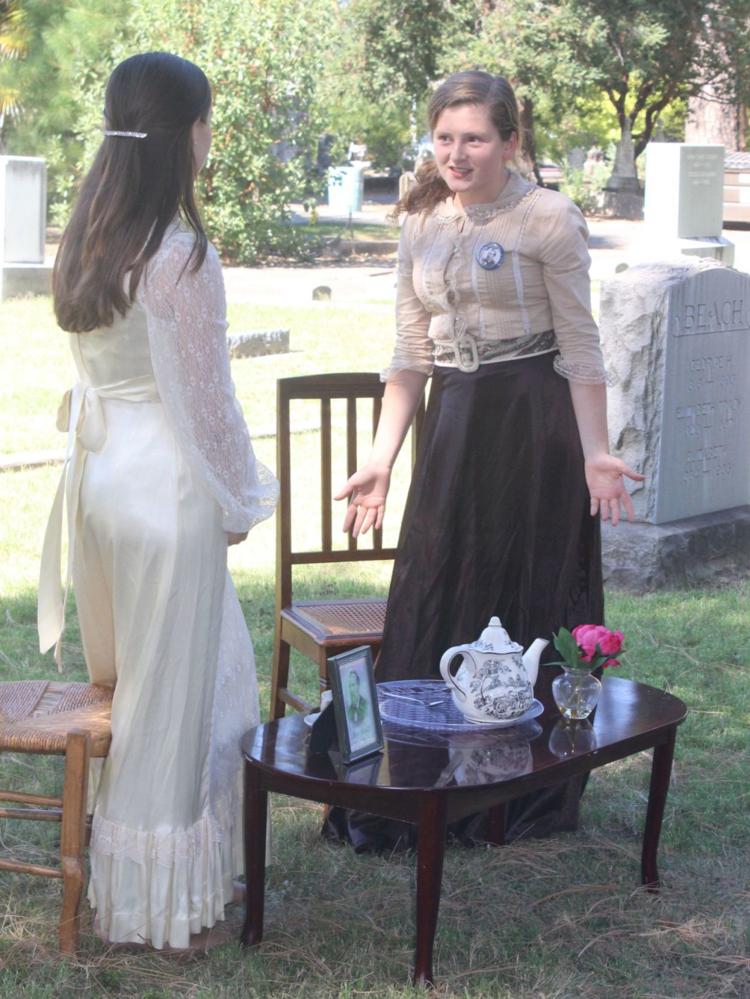 His first wife, Sarah (Jesse Robinson), told of Pellet's early life: immigrating to the U.S. at the age of 20 with a collection of watches and clocks, setting up shop in St. Louis, and heading to California during the Gold Rush.
After failing in the gold mines and with a flourmill business, he married Sarah, leased a vineyard in Napa and started making wine in 1860. Pellet became the second commercial winemaker in Napa County, after Charles Krug.
Planting 45 acres next to Dr. George Beldon Crane's vineyard in St. Helena, Pellet experimented with more than 60 varieties before choosing the 10 that worked best. With Krug, he established the St. Helena Viticultural Club in 1875. He was elected mayor, then to the Board of Supervisors, and then to the State Assembly, where he chaired the Committee on Viticulture.
Susan (Elizabeth Sandoli) told of her marriage to Pellet after Sarah died in 1888. She took care of him in his old age, until he died in 1912. His winery still stands on Vallejo Street.
Jean Adolphe Brun
Jean Adolphe Brun (Gabriel DuBois) met fellow French immigrant Jean Chaix (Joshua Johnson) while they were both working at a winery in Yountville. Their friendship turned into a lucrative business partnership when they established Brun and Chaix Nouveau Medoc Wines.
They had vineyards and wineries in Oakville and on Howell Mountain, as well as a grapevine nursery with 100,000 cuttings of the choicest varieties.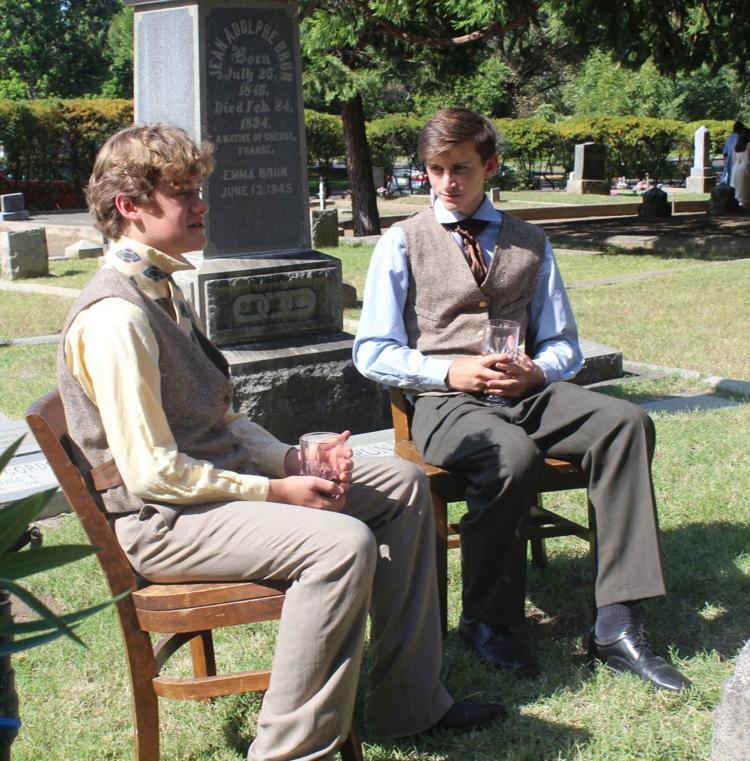 "We had such success that in 1886 we were able to build a three-story winery on Howell Mountain," said Chaix/Johnson. "Good thing, because our crop was 250 tons from our 105 acres."
Their proudest moment came when their wines won medals at the Paris Exhibition Universelle in 1889.
"Imagine, two guys from France made wine in Oakville and win medals in Paris," Chaix/Johnson said.
"And made from your grapes on Howell Mountain," Brun/DuBois added as the two clinked glasses.
Brun and his wife Emma had six children. He died at the age of 49.