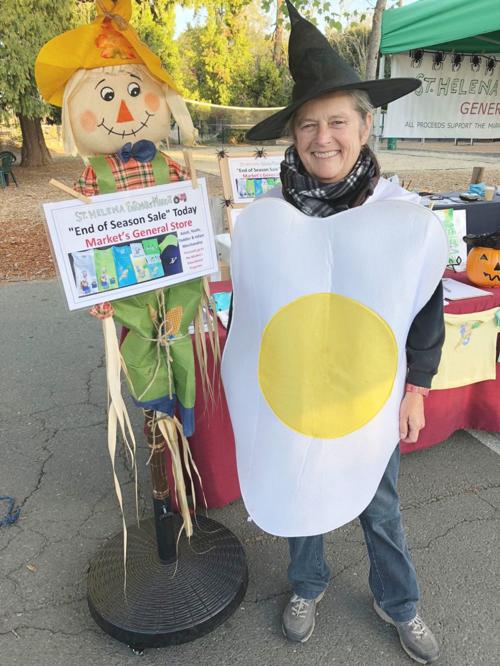 With Friday's Market commemorating the close of our 33rd season, I would like to offer our gratitude to the army of people who help create the community event that is the St. Helena Farmers' Market each week.
Let me start by saying a few words about my fellow Board Member and Long Meadow Ranch's wonderful Laddie Hall. You've likely met her and her friendly and knowledgeable team at the Market. Each week they have shared a beautiful array of freshly picked produce, a rainbow assortment of fresh eggs, the cutest mini eggplants, mouthwatering cuts of beef and lamb, and so on. These items are featured alongside her very special energy and smile.
I'm betting you've also experienced the fun that Laddie brings when Halloween draws near, and while our last market is days before Halloween, Laddie plans to bring the Halloween spirit and I say let's all get on board!
With gratitude in mind and on behalf of our volunteer board, I would like to extend immense thanks to our awesome market team, who work so hard to bring a great market every week: Ed Smith, market manager; Arwen Gallenkamp, market educator; market assistants, Pedro Santa Rosa, Temo Chevez and Nelson Melger; our amazing volunteer Ada Press and support team of Julie Schmidt, accountant and Ken Orvick, Website/Newsletter consultant.
We are so very grateful for the tremendous community support we have received from our dedicated and inspiring vendors, our very generous donors and sponsors, the young artists and teachers, who participated in our 2019 "Farmers' Rock" art competition, the teachers and parents, who chaperoned the kids through the market and supported our Market Classroom Programs and Kids' Story Time. We couldn't have put on such a great season without the chefs and experts, who participated at the Chefs' Demos and Lectures, nor Rosa Cachú and UpValley Family Centers, Erin Arnsteen and Nimbus Arts, Cathy Buck and Cameo Cinema, April Morrow and Sonoma Design Apparel, the city staff, who help set up the market, the St. Helena Chamber of Commerce, David Stoneberg of the St. Helena Star, Will Marcencia of Wine Down Media and certainly not without our faithful shoppers — we truly could not have done it without you.
We have a fantastic market planned for Friday with delicious fall produce. Stop by the Market's General Store for the end of season sale – think holiday gifts! Get a jump start on Halloween with Christina of Fantasy Faces, who will be offering her beautiful face painting artistry from 8:30 a.m. to noon and bring the kids to the Market Classroom for hands-on kid's projects on the theme "Fall Bounty" from 9 to 11:30 a.m., with Arwen Gallenkamp, market educator.
Please keep up to date with market happenings during the off season by signing up for our monthly newsletter sthelenafarmersmkt.org or follow us on Facebook and Instagram.
Thank you again and see you on Friday and then on May 1, when we kick off our 34th season.
Kelly Harden is a member of the St. Helena Farmers' Market Board of Directors and is already looking forward to the 2020 season.
Be the first to know
Get local news delivered to your inbox!