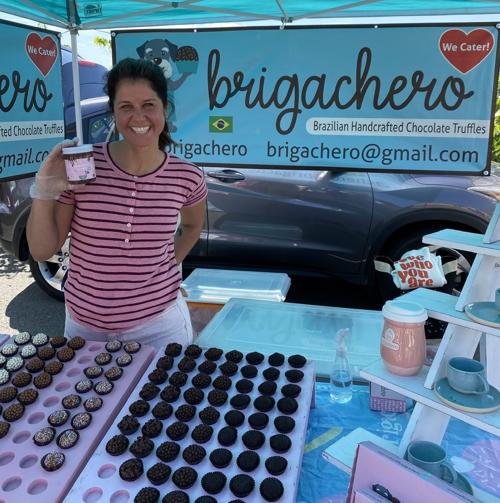 Dessert can take many forms as the final course of a meal from a simple bowl of fruit to an elaborate display of wonderful goodness.
For an easy homemade dessert, serve up sliced strawberries from V&M Farms with a splash of balsamic vinegar and a pinch of sugar. If you have a bit more time, slice pears from Arceo Ranch in half and scoop out a small amount from the center. Brush the inside of the pears with butter, sprinkle with cinnamon sugar, spoon granola from Crisp Kitchen & Juice into the center and bake in a 400-degree oven for 30 to 35 minutes until soft. Serve warm topped with vanilla ice cream.
For the sweet tooth, pick up a box of handcrafted Brazilian truffles from Brigachero. Delicious flavors include dark chocolate, coffee, strawberry, salted caramel and coconut. Beautiful cookies from Cookies Too are always popular. Their cookies are truly works of art. If you are a macaron fan, stop by Madeleine's Macarons and take a look at all the different and unique flavors including lavender, blackberry lemon and root beer float.
For the presentation, all of these desserts would look amazing on a traditional Japanese earthenware platter or bowl handcrafted by Hiroko Ishida Ceramics.
Please join us every Friday morning from 7:30 until noon in Crane Park. This Friday, Melissa N. Davis, RN, SCRN, PCCN, Stroke Program Manager, Adventist Health St. Helena is hosting an information table on everything you wanted to know about preventing a stroke. Participate in blood pressure checks and cholesterol screening. And stop by the Blue Zones Project booth to learn about ways to stay younger and live longer.
For the most up-to-date information, please visit us at sthelenafarmersmkt.org, sign up for the Market's weekly online Newsletter and follow us on Facebook, Instagram and NextDoor. Following current guidelines masks are no longer required; however, we recommend unvaccinated patrons wear a mask.
Catch up on Napa County's top news stories
Get unlimited digital access to the Napa Valley Register for just $1 for your first 3 months! Enjoy every article without restrictions and find tons of subscriber-only perks, such as access to our daily eEdition. Click here for details!
Katherine Gold is a volunteer member of the St. Helena Farmers' Market and feels lucky to be a part of the Market.